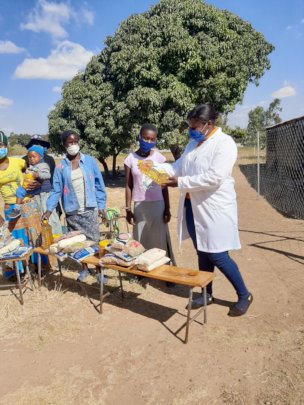 Dear Partners and Friends of Chiedza Child Care Centre!
Hoping to find you safe!
Before I update you on what has been happening in the past few months, I want to start by saying a BIG THANK YOU for your continued support even when your resources where constrained during this COVID-19 pandemic. It is a time that we thought you would stop supporting us as other emerging needs would top your list especially your health and safety, but you remained resolute to your commitment to support our cause.
Schools in Zimbabwe closed in March 2020 due to COVID-19 and we also closed our out of school study group for children out of school. As they would come to school, we would support them with meals through the soup kitchen. Closure of schools meant no more feeding for these children. Initially we re-opened the soup kitchen to feed those that were able to come but we later closed it again due to the heightened risk of COVID-19 infection. We knew that the families would struggle to feed those children. We then changed the strategy and began focusing on providing dry food packs to the families instead of preparing meals for the children. We were distributing food to 50 families on average per month, reaching to 250 people in those families (5 members per family on average). We achieved all this through your unwavering support. Thank you. We hope schools will re-open as planned before end of year and that COVID-19 will ease off for the safety of children and everyone else.
Kindly keep supporting our cause as we want resources for preparation of re-openig of our out of school study group, food, stationery, uniforms, volunteer stipends and school fees. Kindly follow and like us on our Facebook https://www.facebook.com/chiedzachildcarecentre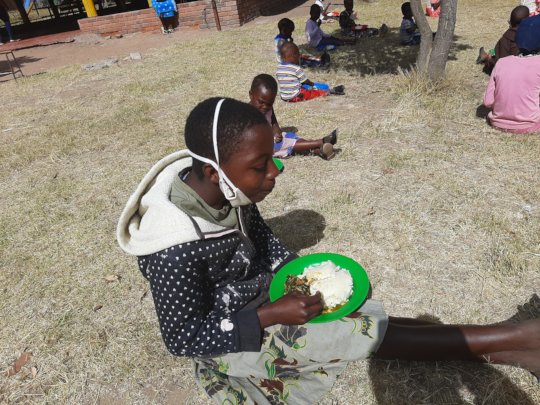 Links:
Dear Friends and Colleagues,
I hope I find you safe during this COVID-19 pandemic.
I really want to thank you dearly for your continued support even under extreme circumstances like the COVID-19 pandemic. It was an ideal time for you to refocus your resources on your families or other priorities but you continued to support our cause. Of course the pandemic has disrupted the normal routine and we are all wondering if there is anything called going back to normalcy. It is even more confusing for school children who are still on a long holiday without much hope of reopening.
While businesses have opened in Zimbabwe, schools are still closed. The children are affected as they are not able to maintain continued learning at home. This is worse for the chldren we are supporting; those who were already out of school and were trying to offer them catch-up lessons. This implies that when the schools open they need more contact time to catch up with their peers.
Kindly help us to prepare for reopening as we will need gloves, disinfectants, masks, food, soap, and adeqaute furniture for social distancing.
Links:
Dear Friends and Colleagues,
We are excited that we have entered a new year, not only a new year but a start of a new decade. It means a lot to children out of school who had lost hope in life but because of your generous support can also look up to achieve something in the coming decade.
We hope you had a great time during the festive season and hopefully your 2020 is promising. Just to let you know that all your donations are not in vain because this year we are sending back 20 children to formal schools. The children are happy and anxious at the same time since it is something that they had never dreamt of without your support.
More and more children are waiting for their chance to go back to school. Kindly keep telling your friends about our cause. The funds are used to buy stationery, school uniforms, food, pay volunteer stipends, schools fees and furnituure. You can also like us of facebook https://www.facebook.com/chiedzachildcarecentre
Attachments:
WARNING: Javascript is currently disabled or is not available in your browser. GlobalGiving makes extensive use of Javascript and will not function properly with Javascript disabled.
Please enable Javascript
and refresh this page.