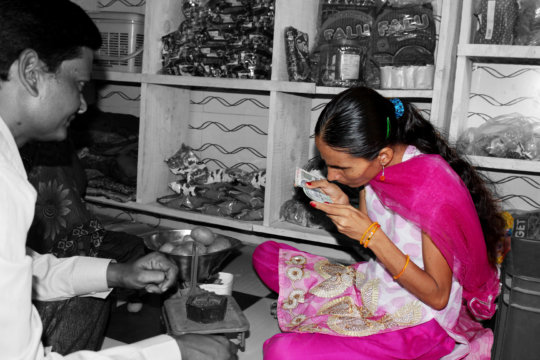 Born female and profoundly deaf with low vision, into a family of daily-wage agricultural labourers in Dhanki, a remote village in rural Gujarat, Hansa's survival seemed scripted for failure. Rejected as an uncomfortable anomaly, the village branded Hansa – a curse from the Gods and shunned her family, too. Even a glimpse of them on the fields was perceived as bad luck. Sense India special educator Deepak found Hansa sitting in a corner, dressed as a boy, isolated and unable to communicate. He explained to her parents that an intervention in the form of specialised training, customised to Hansa's needs was essential for them to live a better life as a family. But no matter the benefits, a male instructor for their daughter was unacceptable to them and their community.
Deepak realised for Hansa to even have a shot at better care, he needed to build a relationship with her community, first. After several weeks of interactions, which included many conversations on deafblindness, Deepak was finally allowed to teach Hansa. He began his training by encouraging Hansa to explore and familiarize herself with her environment – which included her community and family. For her to make any progress, they needed to play a vital role. Therefore, introducing a common medium of communication, like tactile sign language was an effective way for Hansa to understand and be understood. She soon began communicating with her parents, took over some household chores and even understood basic arithmetic! Her parent's apprehensions like, "She will fall down, she will hurt herself, she won't understand," were now a thing of the past.
But then began a different challenge, - menstruation. To help a reasonably confused Hansa understand the biological transition her body was making, Deepak convinced his wife and female colleagues to accompany him on training visits to Hansa's house. Encouraged by the dedicated care her daughter was receiving, Hansa's mother, too, began lending additional support. Empowered with a new direction, Hansa has transformed into a brave adolescent, hungry to learn.
Today, with the support of Sense India's Income generation programme, Hansa runs her own petty shop and earns around R.S. 8000 - 9,000 per month and is supporting her family by shouldering both financial and household responsibilities. Baffled at Hansa's metamorphosis, villagers have opened up to a new perspective towards both Hansa's gender and now, abilities.
Like Hansa, deafblind girls and women in India are almost always rejected twice – first by gender and second by deafblindness. Therefore, understanding the numerous challenges faced by deafblind females, we don't just provide specialist services to deafblind girls and women but to sustain them in the long term, we also help secure their livelihoods through various income-generation projects/programmes. Currently, through our direct partners, Sense India provides vocational training support to over 96 female youth and women. From jewellery to food, candles to pottery and like Hansa, running their own little businesses, these women are proving that with access to resources and specialised support their dreams can truly be a reality.