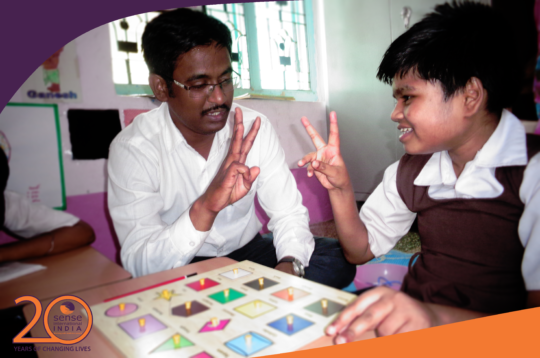 In 1997, apart from one school in Mumbai, there wasn't anyone working for or largely aware about children living with a disability known as deafblindness. The school in question did their best. Even when classrooms had reached their limit, they chose to run a waitlist. However, this also meant that deafblind children who needed immediate care and support would have to wait many months or even years until they received any services.
Realizing that one school was not enough to cater to deafblind children in the second-largest populated country in the world Since India laid its foundations in 1997. The motto was simple – "No child should travel more than 24 hours to receive services," and the mission clear, "to provide equal rights and opportunities for deafblind children in India."
On March 29, 2017, we celebrated Since India's 20th anniversary. But we also celebrated how far we've come. From providing services to 23 children in '97 to reaching out to 77,000 children and adults with deafblindness, two decades later. But the road has been tough and riddled with obstacles. One of our biggest challenges has been the Indian Government's delay in recognizing deafblindness as an official disability.
But on December 16, 2016, we received an early birthday present.
Our persistent advocacy won us a place in India's Rights of Persons with Disabilities Bill 2016, where for the first time in Indian history, deafblindness was officially recognized as a disability and deafblind persons' rights protected under Indian law.
20 years later, we now reach out to support children and adults with deafblindness in 22 Indian states with 56 partners providing a variety of services. From screening very young babies for hearing and vision impairment to supporting deafblind adults with their own businesses, our successes would have hardly made an impact if it wasn't for your belief in us.
We invite you to celebrate 20 years of fighting for hope for deafblind children. Remember, your support eradicated waitlists, ensured children with deafblindness go to the same school as their brothers and sisters and deafblind adults now work for large companies like Ernst and Young and Oracle.
Thank you for being such a great team! Here's to another 20 years of providing hope and transforming lives!