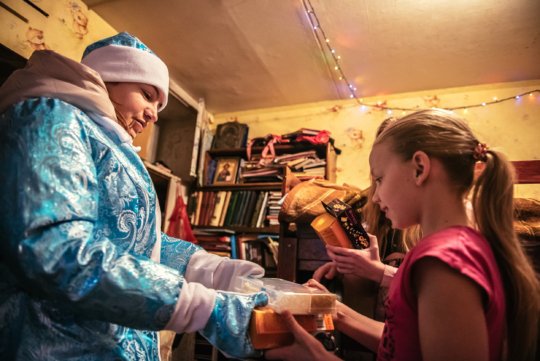 This is the second year the Andrey Rylkov Foundation organized a New Year celebration for the children of the participants of our project on HIV prevention among people who inject drugs, "Harm reduction – Moscow." It is important for us not only to give them a gift just for the sake of appearances but to try to give them something which they probably really need: a New Year miracle, belief in good and sincere smile. This is why we raise funds for gifts, dress up like Father Frost and Snow Maiden and visit children in different parts of Moscow.
But nothing would happen without the help of "good Samaritans" – those people who support these our activities financially including through the Global Giving platform. Once again numerous friends provided us with money to buy presents, helped us get New Year costumes, took part in organization of all these activities or just supported us on a Facebook. We offer special thanks to our photographers, Alexander and Katya. Thanks to them we now have those great photos documenting this our activity.
But how was it? What are the lesons did we learn this year? What are the impressions? As always, we decided to ask these questions those our colleagues who organized and personally participated in these activities:
Max: It is the second year I've played the role of Father Frost and sometimes, in a moment of self-obsession, I feel like the key person in this whole initiative. But this is not true, and I understand this when I think about how much preparatory work was done to organize all this. During our social street work, we asked about children who might be interested in such a New Year celebration. We made lists of contacts, communicated with parents, gathered money through the internet, argued with each other when deciding which presents we should buy and were involved in many other important related activities. All this was done by ARF staff and volunteers! And I was just a Father Frost.
But I have to say that this year, many questions rose for me after this our initiative. Last year, we visited only three families but this year there were many more. So the question is - how will me meet all of the need next time? How will we select what presents we buy and for what reasons and purposes? What is the overall goal of this our initiative? Is it just to give a present from Father Frost or to give the children something more than that? Is it just a New Year celebration or does our initiative also serve the purpose of co-dependency prevention among these children? Chocolate – is it good or bad as a present for children? These are only some of those things I was thinking about when organizing the event.
And, concerning feelings, I feld many different ones, including warmth, satisfaction, tiredness, tendernessand regret. And now I feel not only with my heart but also with my head that we should expand this kind of our activities. Happy New Year! And, I am eagerly awaiting the next New Year celebration!
Asya: I started notice that the older I am the less magical the New Year is. But there is a possibility to return these almost forgotten holiday feelings – you just need to take part in congratulations of those who are still waiting for a New Year miracle.
This time those children who we visited last year were not afraid of the Father Frost and Snow Maiden, but were excited to meet them again, as old friends. Some of them were happy to play and to dance with us and of course they all wanted to make a photo with us. This year we used funding raised through social networks, Global Giving and also other crowd funding platforms where the coordinator of our children's project, Lema, put an advertisement. And although we were not sure how it would work, our concerns were groundless and we managed to get twice the amount we expected. Thank you to all those who supported us! Also, this year we had a Christmas crèche in our program prepared and performed by Kaya. She managed to make it regardless the skepticism of all other members of our team about this new activity.
Lema: It is great that each year we congratulate more and more children! This time there were 15 of them, not counting the elder ones. And they all really enjoyed the event and were happy to see Father Frost. This year I had the role of the Father Frost's manager. I communicated with parents, calling them in advance of the event to confirm that we are coming. Because of that I had a chance to watch from outside how the celebrations are going on. Is was really warm because of the children's smiles and New Year songs and poetry and when you see how happy they are to get presents and how excited the parents are. I believe this year all those who were involved in the organization of this activity started to think more about the project. Now we have many questions to answer and ideas for to implement next year. And what made my day was the feeling that we grew up, made progress and moved towards working with community in terms of their empowerment. Thanks to all who participated in this project! This was a good job!
Kaya: I really enjoyed how we congratulated children this year. I participated only one day but from the experience of previous years, when I also participated in these kind of New Year events I would like to say that everything was great! Father Frost was very flamboyant and cute. Children had the opportunity to express themselves and everyone had a feeling of a celebration. Communication was very warm, alive and joyful. It is great that ARF managed to organize such a New Year for children whose parents are addicts once again. And thanks to all who contributed! I believe there is a huge demand for such kind of activities targeted on children drug dependent families and we could fill this niche.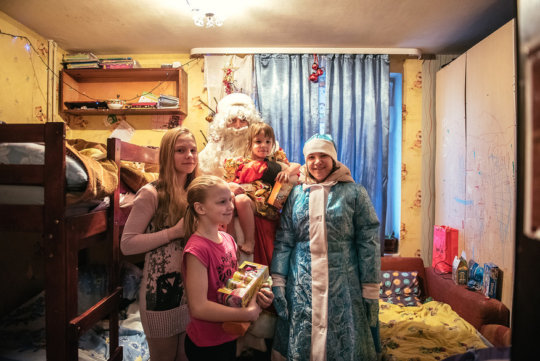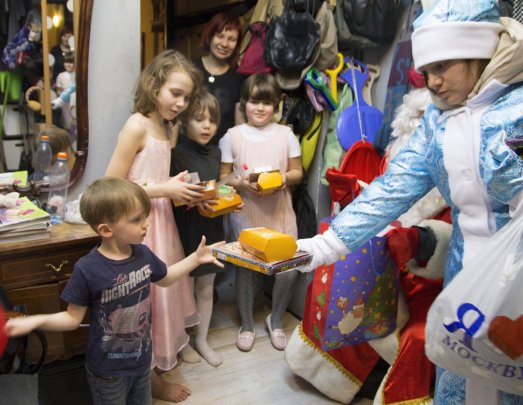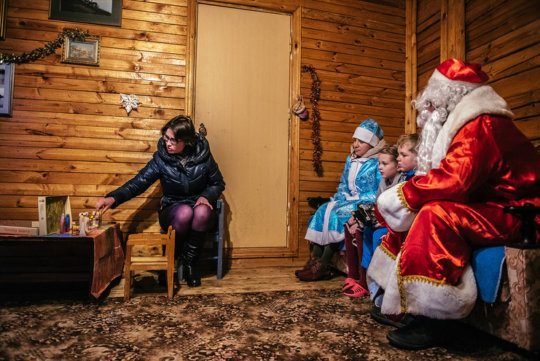 Links: