Trees for the Future will be phasing out the Tawa Forest Garden Project in July 2016. Through this project, your support has impacted 288 households, a total of 1,357 women, men and children. Over the past 18 months, participant farmers received intensive training that taught them to develop forest garden designs and to transform their fields into sustainable Forest Gardens. Your donations provided these families with the tools, planting materials, and skills training needed to raise trees from seed in nurseries, to graft high-quality fruit trees, and to plant a variety of tree species and vegetables to diversify their production, food options, and income opportunities.
At the onset of the long rains last October, project farmers planted 1200 mango trees and 1000 avocado trees in their fields. In March of 2015 farmers learned to graft fruit trees to produce bigger, more lucrative fruit crops in their Forest Gardens. This intensive training enabled farmers to plant an additional 400 grafted mango and 250 grafted avocado trees to compliment the local varieties already planted. With the knowledge and practice in grafting techniques, farmers now have the ability and experience to graft high-quality trees onto the existing local varieties they have planted to further improve the trees' quality, productivity, and value.
In addition to the fruit trees, farmers also successfully planted more than 73,000 non-fruit trees in their fields, including fast-growing trees to protect and fertilize their land while providing an abundance of livestock fodder and fuel wood, as well as timber species that provide a long-term income source. They also received seeds and training to plant several kinds of vegetables which have provided an abundance of nutritious foods for families as their fruit and timber trees are maturing. Families have already benefitted from the healthier foods as well as the cash income generated from the sale of surplus vegetable produce. Testimony from one participant farmer below illustrates the impact made possible through your support:
"I am Benedita, member of Musunguu Self Help Group with the Tawa Forest Garden Project. My husband's name is Peter, and we have three daughters – Mumbua (13 yrs), Mwongeli (10 yrs) and Nzilani (4 ½ yrs). The period between 2003 and 2014 was a difficult time for us, juggling family costs with the money my husband earned as a casual laborer in Athi River Mining Company, and the little that I got from working as a farm worker. Paying school fees and buying food and clothing or food staples was a challenge. We tried to also improve our farm yields during this time by buying a few tree seedlings, but the germination rates were low because of low-quality seed and little rain in the Tawa region. We managed to plant 70 trees on a half-acre plot toward the end of 2014. During that time, TREES staff visited our group and introduced the concept of the Forest Garden farming system.
For me and my family, this Project could not have come at a better time. After receiving training on Forest Garden analysis and design, tree and vegetable nursery establishment, outplanting, grafting, and composting, today I proudly boast 400 trees on my farm from the knowledge I have acquired. In addition to the trainings, we received equipment necessary for successfully nursing and managing the tree seedlings, including watering cans, rakes, shovels and machetes. And because our region is so dry, TREES provided thick plastic liners which we used to line deep troughs in strategic locations on the farm to collect and store as much rain water as possible to grow the seedlings through the long, dry season.
I used to spend two dollars each week buying vegetables for my family, but that is now a thing of the past. These days I grow my own vegetables and have managed to save over $40 so far, which we've used to help pay for our daughters' school fees and medical care for our family as well as extended family. The variety of trees on my farm - Grevillea robusta, Senna siamea, Moringa oleifera, Markhamia lutea, Sesbania sesban, Leaucaena leucocephala, mangoes, avocados, and oranges – will also continue to help our family with fuelwood, fruit, and money.
We are grateful for having been able to participate in TREES' Forest Garden Project and will continue to show our friends, family, and neighbors the benefits of this innovative farming system."
Trees for the Future would like to thank you for your participation in planting trees and changing lives for farming families in Tawa. Look for another project from Trees for the Future on GlobalGiving soon!
Most sincerely and with many thanks,
The Trees for the Future Team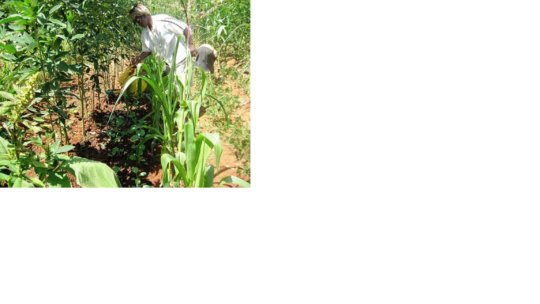 Links: