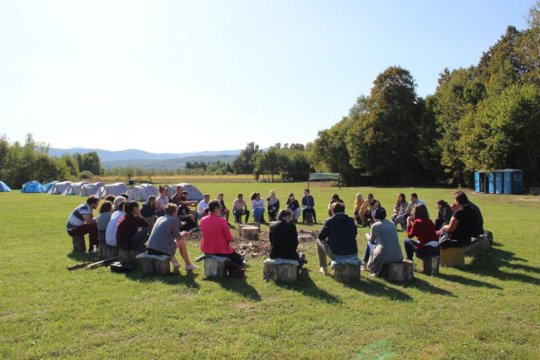 This year Center for Peacebuilding organized an event called Peace Fest as a part of the celebration of the 10th International Peace Week. The opening ceremony was on the 16th of September at the CIM's Peace Farm also called Garden of Oppurtunities.
On that occasion, the Mayor of Sanski Most and CIM's founders addressed the attendees: Executive Director Vahidin Omanovic and Program Director Mevludin Rahmanovic, who this year presented awards for Ambassadors of Peace, Volunteers of the Year, and Donors of the Year.
On the 17th of September we started with our lectures on the Garden of Possibilities within the manifestation of the Peace Fest. Amra Pandzo gave a lecture on the concept of peacebuilding, Judge Patricia Whalen spoke about the importance and role of justice in reconciliation processes while former concetration camp prisoners who are a part of the PRO- Buducnost project shared their war experiences with the participants.
After the lecture, participants were shown a documentary called The Prosecutors, facilitated by Karen Blanchard.
On the 18th of September we continued with our lectures. Karen Blanchard gave a lecture on forgiveness and the participants presented in a creative way what forgiveness represented to them.
Louis Monroy spoke about the difference between traditional and transitional justice, and brought the definition and details of transitional justice closer to our participants.
Zoka Catic intrigued the participants with an interesting lecture on the influence and responsibility of the media and their personal responsibility when posting content on social networks. He also presented his work and short films that carry messages of peace and encourage viewers to think critically.
We also the lecture in two middle schools in Sanski Most where John Sturtz worked with teacher, how they can develop learning children and critical thinking. And our employee Anela Talic and volunteer Armin Poljak were talking with the students about Youth activism and what Young people need in their local community.
On Thursday the 19th of September, Sylvia Laumen, Daniel Eror and Amra Pandzo spoke about the importance of interreligious dialogue in peace building and the importance of religion for the individual.
Participants were particularly interested in showing short films, which is why Zoka Catic showed them 3 additional films and invited them to critically review what the "media is serving".
Daniel Eror and Emina Frljak, representatives of Youth for Peace organisation, gave an interactive lecture on "What can we do?"
In an interesting way, they conveyed knowledge to the participants about the individual's activism and contribution to social change. They also emphasized their personal responsibility in initiating change.
At CIM's Garden of Opportunities we have continued to discuss this topic. Mevludin Rahmanovic and Vahidin Omanovic conducted a dialogue session during which participants identified what they could do and also evaluated the lessons learned.
On the last day of our Peace Fest on the 21st September we celebrated the International Peace day. CIM's theater "Life" where they performed a play called "Ashamed of the mother". After the theater play our small actors and participants had the oppurtunity to draw and make the Peace wall which in the end was really colorfull and big.
In September and October our Peace Camp and Caravan participants have implemented their local initiatives in 10 cities/municipalities in Bosnia and Herzegovina : Velika Kladuša, Banja Luka, Jajce, Olovo, Sarajevo, Sokolac, Bijeljina, Mostar and Stolac. Local initiative were workshops about peacebuilding and youth activism where young people could learn more about, and hear experience from our participants about their peacebuilding work and also about the Peace camp and Caravan experience.
For the end of the year, Center for Peacebuilding is organizing a second Peace camp and Caravan for young people from Bosnia and Herzegovina in the mountain Jahorina, this will be an opportunity to gain peacebuilding experience, connect with other youth and see different parts of Bosnia and Herzegovina.

We want to thank everyone who helps us educate young people in Bosnia and Herzegovina about the importance of preserving peace and coexistence.

Peace and Love

CIM Team