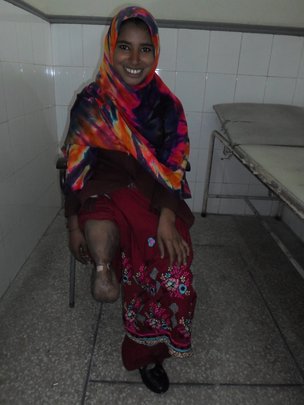 The first few months of 2015 have been great ones here at ALTSO – thanks to generous donors like you! We have now treated 28 children through our project!
But, our work is far from done. ALTSO received requests to treat nearly 3,000 children in 2015. Children like Iqra of Pakistan.
At the age of 9, Iqra's right leg was caught in a thrasher machine, severing the limb at the knee. She lost her ability to walk independantly, take care of herself on a day-to-day basis and attend school.
Iqra lives in rural Pakistan with her parents and five siblings. Her father earns only $1 USD a day, making it impossible for her family to ever afford the approriate prosthetic limb or physiotherapy that she needs to regain her mobility.
But, through your generosity, ALTSO was able to provide Iqra a prosthetic limb and phisyotherapy. She now attends school again and aspires to become a doctor. We have committed to continual treatment for Iqra as she grows and needs new devices until the age of 18. We invite you to join us in keeping that commitment to not only provide mobility to Iqra, but to continue to fuel her dreams!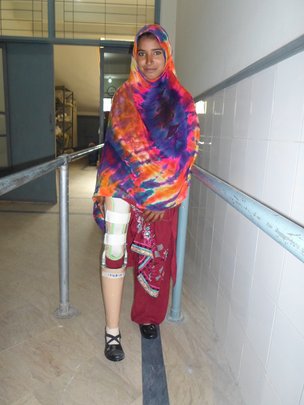 Today, December 3rd, is International Day of People With Disabilities - a very important day to us here at A Leg To Stand On. Every one of our patients is a person with a disability, and it's our mission to see that they not only receive the prosthetic limb, orthotic device, mobility aid or corrective surgery that they need, but to help them gain the opportunities that mobility grants them.
Refan is a four-year-old boy from Indonesia who loves going to school, dancing and playing bongos, and aspires to be an airplane pilot. At first glance, he's like any other four-year-old boy. But without intervention from ALTSO three years ago when Refan lost his leg in a motorbike accident, he wouldn't be able to do any of these things.
Join us this month to promote inclusion and health for people with disabilities all over the world - including ALTSO's children in Asia!
Since our last update of the project "Give 40 Children in Asia the Ability to Walk" we have raised enough money to treat another child! In total, this GlobalGiving project has provided treatment to a total of 22 children.
On behalf of ALTSO, thank you for making a difference in the lives of one of the most segregated and disadvantaged groups in today's society. We are forever grateful for your support, which inspires us to keep pushing forward for children with limb disabilities in the developing world.
- the ALTSO team
Please note, the following patient, Halima, is from Afghanistan and received orthotic braces in June of 2014.
WARNING: Javascript is currently disabled or is not available in your browser. GlobalGiving makes extensive use of Javascript and will not function properly with Javascript disabled.
Please enable Javascript
and refresh this page.