A Leg To Stand On has been treating children with limb disabilities for more than 12 years now, and for the last three years we have been overjoyed to share that journey with you.
In those 12 years, we have been privileged enough to treat more than 13,000 children with limb disabilities in developing countries all over the world. With your help, we hope to treat 2,000 more this year - no small feat!
But as we are able to treat more and more children every year, we are also receiving more requests than ever for treatment.
Children like 17-year-old Sofi who suffers from cerebral palsy - a neurological disorder that primarily affects body movement and muscle coordination.
Sofi is able to walk with the assistance of others but because of years sitting cross-legged, she prefers to crawl the majority of the time. Although Sofi has spent years studying at a school for children with disabilities, she feels too ashamed around her peers to continue her education.
In early 2015, Sofi was identified by ALTSO's program partner to participate in a three-week intensive therapy program. Sofi's confidence began to increase. She has shown significant improvement both physically and emotionally. Her muscle contractures in both her hands and feet have reduced and her ability to walk and hold things is becoming easier to manage. The program also encourages parents to support their child's independence - enabling Sofi to conduct a few exercises on her own.
WIth your help we can continue to make a difference in lives of children like Sofi. Please join us today.
Our project to help 40 children in Asia gain or regain their mobility has now treated 30 of the 40 children - thanks to you!!
But, after the tragic earthquake in Nepal, we are already seeing the need for even more pediatric orthopedic care in the wake of the disaster.
ALTSO has been partnered in Nepal since 2009, helping them reach the most rural and under served children in the country who otherwise would have no means of receiving the treatment that they desperately need for their limb disabilities.
This project has already helped to treat several children in Nepal and can now be a life-changing event for each child, a glimmer of hope and a chance at opportunities that would be otherwise missed during this horrific tragedy.
Right now, we are working to raise money for Nepal's children specifically. Anything raised on GlobalGiving in the next two weeks will go directly to Nepal in addition to the funds ALTSO has already committed for this year's treatment.
Please keep the families of Nepal in your thoughts and help us to begin providing relief to the thousands who are affected by this disaster.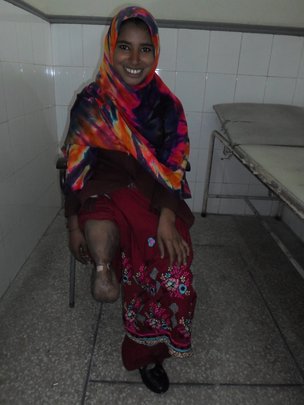 The first few months of 2015 have been great ones here at ALTSO – thanks to generous donors like you! We have now treated 28 children through our project!
But, our work is far from done. ALTSO received requests to treat nearly 3,000 children in 2015. Children like Iqra of Pakistan.
At the age of 9, Iqra's right leg was caught in a thrasher machine, severing the limb at the knee. She lost her ability to walk independantly, take care of herself on a day-to-day basis and attend school.
Iqra lives in rural Pakistan with her parents and five siblings. Her father earns only $1 USD a day, making it impossible for her family to ever afford the approriate prosthetic limb or physiotherapy that she needs to regain her mobility.
But, through your generosity, ALTSO was able to provide Iqra a prosthetic limb and phisyotherapy. She now attends school again and aspires to become a doctor. We have committed to continual treatment for Iqra as she grows and needs new devices until the age of 18. We invite you to join us in keeping that commitment to not only provide mobility to Iqra, but to continue to fuel her dreams!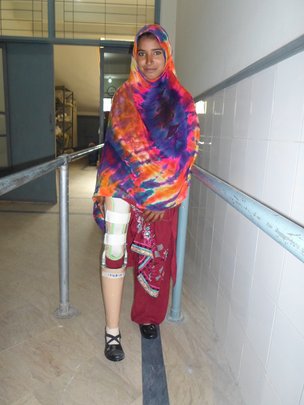 WARNING: Javascript is currently disabled or is not available in your browser. GlobalGiving makes extensive use of Javascript and will not function properly with Javascript disabled.
Please enable Javascript
and refresh this page.