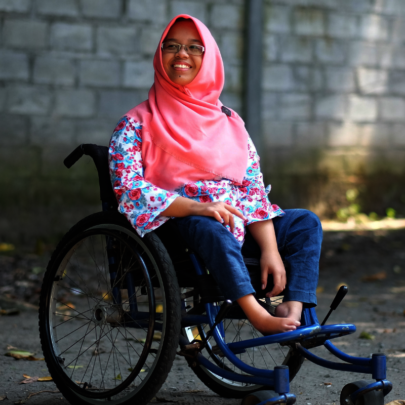 According to World Health Organization (WHO), 70 million people worldwide are in need of wheelchairs. In the developing world, people often rely on hospital-style wheelchairs - designed for temporary use. For wheelchair users, who spend a minimum of 8 - 10 hours in their chair each day, a properly fitting wheelchair is essential to avoiding secondary health complications - not to mention the effects it has on their quality of life!
Meet Asih - a patient of ALTSO's for the last seven years. As we continue to watch her grow and achieve her dreams, we continued to wonder how we could make her life - and the lives of so many ALTSO CoolKids - even better.
After speaking with patients like Asih and researching for months, we came up with a plan. In order to provide high-quality, appropriate fitted wheelchairs for our CoolKids, ALTSO began a partnership with Consolidating Logistics for Assistive Technology Supply and Provision (CLASP) - a USAID-funded project implemented by UCP Wheels for Humanity.
Launched in 2018, this partnership now allows our CoolKids to have access to even higher quality, adjustable wheelchairs suited for their individual needs and the environments in which they live.
Asih is just one of our patients who love their new chairs. She continues to mature into a talented, intelligent and independent young woman, ready to take on the world. Now, with the high-quality care wheelchair donors like you have helped to provide, Asih aspires to continue her education to become a university lecturer.
No matter what her dreams are, we are confident that she can achieve them. This is why ALTSO will continue to provide Asih, and all of our CoolKids, with the free, high-quality care they need and deserve through the age of 21. This ensures that each patient has the time they need to earn high education, vocational training and other important pre-employment skills while still under ALTSO care.
In her new, high-quality wheelchair, Asih is a role model that will empower generations to come!