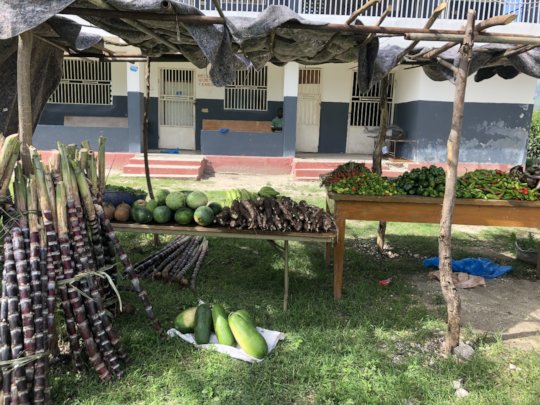 There was much bustling about on Friday morning in preparation for the annual St. Paul's School Harvest Festival. Vendor stalls needed to be built, vegetables harvested, eggs gathered and children corralled.
Each year, the school holds this festival to showcase the agriculture program, led by Agronomist Raphael Salvador, which teaches students about farming and animal husbandry, and supports small family farms in the community. There is a small fee to enter and the proceeds help support the program. After a welcome from Agro Raphael, Father Luc Desire and Principal Maxo Valcin, the children sang songs, performed dances and enacted plays advocating for the preservation of trees, care for the environment and the importance of nutrition.
Artisans and vendors displayed their wares in stalls made from long sticks. Local women kept the stoves going nonstop cooking delicious "fritay", or fried Haitian street food such as plantains and manioc. Eggs gathered from nearby chicken coops and a large spread of okra, peppers, eggplants, melons, sugar cane and carrots harvested from the school garden made up the offering from St. Paul's program. Goats were tethered to a tree in the shade and the rabbit hutch was on display nearby.
Later in the day, a bicycle was raffled off and St. Paul's students played students from a nearby school in a soccer match. This year's festival was a big success, with fantastic attendance from St. Paul students and parents, as well as students, parents and community members from the surrounding area.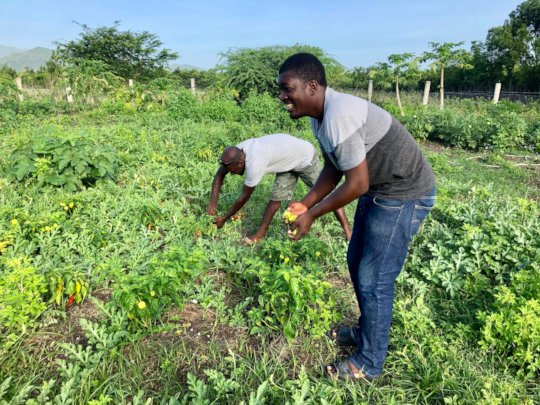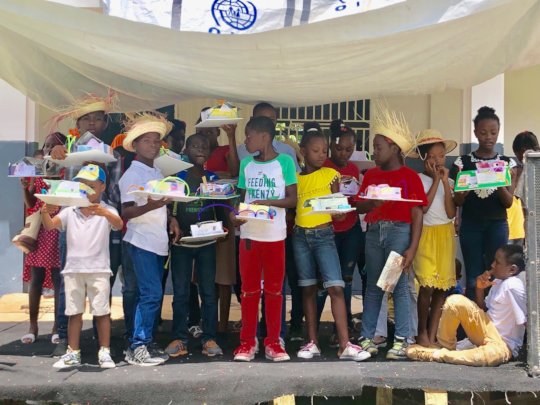 Links: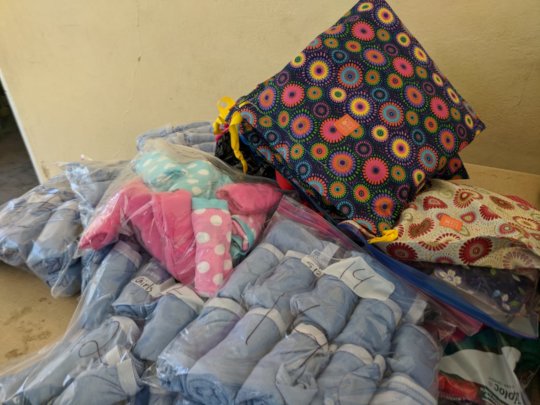 Our Girls' Empowerment program continues to thrive, both at St. Paul's School and a the local public high school. Last week women teachers and mentors spoke with adolescent and young teen girls about health and hygiene, and the girls received Days for Girls kits, thanks to the help of Days for Girls, as well as long-time supporters St. Bart's in Estes Park and Linda Rowe!
In 2016, CHP began the Girls' Empowerment and Mentoring (GEM) program. This program has reached girls across the community of Petit Trou de Nippes and created dialogue and action on girls' empowerment, providing mentors and education that girls do not receive in school. Programming confronts the challenges girls and women face in their rural community, providing information, a safe space, and access to a network of supportive women and men. Between two groups of students at St. Paul's school and two groups of students at the national high school, 100 girls currently participate in GEM with hopes to expand the program in the future.
Learn more about the Girls Empowerment and Mentoring Program at St Paul's here.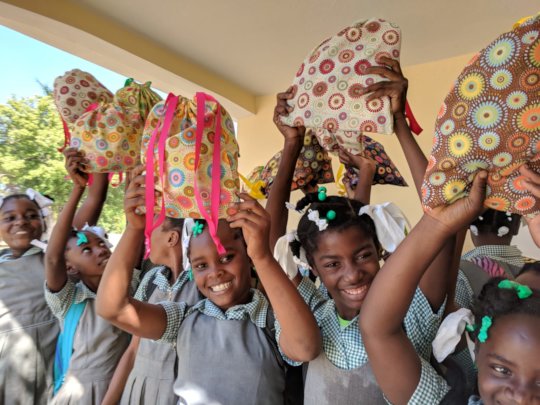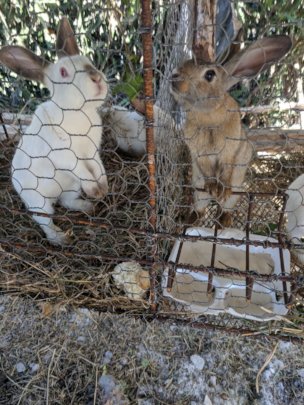 Recent Saturday mornings at St. Paul's School have brought some new celebrities to campus. At one of the latest garden club meetings, dozens of students—most of them members of garden club—gathered around Agronomist Raphael Fernandez Salvador as he introduced a hands-on component to a lecture he had given the week before on animal husbandry.
Underneath the shade of the school garden's lean-to structure, Raphael hung a giant wire-frame cage that students had previously helped to construct. Crouched inside were five rabbits in shades of white, tan, grey, and brown. Raphael reviewed proper care for the rabbits as the students gazed curiously into the cage.
There were two goals for the session ahead: that students feel comfortable properly holding a rabbit by the scruff of its neck, and to identify a rabbit's sex. Some students were initially unsteady with their rabbit-holding technique, but Raphael gently coached them so that by the end of the club's meeting, students appeared to be experts at rabbit handling.
Raphael is known for encouraging his students to dive in and attempt new skills; he knows that mistakes and hesitancies are simply part of the learning process. His remarkable teaching style was evident at a similar garden club meeting in February—this time, goats took the place of rabbits as the furry class guests.
Raphael demonstrated once how to give the vaccine before allowing the students to take over. There were a lot of details to learn, including the method of suctioning the vaccine into the syringe. One girl named Guierline particularly loved giving the shots to the goats, making CHP staff wonder whether she will be a future veterinarian.
WARNING: Javascript is currently disabled or is not available in your browser. GlobalGiving makes extensive use of Javascript and will not function properly with Javascript disabled.
Please enable Javascript
and refresh this page.