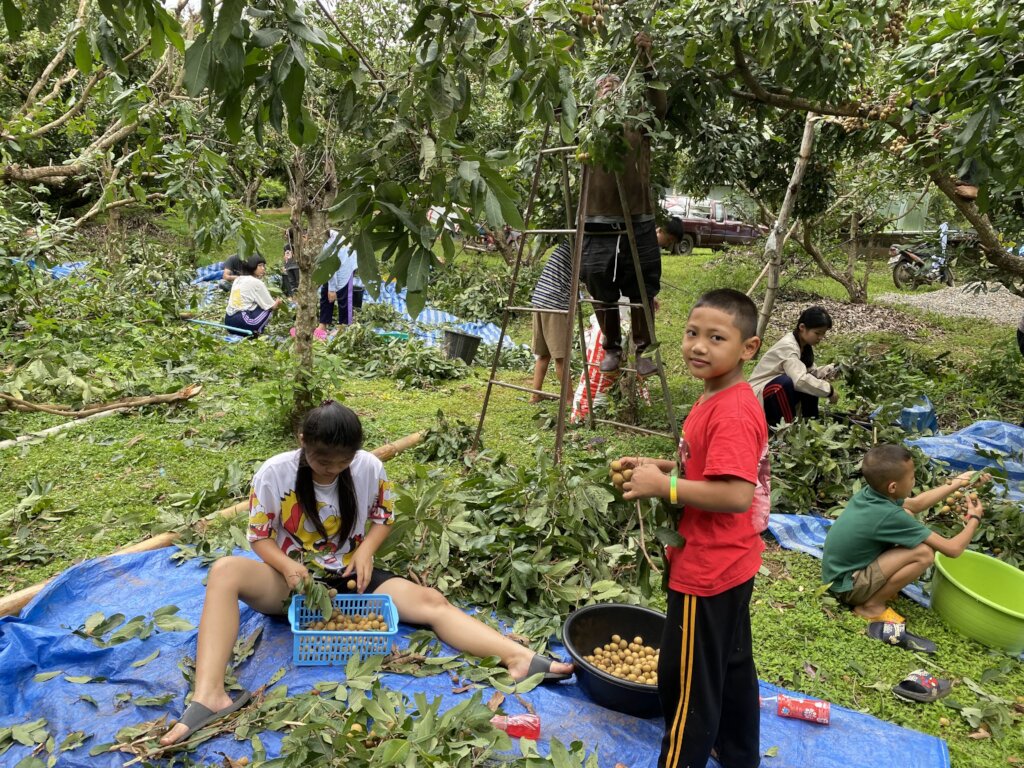 It is the beginning of September and the rains have slowed from daily to every other day. As farmers, we are usually grateful for the rain and try to collect as much as we can in our large blue plastic rainwater catchment tanks. The longan trees had a rare year of heavy fruit and we harvested them in mid-August. Prices were low but we did make about $700 to go towards the children's home and further farm development.
With all the rain, we have been out in it tracking the water flow and erosion points. We have been able to get Vetiver Grass "King's Grass" cuttings from the Land Development Department and have been planting them along steep slopes.
Spencer and Earn, along with some volunteers from the US, set up compost stations that take the kitchen scraps and plant cuttings. The first batch of compost was ready in time to fill the "Keyhole Garden" - a self-contained walled-in structure to grow a range of vegetables. It is one of the innovations that Spencer and Earn have introduced to build up areas of rich soil.
The kitchen staff has been open to improving the growing beds, using raised beds to ease the bending and protect the soil We've had a large crop of cucumber and long beans in between the rows of chili peppers.
Some of the newer fruit trees we planted over the years have been producing fruit. Our pomelo tree (like grapefruit) is heavy with fruit, all the lime trees are ready and our one lemon tree is also full of fruit this year.
The children love all the fruit and come to alert us when it is ripe to eat. They pick it and take it to the kitchen to be recorded and shared. they know the many greens that the hill-tribe staff grow in their kitchen gardens or harvest wild among the garden plots.
Thank you for your enduring support for the children and this project. We are enjoying the healthy results of the hard work by the children and staff.