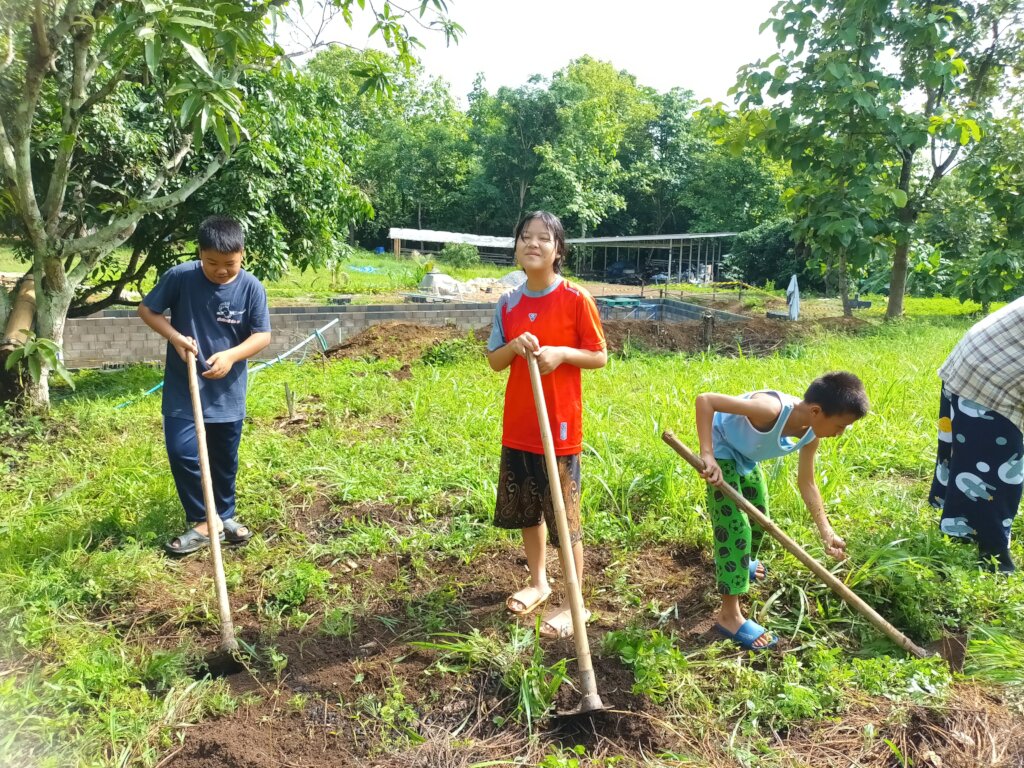 We are surrounded by lush green fields, trees, and blooming flowers. The farm garden plots have been prepped, seeds planted and the rains are here. We've had bountiful crops of cucumbers, long beans, and leafy greens- mostly kale.
The children had an unplanned few days off from school for a last-minute government holiday, so they have been out weeding and gathering vegetables in between homework and activities. They've been taking turns cooking and making treats- spring rolls with fresh lettuce, veggies, and a variety of other ingredients (some recognizable, some not, but all delicious).
We've had two community workshops taught by a professor from nearby Maejo University to present stingless bees and the high-quality products that can be made from the honey, pollen, and resin that they produce.
We now have nine hives of the tiny bees. They fly in and out of the hives through a small hole in a bottle cap. They are stingless and have been approved by our local government agriculture officials, at a time when regular bees, usually rented out to pollinate the fruit orchards, are limited due to the danger of anaphylactic shock from the bee stings.
Our older students joined with members of the Phrao community for the sessions. The teacher engaged them all with hands-on splitting hives to make a new hive and exercises to understand the economics of growing the bees.
The children and staff have been energized by the bees and new methods they have been learning from Spencer and our local ECHO model farm in Chiang Mai. ECHO is an international organization, based in the US, that sets up seed banks for local farmers and teaches a wide range of easily understandable workshops on improved farmed methods for smallholder farmers.
We're evaluating all the orchard trees and looking to see what additional space could be used for growing fruit and vegetables.
With the water catchment system making good progress, we have been revamping the water distribution system serving the farm gardens. With more, accessible water, it is easier to imagine what can be grown. We know what we like to eat and will start checking with our local community to see what produce they would like to buy.
Thank you for joining us on this journey! You make it possible to learn and try new ways of growing our food.
Best wishes for the coming months,
Dana, Michael, Evelind, and the Warm Heart Children and Staff