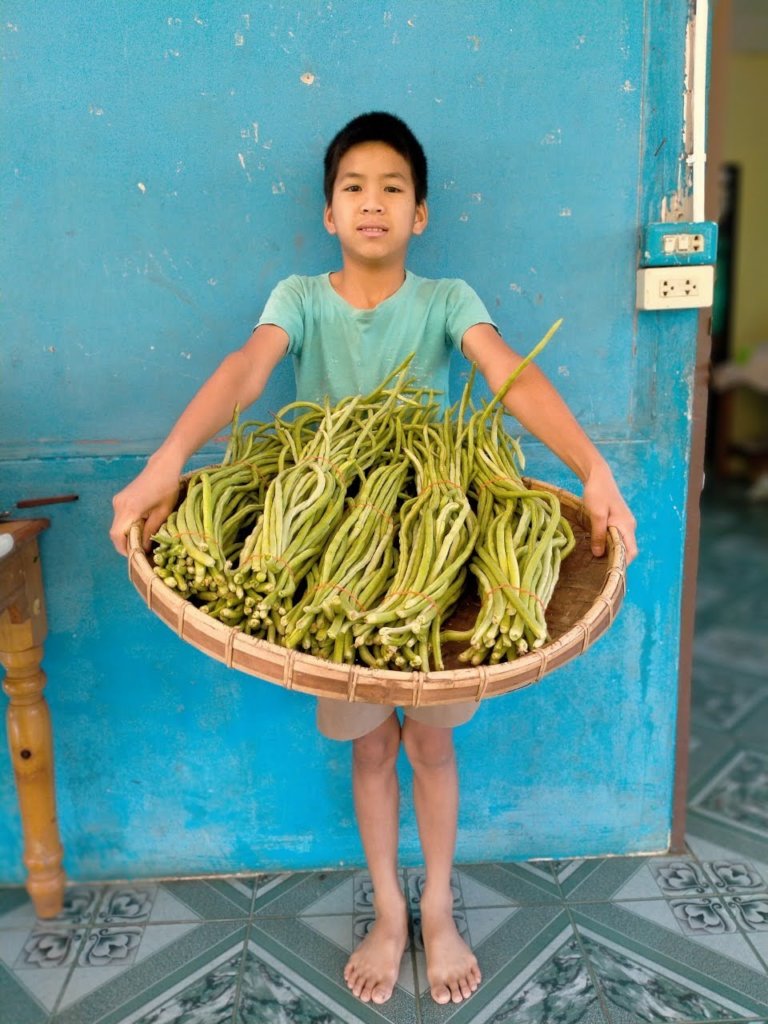 Thailand typically has 3 seasons: Winter (Nov - Feb), Summer ( Mar - June), and Monsoon Rainy Season (July - Oct).
Our summer has been very hot this year.
Local weather conditions influenced by climate change brought early rains at the end of April and the beginning of May.
This extra rain provided a boost to our gardens with an increase of produce. The children and staff have been harvesting bumper crops of long beans, lettuce, eggplants, tomatoes, and cucumbers. The children and staff have been enjoying some delicious salads.
The early rain was a nice bonus, but they are predicting this is going to be the wettest Monsoon season in 30 years. We may be facing floods this year.
Expanded Farming
Warm Heart has added chickens to the Young Smart Farmer's project, and a few pigs.
The new chickens have adjusted to their environment. and they are laying delicious eggs.
Through a generous grant from the British Community in Thailand Fund for the Needy we were able to upgrade the pigpens and now have six black mountain pigs.
We use a portion of our food scraps for our composting project, and feed the rest to the pigs. Their manure will help enrich our soils.
Learning Business Skills
The kids are learning the economics of raising chickens. They had to borrow to get the chickens, and they pay back the feed costs through sales of excess eggs to staff and neighbors.
Excess produce is sold in the community, helping them learn how to run a business. They take orders from the neighbors, package and deliver the requested produce. The money from sales goes towards seeds and supplies.
Enjoying the Rewards
The children enjoy all the wonderful fresh food they have harvested. Besides the many delicious salads, they particularly like the chilis.
Most of the recipes that the staff and children eat have a good portion of homegrown chilis to add the flavor of home. The chilis help cool everyone off as they sweat, and comment how "hot the food is" before taking another big bite.
We are waiting for our mango trees to ripen. The mango trees are getting old and we're discussing replacing them.
While we wait, our neighbor brings lichees for the children to enjoy.
Our children are benefiting in so many ways from the Smart Young Farmer's program, and we hope to continue to expand. We appreciate your support of this very important project for the kids and for Warm Heart.
Hugs of appreciation,
Evelind, Michael, Dana, and the Smart Young Farmer's team