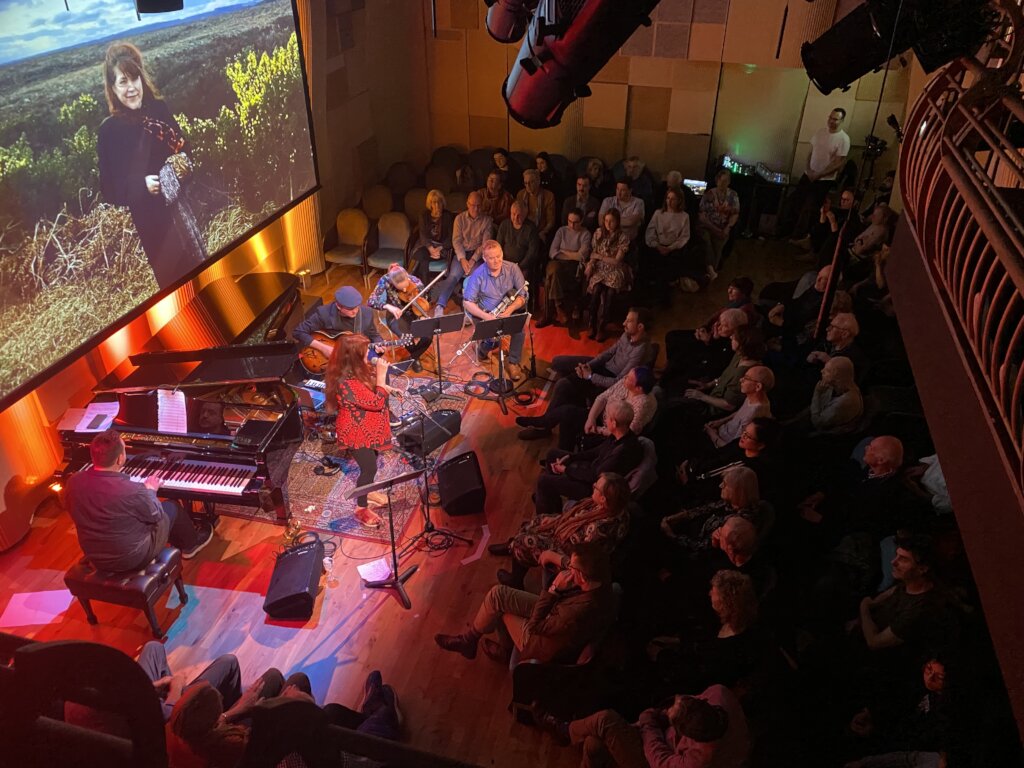 "Nestling among the cookie-cutter flats and glass towers of the new development surrounding the US embassy, World Heart Beat is like a single wildflower emerging from the soil in an architectural volcanic wasteland, providing much needed cultural enrichment for this part of town. An adjunct to the nearby music academy which nurtures local musical talent, this cracking little venue hosts music from across the globe in a comfortable space with a top-notch sound system and super atmosphere." (London Jazz News)
Dear Friends,
We opened the doors to World Heart Beat Embassy Gardens in the heart of Nine Elms in January this year, and what a year it's been. With 103 concerts under our belt, as well as five sell-out concerts in the last two weeks alone, rest assured it's been a very busyand exhilaratingyear for World Heart Beat!
We were proud to be a host venue for this year's EFG London Jazz Festival, London's largest city-wide festival and one of the major international jazz events. We programmed seven eclectic performances from both established and emerging artists; including Latina powerhouse pianist Eliane Correa's Cuban Septet; world-leading pianist Julian Joseph augmented with violin played by acclaimed soloist Harriet Mackenzie; the UK premiere of Christine Tobin's Returning Weather and ground-breaking new work from Rebecca Nash, as well as showcasing emerging musicians, saxophonist, singer, composer and Heartbeat alumna Rebecca Wing, Ava & The SoundCrew and the next generation of talented pianists leading their Trios and Quartets, Sam C-Sé and Josiah Wade. Please click on the reviews below from The Arts Desk and London Jazz News to find out more!
Late summer, our musicians brought music to the local community and beyond by taking part in the Embassy Gardens Feel Good Festival (1,500 footfall), an all-day wellness-themed event which included workshops to workouts, live music to art classes. Our Latin and contemporary gig bands stole the show and we also provided the opportunity for young people to try out our musical instruments. We took part in the Battersea Jazz Festival, a month of live jazz with a sell-out celebration of Nat King Cole with "Cole in One" at our venue. One of Heart Beat's emerging musicians, Asa Martinson and The Outlet, performed alongside Gabrielle (30 years after her breakthrough hit 'Dreams'), YolanDa Brown, Ronnie Scott's All Stars and Das Brass at Battersea Park in Concert, a bank holiday weekend of picnic concerts, celebrating the best in jazz, classical, soul and west end musicals.
In September we were thrilled to participatein the London Design Festival with 'London's new immersive concert hall: a venue for the future' charting the journey of building a creative hub, from concept to creation.To our audience, it provided invaluable insight into our state-of-the-art building and its immersive acoustic technology by d&baudiotechnik (as used by Brian Eno and Björk) and we enjoyed the positive feedback from those that came along.
During half-term, our Kimber Rd academy was taken over by our Duke Ellington big band course. Young musicians from World Heart Beat, Julian Joseph Jazz Academy and with support from Trinity Laban took part in a four-day intensive jazz music course to celebrate the music of jazz grand master, Duke Ellington. The course was led and directed by Alex Thomas-French and culminated in a brilliant evening of Big Band music in concert at Embassy Gardens.
In early October, we celebrated Learn to Play Day – a national event organised by charity Music for All to encourage people to try out music in their local area. Young people came to drop-in sessions and enjoyed asking questions with students and teachers alike, as well as trying out musical instruments. We welcomed back WHB alumna Emily Santos, currently studying at Princeton University, who was visiting London with her choir, a student-led a cappella group, The Princeton University, which is going strong 30 years on from its conception! The choir visited local schools and shared some wonderful performances with over 300 students.
After half-term, we resumed our successful First Beats programme for KS2 students who are interested in learning an instrumentand discover the joys of learning music. Each week, at the end of the day, we collect pupils from their school and bring them to World Heart Beat Embassy Gardens, where they are given the opportunity to try different instruments including guitar, piano, singing, brass and strings.
Looking ahead to the festive month, on Friday 1 December we kick off with the annual 51st State Band Concert, our flagship youth band, which will premiere at its beautiful new home in Nine Elms, following a 20+ year residency at Putney Arts Theatre. A firm favourite in the Wandsworth calendar, expect outstanding performances from the students' orchestra (jazz, soul, rock and film scores) supported by their brilliant mentors, musicians and vocalists. Please come along to our Embassy Gardens Christmas Carols on Tuesday 5 December (6.30 – 8pm) expect festive music and singalongs, mince pies and refreshments with all proceeds from the £5 entry ticket donated to Bags of Taste charity (with proceeds kindly matched by Ecoworld Ballymore).
At the end of a busy year, we want to say a HUGE thank you to all our friends, supporters and partners who have helped us get where we are today, and who continue to support us with their kind donations. Every donation helps give a young person a chance in life through the opportunities gained in music, whether they are starting out and picking up an instrument for the first time, or whether its music career development.
We'd like to say a special thank you to one of our partners, Steinway & Sons UK who are holding an exclusive piano sale (27 November to 2 December at Steinway Hall London) whereby a proportion of sales will go to World Heart Beat to support our bursary programme, inspire our young musicians and grow our music education initiatives. We both share the same vision of enriching lives through music, thank you for your amazing support!
We are excited to let you know that we have launched our very own Memberships Scheme. Our members will be a core part of our work, supporting us in changing the lives of young people and bringing communities together through the power of music. Members will gain insights into our work through invites to exclusive events, regular updates, and opportunities to engage with our work. Memberships start from £50 a year and you can find out more about the different levels here: https://worldheartbeat.org/become-a-member/
At the end of a busy year, we want to say a HUGE thank you to all our friends who have continued to support us with their kind donations. Every contribution helps give a young person a chance in life through the opportunities gained in music, whether they are starting out and picking up an instrument for the first time, or whether its music career development.
We look forward to updating you in 2024!
My best wishes, Sahana
Founder and Artistic Director, World Heart BeatMusic Academy