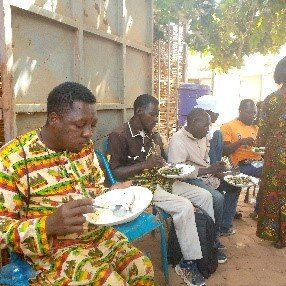 I Introduction
Between October 2022 and January 2023, despite the on-going perilous security situation and the high cost of living in Burkina Faso, our cooperative has managed to continue to function in order to preserve its existence.
Concerned for the difficult circumstances of some members, there has been a meeting with some of our partners to see to what extent these members could be supported to enable them to carry out different craft activities.
The usual meetings have taken place : Committee meetings, the EXECUTVE BUREAU meeting and the General Meeting. Some members have taken part in sessions and workshops organised by our partners. We also participated in the International Day for Persons with Disability (JIPH) organised by the Ministry of Solidarity, Humanitarian Action, National Reconciliation, Gender and Family, which is our supervisory ministry.
The funding received from the donations made on GlobalGiving and from an ex-volunteer to support the 48 members who had been identified as needing urgent support over Christmas was in fact used to support 52 members in extreme need. TN organised an awareness-raising day on Peace, Social Cohesion and Citizenship ; this included a presentation of wishes and donations to members.
Some TN members suffer with chronic illnesses plus mental health problems and we are therefore reflecting on how we can best provide support for those living with both physical and mental disabilities.
II Activities
II.1 Meetings and Gatherings
Both Executive and Committee meetings have taken place during this quarter in order to plan and organise activities.
07/10/2022 Participation in a public conference where there was a panel and the theme under discussion was 'The Impact of the Economic Crisis on Burkina Faso's Informal (or Grey) Economy'. This conference was organised by the National Council of the Informal Economy of Burkina Faso (CNEI-BF).
03/12/2022 Participation in The International Day of Persons with a Disability. This took place at the Ministry of Foreign Affairs, organised by the Ministry of Solidarity, Humanitarian Action, National Reconciliation, Gender and Family.
07 /12/2022 Meeting with the President of the Chamber of Artisan Trades (CMABF). Our request for this meeting was agreed in order to discuss the following :
* To increase the Minister's knowledge and understanding of TN
* To learn more about the CMABF and what it does
* To seek their advice
* To benefit from their actions, especially regarding market and order research for our members
13/12/2022 Participation in a workshop to desseminate the results of the study on the employability of persons with disablity and other documents and legal texts on safeguarding and the promotion of persons living with disability. This was organised by the Ministry of Solidarity, Humanitarian Action, National Reconciliation, Gender and Family.
28-29/12/2022 Participation in a workshop about the mainstreaming of gender, taking into account the 1325 resolution in the local initiatives for the consolidation of peace and the fight against the proliferation and trafficking of illegal light, low-calibre arms in Burkina Faso: Focus on civil organisations including those for persons with disability. This activity was organised by the Women's International League for Peace and Freedom (WILPF).
II.2 PROFESSIONAL SUPPORT/TRAINING
Following discussion with a representative from the CABES/Gie (Business and Crafts for Social and Economic Well-being) about the difficulties facing some TN members regarding their financial autonomy, 20 places were offered to these members for them to add to their skills.
Of the 20 places, 14 members were from the SCOOP/TN ??, and they were working with members from other cotton-spinning groups.
After the training, the partner donated the following cotton-spinning equipment :
9 spinning machines and stools
8 frames for combing cotton
2 x 45kg sacks of cotton
For every 1kg of cotton, the partner pays 2000 F CFA and collects the cotton thread.
TN members with their certificates in cotton-spinning with a spinning wheel. 14 members of the SCOOPS/TN participated in this training from 11-15th October 2022.
II. 3 Fund-generating activities
II. 3.1 Sales and craft orders
Sales in the shop
Participation in the Christmas Market organised by the Ouagadougou International School
II. 3.2 Catering Service orders
There were 9 catering orders during this period
II.3.3 Gift
An ex-Team TN Leader, Hannah (June 2013-April 2014 ), visited us on 19/1//22 and donated 120 000 CFA cash to TN. There was a meeting attended by Hannah where this gift was shared between the members who attended.
Harriet, an ex-volunteer (2012) kindly made a donation via bank transfer to support vulnerable TN members over Christmas. See photo below.
II.3.4 Hiring out of equipment.
During Activity Week, TN hired out chairs and tables.
II. 3.5 The TN project on GlobalGiving
TN mounted a project on GlobalGiving to support 48 vulnerable members so that they could celebrate Christmas.
The project was approved and received funds for this.
TN received two sums of money, comprising :
DATE
SOURCE
AMOUNT IN FCFA
27/10/2022
Payment received from activities at the TN centre.
175 221
28/12/2022
Payment received from the activities at the centre and for members at Christmas.
716 347
31/12/2022
Total amount received
891 568
The bank receipts for the two GlobalGiving payments
II. 3.4 Seeking new partners
An artisan partnership is currently being established with a Canadian organisation. This will be finalised in 2023 and a development plan will be agreed.
II. 4 Organisation of a meeting for discussion and awareness-raising, the presentation of wishes and the presenting of donations to members
12 January 2022, TN organised this day for the promotion of peace, social cohesion and citizenship and resilience in the face of the ever-present threat of terrorism.
Breakdown of the cost of setting up and running this activity :
AMOUNT RECEIVED IN F CFA
GlobalGiving donation
697,514.94
Ex volontaire donation (Harriet)
35 146
Contribution from TN
61 000
TOTAL USED
793.660 ,94
EXPENDITURE
AMOUNT SPENT IN F CFA
Purchase of phone credits to call members
25 000
Purchase of 52x25kg bags of rice
572 000
Travel costs of members
76 500
Provision of a meal (rice with vegetables, 1 piece of fish, 1 mineral water and 1 juice per person)
120 000
TOTAL EXPENDITURE
793 500
BALANCE 160 ,94 F CFA
Five experts and members of TN participated in this activity :
ü A representative for the Permanent Secretary of the Cross-Sector Committee for the Promotion of the Rights of Persons Living with a Disability from the Ministry of National Solidarity & Humanitarian Action.
ü Four representatives from the National Federation of Skilled Artisans from the Central Region (FEREAC) : their president and three further members.
ü 53 TN members
After the awareness-raising session, a meal as already described, was offered to everyone at the meeting.
1 x 25kg sack of rice plus 1500 F CFA were gifted to every member.
II.4 Results achieved
4 outstanding catering bills were paid
14 members received training in how to use a spinning wheel to spin cotton
15 members were paid for their work with the catering service
GlobalGiving donations were used for the TN centre and to support some TN members over Christmas.
Awareness was raised for 60 people, including 53 TN members, who learned about the promotion of peace, social cohesion and citizenship and about resilience for themselves and their families in the face of terrorism in their localities.
II.5 Difficulties encountered
TN was unable to organise the 3 days of craft for disabled people that they had planned
The training for 60 members in how to use a knitting machine was cancelled. This was intended to promote and support the financial independence of women and had been scheduled for October 2022 by the National Federation of Artisans from the Central Region (FEREAC).
Due to insecurity, the International Exhibition of Artisans in Ouagadougou was postponed and moved from November 2022 to 2023. However, TN is not participating for a number of reasons, e.g. a lack of new products and the high cost of a stand.
The TN funds for the new Centre (Workshop/HQ) on GlobalGiving are not sufficient to complete the remaining works.
The members who took part in the cotton-spinning training had difficulty in peddling the spinning machine ; they managed this by working in pairs, however, even with this strategy, those who were pedalling with their hands found it difficult.
From 27/12/22 to 31/12/22, there was a shortage of fuel in Ouagadougou and some towns in Burkina Faso. This meant that travel was complicated, including for TN members – hence the need to support members over the Christmas period.
The worsening security situation, the high cost of living and the slow sale of members' products all have a negative effect on the TN association and on SCOOPS/TN
It has been difficult to hold meetings with all TN members.
Looking ahead
The organisation of 3 days for disabled artisans comprising the following activities :
ü 3 days for the display and sale of our products
ü Catering during the event
ü Awareness-raising about the rights of disabled people and how to deal with the problems of security and the cost of living in Burkina Faso
ü Donations to vulnerable people, including internally displaced people who have disabilities.
Make a film documenting all that Tigoung Nonma has achieved since its formation right up to the present day.
Use financial resources to support the improvement of the health of our members and to complete the work on the new TN centre (workshop/HQ)
Try to find ways of adapting the spinning wheels so that disabled persons can use them more easily and effectively.
Finalise the TN action plan for 2023-2025.
II.6 Conclusion :
Members of l'Association TN and SCOOPS/TN remain strong in the face of the difficulties across Burkina Faso. We thank all those who have made donations ; this has enabled us to give support to and raise awareness among our members.
We thank, as always, all of our partners and our customers/clients who support us, and who care about our well-being.
Wishing everyone a very happy 2023.
La Présidente de l'Association TIGOUNG NONMA
SAWADOGO/SAVADOGO Zoénabou