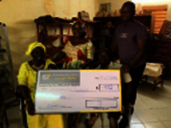 Introduction
From 18 March until 2 May 2020, Tigoung Nonma was closed due to the Coronavirus pandemic in Burkina Faso.
Worried for the future of its members, and the need to support them during this difficult period, TN sent COVID-19 projects to the UK charity LAFI Burkina and the organisations Friends of Burkina Faso and GlobalGiving.
Thanks to the goodwill of many, and to several activities led by TN, after the lockdown period and together with several of its partners, TN made a significant contribution to the improvement of food supplies and to the fight against COVID-19 among its members. TN received funding from Friends of Burkina Faso in relation to the prize it was awarded: the 'Friends of Burkina Faso Award for Peace 2019'.
TN received funding from donors on GlobalGiving which has not yet been spent.
TN has been through a difficult time faced with the loss of two of its members.
Activities
2.1 Meetings
Few committee meetings were held due to the Coronavirus pandemic. TN was closed from 18 March until the start of May.
Partnership meetings took place with CABES/GIE - Commerce et Artisanat pour le Bien-Etre Social (Business and Crafts for Social Well-being)
Meeting and discussions were held with a team from CFAO Motors with the aim of setting up a partnership with TN's dressmakers.
TN participated in a training session organised by CABES.
On the 10 October, TN participated in a workshop on the theme of Menstrual Hygiene Management. This issue must be communicated effectively to fight against the consequences that girls and women experience in their communities. This workshop was organised by GIE/CABES.
2.2 Donations/funding
Mobilisation of Internal Funds
TN received 14 Catering Service orders from, for the most part, Humanité et Inclusion and the Coopération Italienne de Développement. There was a total income of $4,112.35, a total expenditure of $3298.92 and a total profit of $813.43.
Craft Sales
In Mai 2020, TN received an order to make 1000 face-masks in a woven, Burkinabé, cotton fabric called 'Faso Danfani'; these were to include the logo of the Coopération Italienne de Dévelopment who paid $1,353.48 for the order. Five of TN's Dressmakers and 1 Calligrapher/Printmaker fulfilled this order. 80% of the total amount ($1,082.78) was split between the six craftsmen and women and 20% ($270.70) went back into the running of the headquarters.
Several sales of TN crafts in England were made by Alice through the online craft market place "Etsy". These included 2 bronze figurines, a doll, two keyrings and some items of jewellery.
Equipment Hire
The hiring out of tables, chairs and tents generated a sum of $40.60
Total amount received from Friends of Burkina Faso: $2000. This represents the donation given for the FBF Award for Peace 2019/2020.
Total amount received from LAFI Burkina : $1,302.51 and $410.87. This was for the fight against COVID 19 and the food crisis members are experiencing.
Amounts received from GlobalGiving:
31/08/2020: $269.52
14/08/2020: $4,963.46
04/05/2020: $315.27
Total amount received from GlobalGiving: $5,546.86
Members' Professional Development
A total of 20 members had their photos taken for their professional artisan business cards. This service was offered by CABES.
Advocating for the Rights of People with Disabilities
Discussion on Inclusive Education
On 20 October 2020, TN held a discussion on inclusive education with TN's members and the parents of pupils. This initiative was funded by Humanité et Inclusion who paid TN approximately $179.53.
The discussion was led by two TN members, Léonie and Issouf, who had themselves participated in a training workshop on inclusive education. The aim of the workshop was to raise awareness among parents and TN members of the vital need to advocate for the inclusion of disabled children within the education system. Those involved were helped to realise the importance of an inclusive education to enable young people living with a disability to thrive within society.
25 people joined this session.
Grants received for work carried out during Covid-19
The following organisations supported TN during the pandemic:
i. CABES/GIE
On 9 April 2020 TN received a pharmacy package from CABES with 10 masks, 1 container of disinfectant, a bundle of medication and a red cross bag.
ii. Seed for Hope
On 18 April TN received 2 containers of handwash, a container of disinfectant and 10 facemasks. This gesture meant that TN was able to support 15 of TN's most vulnerable members.
TN's Assistants
There are in total 5 people who help TN and its members with their activities.
Money Transfer
TN transferred money to 3 members, a total sum of $22.17, through Orange Money. This enabled these members to pay for food and soap.
iii. FENABF (Fédération Nationale des Artisans du Burkina Faso)
TN received a 50kg sack of rice
iv. ABIPA/CBM (Association Burkinabé pour Inclusion des Personnes Albinos)
TN received handwash, 25kg of rice, a 5 litre container of disinfectant, 10 packets of spaghetti, 9 alcoholic hand gels plus 1 x 5 litre container of hand gel and a plastic bucket.
Together, these donations were used to support the 12 members who came to have their professional artisan business cards made.
v. Aid & Save
On 11 September 2020, TN received a grant of $182 from Aid and Save. This will go towards the installation of electricity at TN's new headquarters.
vi. LAFI Burkina : (2nd lot of funding)
TN received approximately $414.21 from LAFI which permitted:
the purchase of food packages: 32 x 5kg packets of macaroni, 22 x 1L containers of cooking oil and a box of CITEC soap. These packages were distributed amongst 25 members during the discussion about inclusive education.
the purchase of pay-as-you-go telephone units to allow members to contact each other regarding distribution of packages
TN served food to members on the occasion of giving of these packages to members.
Beneficiaries of the project
Direct beneficiaries
TN's members and assistants who help coordinate TN's activities.
Indirect beneficiaries of the project
Members' children, members' families, people living with a disability in the community.
Results achieved
Every member has received a food package: a 25 kg sac of rice, 2kg of sugar, 3 bars of soap and 90 cl of cooking oil.
47 members have received food packages soap
5 of TN's assistants have received food packages and soap
25 of TN's members have learned about the importance of inclusive education
5 organisations have supported TN during the Coronavirus pandemic
80 members have benefited from LAFI Burkina's grant
TN has contributed to the improvement of its members' food supplies
TN supported its members' fight against Corona Virus
3 members in the countryside received money to pay for their food and soap
The food provision of members was improved
Handwashing to fight COVID was introduced
Difficulties faced
Coronavirus is in Burkina Faso which meant that activities had to stop during March and April.
Poor product sales
The difficulty of contacting some members by phone to give out food and Covid-19 protection kits
The total non-compliance of social distancing and the wearing of face masks by some members
Of the 52 active members, TN was able to contact 50, 3 of whom live in the countryside.
Flooding in certain areas of Ouagadougou, in particular at Zoénabou's family home.
Sad News
TN sadly lost two members: Adeline and Amado. May their souls rest in peace.
Looking Ahead
TN plans to:
use the funding from GlobalGiving for the next stages in the project
send a summary of all the money spent with the funding received from GlobalGiving
continue to purchase and distribute food packages and Covid-19 protection kits for TN's members and assistants
produce a new project application to Friends of Burkina Faso
continue to mobilise funding to complete the construction of the new headquarters
continue to promote Tigoung Nonma.
Conclusion
We would like to give our sincere apologies for the delay in sending this report which was for reasons outside of our control.
Despite the difficult conditions across Burkina Faso and at TN (concerns for security and the Coronavirus pandemic) we remain determined to help our members to improve their lives and their socio-economic situation. To achieve this, we ask our members not to drop their guard at all as Covid-19 remains a serious threat; they must not become discouraged as they work for their daily bread.
We would like to thank all our partners, our donors on GobalGiving, our customers and, in particular, our ex-voluntary Team Leader, Alice McGonnell, and the members of Friends of Burkina Faso who continue to support us.
(All currency is an approximate conversion into US dollars from CFA).