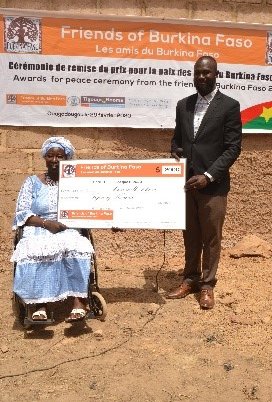 1.1 Meetings
Tigoung Nonma has:
Held 5 committee meetings : to prepare its plan of action 2020-2022, to prepare catering service orders, to present the outcomes of activities carried out, to discuss the current situation in Burkina Faso and to find solutions for our members.
Taken part in 2 meetings held by the Ministry of Women and Solidarity, Family and Humanitarian Action as part of International Women's day.
Given that craft sales were poor , TN held a general assembly for discussion with its members to understand their training needs in entrepreneurship in order to support them to carry out this individual activity which could give them a source of revenue.
Held 2 preparatory meetings with the vice president of Friends of Burkina Faso to organise the award ceremony for TN's director.
1.2 Raising internal funds:
1.2.1 Catering Service Orders
From January until the middle of March, TN received 7 Catering service orders.
1.2.2 Craft Sales
One order for 3 leather bags from the UK and some TN sales.
1.2.3 Equipment Hire
TN hired out 90 of their chairs, 2 tents and 10 tables.
1.2.4 Cereal Sale
TN sold 6 sacks of corn/maize and 1 sack of millet.
1.3 Award ceremony
Friends of Burkina Faso (FBF) organised a ceremony for the Peace Trophy to be awarded to the director of Tigoung Nonma. This ceremony took place in TN's new headquarters.
Mme Zoénabou Savadogo during her speech after receiving the prize, dedicated it to all of her co-workers (TN's members). For her, this honour/ prize gives her the motivation to persevere in her efforts to work for the well being of all of TN's members.
She thanks her parents, the ex-technical assistant, the past team leaders, the past volunteers, and the technical and financial partners who have all helped and supported her to achieve this success.
Official business cards were also given on this day to the president of TN, Abas, for 15 beneficiaries.
Tribute was also paid to the ex-president of Friends of Burkina Faso, Feu Mickael Lavoie whose wife accepted a trophy at the ceremony on behalf of her late husband.
1.4 Members' professional development
1.4.1
TN and 2 managers from 'Entrepreneur du Monde' and its project EMERGENCE, held a meeting at TN with a view to find ways to support members with training and entrepreneurial activities in order to allow them to carry out activities to generate money alongside their principal activity: crafts.
1.4.2 Meeting with TN members to understand training and entrepreneurial needs
Of all members invited, 21 members came to the meeting. Through fear of security problems and of the disease CORONAVIRUS, many did not come.
The entrepreneurial needs agreed with members present according to their area of business/expertise are as follows:
From the catering service: 05 members ; Livestock farming : 05 ; DIY/hardware : 01 member ; screen printing/calligraphy : 01 member ; sale of bronzeware : 01 member ; other business activities : diverse goods : 02 members ; sale of woven, cotton fabric : 01 member ; Marketing : 03 members ; Sale of shoes, handbags , pures : 01 member.
II Résults
The profits generated from income generating activities have enabled TN to pay its members and to pay for certain running costs (rent, internet, telephone, petrol.)
The work of TN was also promoted.
III Difficulties faced
Increasing insecurity in Burkina Faso
Coronavirus is in Burkina Faso where TN's activities have been halted.
Insufficient product sales.
Increasing fear amongst members faced with the current situation in Burkina Faso.
VI Outlook
Generate funding to support the members to get through this difficult period which is affecting the whole country, in particular, disabled people, our members:
We still hope to generate funding to complete some renovations at the new headquarters (toilets, workshops, cereal store, painting, washing up area, install electricity and water).
Move into the new headquarters as soon as possible to reduce running costs (rent).
Continue to raise awareness of TN.
V Conclusion
To help our members find other income sources, members must be trained in a skill of their choice, and individually supported through microfinance in order to find new ways of earning, alongside the crafts they already design and produce.
TN remains determined to work for the improvement of socio-economic conditions of its members but currently, the difficult conditions across Burkina Faso (Security and Corona virus or Kovid-19) are eroding this determination.
We thank all our partners, our donors on GlobalGiving and the clients who have contributed to the well-being of TN.
Finally, we ask for the willingness of our partners and our donors to support us to complete our headquarters in order to finally make the move there.
Note from Alice:
From the UK, we participated in one local craft sale in February and have registered to sell at one in May and one in June. Sales were poor in Feburary and I sent £50 to TN which was given to the designers concerned. The fear of CORONA VIRUS is effecting people worldwide and for those whose lives have already been severely affected by the polio pandemic, I imagine this fear runs deep. Fundraising will continue and I continue to search for ways to help Tigoung Nonma.
What is the Peace Prize?
The peace Prize is a prestigious award given to one person in Burkina Faso who has significantly contributed in some way. It is to recognize these contributions at "...all levels, to provide support and motivation to these individuals and to raise powerful examples of good works for others to see and from which to be inspired".

What is the prize?
Zoénabou received a beautiful, handcrafted, bronze trophy and a cheque for $2000 which can be given to a charitable cause of her choice. Zoénabou chose to donate the money to Tigoung Nonma.