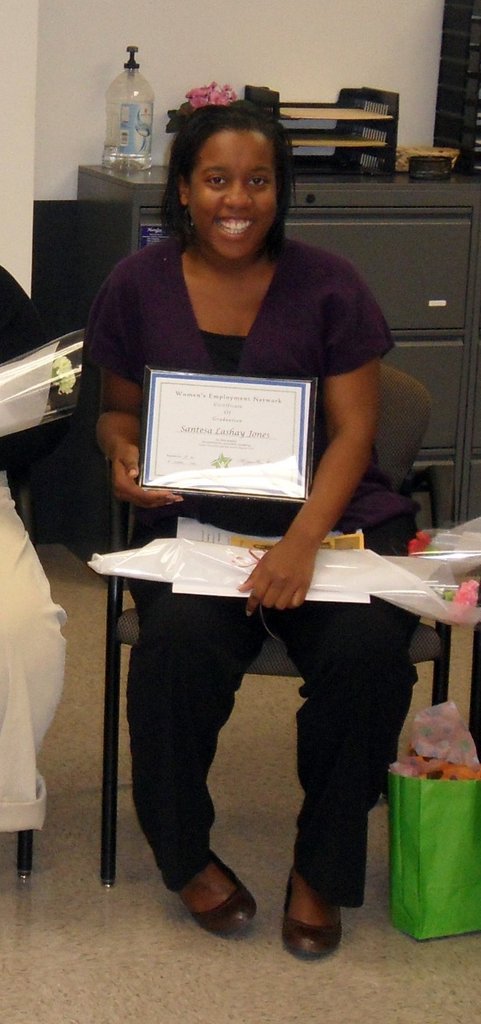 Santesa came to WEN unemployed, frustrated, down-on-her-luck, but determined to find sustainable employment so that she could take care of herself and her family.
Santesa is young, just 22 years old. And she has three children (ages 6, 3, 1) and was pregnant with her fourth. Though she had a solid work history with good references and experience, she was finding it next-to-impossible to get hired, possibly because she was pregnant.
During the WEN training, Santesa got her confidence back, shifted her mind-set, and set in motion a plan to get herself working and back on track. It was during the mock-interview portion of the WEN training and curriculum that things really began to change. The WEN volunteer-interviewer, a successful local businesswoman, saw Santesa not as a pregnant, young mom without a job, but as a woman who had great potential, a great attitude, fortitude, and strength of character. This volunteer was so impressed by Santesa that she made calls and networked on her behalf. Santesa, through this volunteer's help, landed an interview with a company she wanted to work for. And, Santesa aced the interview and found herself a job: employed, thanks to WEN and thanks to her own strengths and effort.
Santesa, through WEN's program, found sustainable employment: she is now employed by a national restaurant chain as a hostess. She receives steady paychecks and benefits and is on the path to a bright future. Another WEN success story; we are very proud of Santesa!