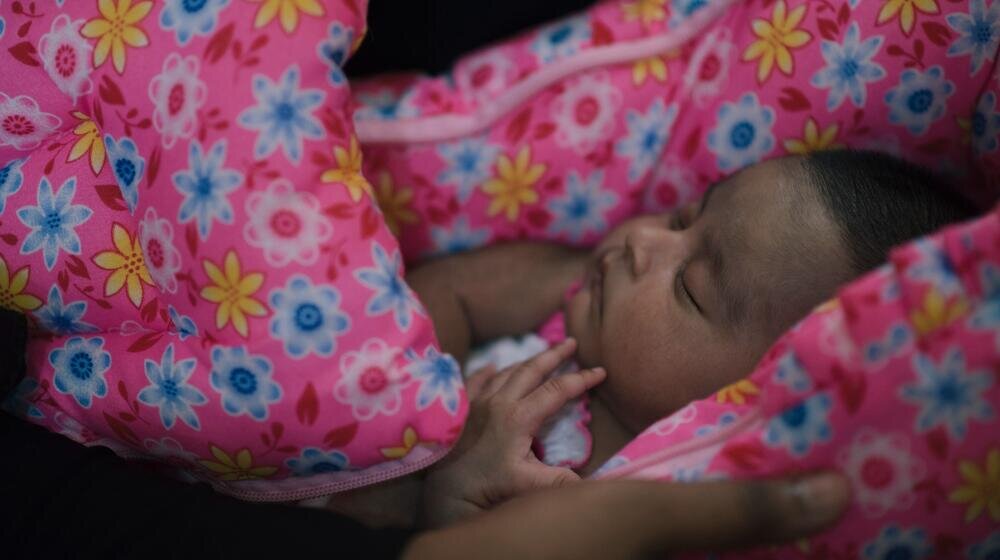 In the worst socio-economic crisis of Sri Lanka's history, Ruchika and other pregnant women pay the price.
When Ruchika found out that she was pregnant with her second child in October 2021, she could never have imagined that, hours before giving birth, she would be in a crowded line, begging for fuel to get to the hospital.

"The majority of the crowd was sympathetic. The authorities allowed me to buy the fuel I needed after examining my medical documents to confirm my story, but there were still a few who were shouting at us," remembers Ruchika.

Before the crisis, 99 percent of births took place in a health care setting, but now, power outages, fuel shortages, medicine stockouts, and a lack of equipment have left the health care system crumbling. Pregnant women like Ruchika are among the most vulnerable.
A gift of $15 provides 3 women with emergency birth kits, which contain everything a woman like Ruchika needs to prevent infection and safely give birth during an emergency.
"I was worried about how bad things would get so I asked my doctor twice if my baby could be delivered safely even if it was two months early."

Two months before her due date, Ruchika began hearing stories about women needing to bring gloves, blades, and other basic medical supplies with them when they gave birth. The hospitals had run out and had no way to acquire more. Ruchika called her doctor to ask if she should also bring supplies and all he could tell her was that he had no idea what the situation would look like when it was time for her to give birth. That's when Ruchika asked if she could deliver early.

Shortages of medical supplies weren't the only obstacle to Ruchika's safe delivery. "The week before my delivery, my husband asked about my doctor's fuel status because we'd heard so many stories of doctors and nurses not being able to report to work because of the fuel crisis," she explained.
$150 provides medications, supplies, and equiment to a rural health clinic, so staff at the clinic can provide essential care and manage obstetric emergencies.

Luckily, Ruchika got the fuel she needed and safely delivered her baby at the hospital. But, weeks after giving birth, she is well past the date when her stitches should have been removed. The reason? Her doctor has to save his limited fuel resources for patients in active labor.

Right now, we are scaling up resources in Sri Lanka to reach 215,000 pregnant women like Ruchika with lifesaving safe deliver care. 60,000 of these women will need surgery to survive childbirth.
You can equip a midwife to support 50 women like Mariel through safe deliveries with a generous gift of $400.

Thanks to your ongoing support, we are there.