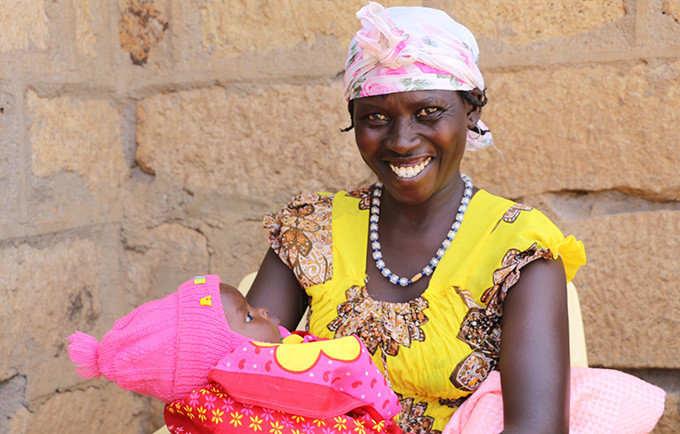 Lena was in the final days of her pregnancy when violence struck her community in rural Kenya. Cattle rustlers attacked her village, setting her home on fire.
"The only thing I managed to grab before dashing out of the hut was my bag, which had my personal items," said Lena.
The contents of that bag, which were supplied by UNFPA, ended up saving Lena's life.
Around the world, UNFPA provides women like Lena with clean delivery kits, which contain all the essential items for a safe delivery.
The kits contain essential items necessary for a safe birth, including sterile gloves, a blanket, a plastic sheet, and soap. For only $11 you can help UNFPA provide three emergency clean delivery kits to women without access to maternal health services.
Lena was separated from her family and had to hide in the bushes. "I was alone and afraid," she said. And while she was hiding, she went into labor.
"I remember crying at the top of my voice," she said. "I was sure I was going to die, unless I got help."
Thankfully, a neighbor heard Lena's cries for help. Because of UNFPA's clean delivery kit, the neighbor was able to help her give birth safely.
A donation of only $25 can provide one woman in a humanitarian or rural setting with a dignity kit that offers flashlights and hygiene essentials, ensuring that she can maintain her dignity, health, and security in emergency situations.
In Kenya alone, UNFPA is hard at work ensuring that every woman can give birth safely. Within the last year, UNFPA provided 22,000 women in the country with lifesaving reproductive health services.
But there is so much more work to be done. With 830 women dying every day from unsafe pregnancy and childbirth, more than 500 of those deaths occur in emergency situations like Lena's.
Can you make a donation today and help support UNFPA's work making every child birth safe?
Links: