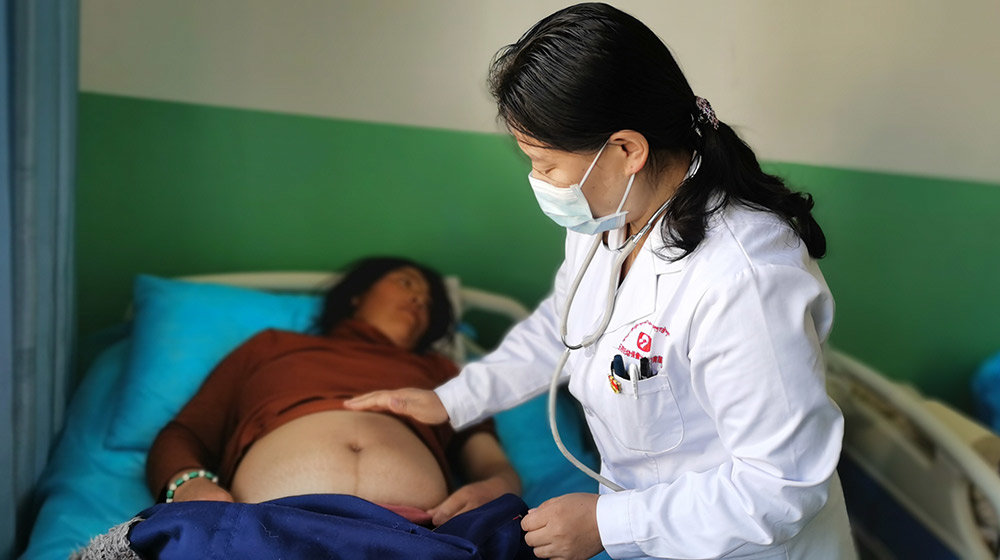 Even though Dr. Cairen had been caring for pregnant women and new moms in northwest China for more than a decade, she didn't have all of the skills of a midwife. After participating in a UNFPA training course, she feels even more confident in her abilities and prepared to care for women. She says, "As a doctor working in the field, I carry out multiple tasks including attending births, procuring medicines, and providing outpatient services such as cervical and breast cancer screening."
Just $15 provides three pregnant women with an emergency birth kit, which has all of the essentials for safe childbirth, even without a health care professional like Dr. Cairen.
One of the skills Dr. Cairen learned was how to manage pregnancy complications. This was important for one of Dr. Cairen's recent patients, who gave birth at age 41. Because the woman was able to deliver at her local clinic, her delivery was free. And, when barriers like cost and travel are eliminated, more women get the care they need to have a safe delivery.
For $150, you can supply a rural health clinic with the medications and equipment it needs to provide pregnant women with prenatal and safe delivery care, even in the event of complications.
Dr. Cairen has seen this change, too. She observed that her patients are more comfortable and that she is able to provide quality care to more women and families. This is the work you make possible. Thank you.
$400 equips one maternity ward and midwife with the resources they need to support 50 women through safe deliveries.