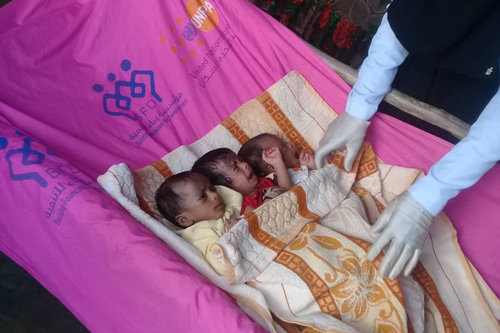 Giving birth is becoming dramatically less safe.
In Yemen, Aisha was pregnant but did not access prenatal care. She was afraid of leaving the house – afraid of the violence that engrosses the country.
And afraid of the virus.
"We kept hearing on the television about a new virus called corona that is killing people in many countries."
Aisha was also pregnant with triplets.
You can help new moms like Aisha get the care they need. Just $15 provides three women with emergency birth kits, so they can safely deliver their babies during crises.
Aisha made a decision that many mothers in Yemen make. She decided to give birth at home.
"My mother kept shouting that there were two umbilical cords hanging and I was losing blood."
Her uncle lived nearby and rushed her to a UNFPA-supported hospital. "It was like a miracle," she said, after giving birth to three healthy babies.
A contribution of $100 supplies five midwives with the items they need to help moms like Aisha give birth.
With health care systems at risk of collapsing, UNFPA is urgently supplying lifesaving medical equipment to help frontline health workers save mothers and babies.
More than 800 mothers die every day due to causes related to pregnancy and childbirth. This will worsen during the COVID-19 pandemic.
Can you help ensure that the world's most vulnerable receive the care they need during these uncertain times? Your gift of $25 provides one woman with the hygiene essentials she needs to take care of herself and her baby for the first six months.
Links: