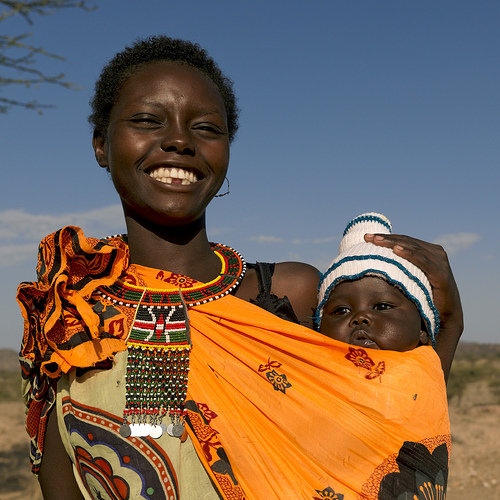 The day that Lena gave birth to her seventh child began just like any other day. Her husband was out grazing their livestock in the grasslands of Kenya and her children went to bed at their normal time.
Then, chaos erupted. Bandits from a neighboring village had set fire to most of the homes in Lena's community and were shooting at those who fled. The assainlants' goal was to take livestock and other valuables to suvive through a drought that had been affecting the region.
Lena escaped to the bush surrounding her home - alone except for a neighbor woman who had keep struck by a stray bullet. Her six children had run in different directions. That was when Lena went into labor.
Luckily, Lena had a UNFPA emergency birth kit with her. She and her neighbor laid out a plastic sheet and Lena gave birth to her son, safely.
You can support women like Lena! $5 provides one emergency birth kit to a pregnant woman in crisis.
Everyday, more than 500 women in humanitarian settings die from preventable pregnancy and childbirth complications.
Some of these women were alone or in labor for days before they died. Others may have passed away in front of loved ones who were lacked the basic tools to save her life.
$400 provides one clinic with enough funds for midwives and supplies to help 50 women delivery healthy babies.
UNFPA works to provide lifesaving care to women and girls all over the world.
Links: