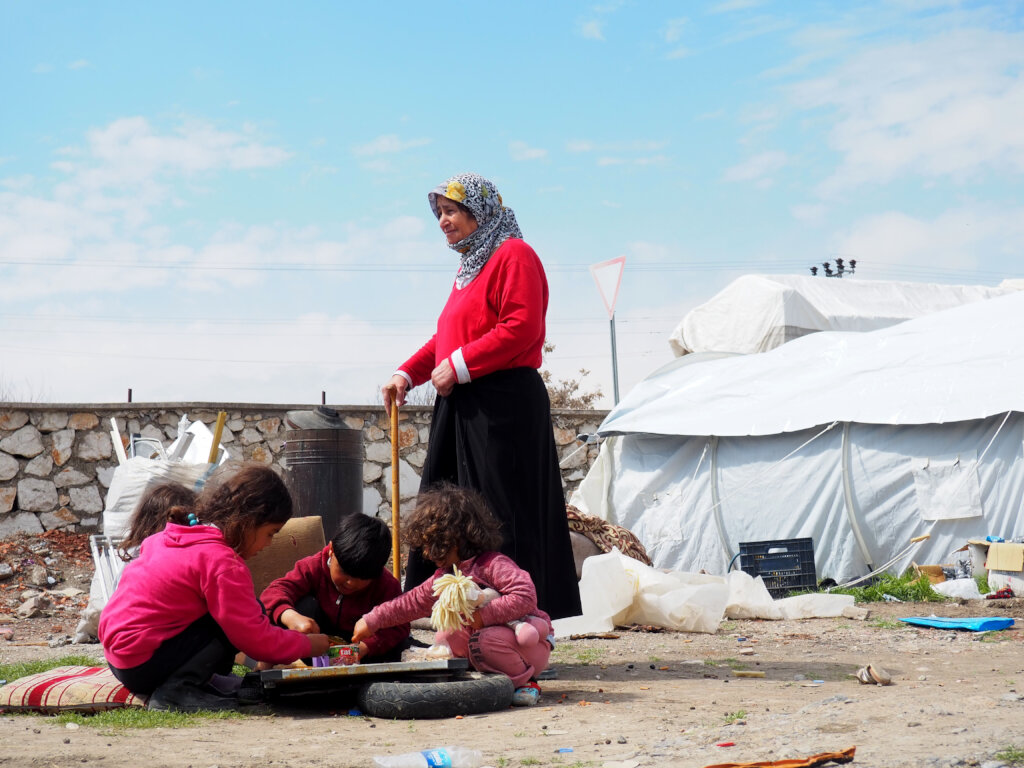 On February 6th, 2023, media headlines were flooded with news of two sudden earthquakes that struck Turkey and Syria, and the devastation that killed over 50,000 people and impacted millions more.
As we near the end of June 2023, the populations affected by the earthquakes continue the struggle to rebuild their lives after facing such an unprecedented natural disaster, and Concern Worldwide remains committed to seeing the relief effort through. Four months on, much of the rubble from the earthquake has been cleared and mass demolition of dangerous structures is underway. For the hundreds of thousands living in temporary shelter, winter's discomforts will soon be replaced by the extreme heat of the southeast Anatolian summer, when temperatures often top 104 degrees Fahrenheit. Recovery is for many still an aspiration, but while they wait, they are sustained by a sense of community and support from humanitarian organizations like Concern.
The sheer scale of the impact that the earthquakes and over 1,600 aftershocks had on the lives of people in Turkey and Syria is hard to grasp. As we've seen historically, communities affected by natural disasters as devastating as an earthquake face long roads to reach a return to normalcy. Livelihoods are heavily impacted, and economies become fragile. Food insecurities rise, and vulnerabilities amongst populations. In Turkey and Syria, where there are communities that were already vulnerable and disadvantaged prior to the sudden earthquake, people face even greater obstacles as they struggle to survive and recover.
Concern was already on the ground in Turkey and Syria when the earthquakes struck, which enabled us to swiftly respond to the emergency to address immediate needs. Following the devastation, shelter was the biggest need. Temperatures were below freezing in the areas hit by the earthquake, and our team ramped up our response rapidly to supply those affected with blankets and heaters, along with food and water. As part of our emergency response, we distributed 7,500 blankets, 3,900 sleeping mats and over 5,400 hygiene kits that include soap, toothpaste, toothbrushes, and female sanitary supplies. Working in collaboration with international and local humanitarian organizations, we continue to supply shelter, food, cooking utensils, build emergency toilets and help to rehabilitate and improve access water, latrine and hygiene facilities. The Concern team has also been facilitating psychosocial activities specifically aimed at children, to help improve their psychological well-being in the wake of the traumatic events of February and months of homelessness.
Post-earthquake needs were both massive and urgent, yet in the wake of such an unprecedented disaster, we were also able to witness a strong sense of solidarity that grew in the face of adversity. Women affected by the earthquakes drew strength from each other and became part of the effort to support each other in the aftermath. A woman who our team worked with reflected on this sense of community, explaining that "Despite the challenges, there is a great sense of solidarity among women in the tent area. Since I am a widow, other women living in nearby tents have set up their own tents next to mine and told me that I am not alone. Women whom I had never met before embraced me."
Although their lives were deeply affected by the crisis, community members still took a stand to assist each other by volunteering to deliver first aid, psychosocial support, and distributing food to others affected. Neighbours helped each other construct makeshift shelters using whatever materials they could find. During the initial four days, families pooled and shared what food was available, driven by the necessity to support each other, reminiscent of the lessons learned during the crisis in Syria. There has been a sense of mutual support, making daily life more manageable.
Concern Worldwide will continue to provide life-saving aid and remain flexible in our response to meet the changing needs of the populations affected by this sudden disaster.We continue to work with local partners and organizations to ramp up efforts for additional, longer-term support. This story may have departed from headlines, but our work continues as we try to alleviate the suffering caused by the devastating earthquakes in early February.In the wake of such a disaster, the people of Turkey and Syria need as much help as they can get as they continue forward on a long road to recovery.