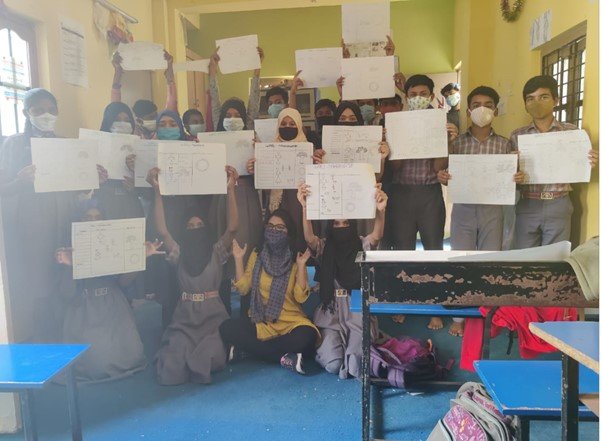 "I teach grade 9 and 10 students at the St. Albert's High School in Hyderabad. I have seen my students grow from going completely silent in mathematics class to solving questions on the whiteboard while explaining them to their peers. We have gone from just copying answers in science class to asking about everything under the sun.
It has been a challenging period to deal with multiple classrooms and community visits. Still, my school team was always there by my side and helped me successfully fulfil my responsibilities. While teaching higher grades added an extra amount of pressure to complete the syllabus and make students exam-ready, blended learning came as a rescue; I had the opportunity to ensure my students' holistic development and well-being without compromising academic excellence. With schools reopening, I am engaging an average of 24 instructional hours of synchronous learning spaces every week and a commensurate amount of asynchronous learning material in the virtual medium.
The last few months were filled with hardships, uncertainties, and adversities. Still, they have left me with a hope that we will one day see all children attaining excellent education, just because we have a lot of people like us working towards supporting directly in this movement."
These past three months have been a rollercoaster ride with uncertainties surrounding schools opening and the safety precautions that had to be maintained when the schools eventually opened. Creating a safe space for Students to return to school needs meticulous planning. We had multiple conversations with the school staff and the parents to ensure the safety of the students within the school, such as physical distancing in the classroom and staggered entry plans for different grades. With physical distancing norms, having group activities was limited, so we had to devise means of hybrid learning with the help of school staff.
Measuring impact
We've had 90% attendance of the students in school and 82% engagement in classroom participation and asynchronous work submission.
70% of the students are completely aware of the available career options for them, 55% have shortlisted the feasible options considering various personal and academic factors, and 20% of the students have chalked down their next steps for the short term and long-term goals
Our continuous efforts with English learning labs and specialized blended learning curriculum has increased the class average literacy mastery by 10% over last year's average mastery. Alongside the literacy mastery, students have shown 24-30% progress on listening, writing, and speaking skills over last year's levels. Besides, with digital learning, debates and discussion spaces, practical classes and real-life problem-solving techniques over the previous eight months, grade 10 students' average mastery for all the subjects grew by 18%.
Students' overall well-being
Community visits and parental conversations to examine their well-being and convince them to bring their children back into the learning loop have become fruitful. Engaging with parents has led to them becoming more involved in their child's education and holistic development.
The pandemic put a lot of pressure on my Students. While some of them have learned and grown from these experiences, few are still struggling to cope with the pandemic's added burden. To address this, we have declared Fridays as "No Bag Days" at school, where the students engage in Socio-Emotional Learning and also get an opportunity to showcase their talents/projects to the whole class. Grade 9 students also participate in various co-curricular and extracurricular events and competitions like inter-school debates, quizzes and regional and district level sports competitions to improve their social skills.
Blended learning has also led to an opportunity for the students to acquire digital literacy skills and take responsibility for their own learning. It is a big goal that we aspire to achieve through our classrooms, where the students take responsibility for their own learning. We organized personal SWOT analysis and career counselling spaces (external partners) with our students to create self-awareness and realize their goals and aspirations for the future. We have also collaborated with other Fellows from different schools to provide career counselling to our students.
Student achievers
One of the success stories was that of a student who cultivated reading books during the lockdown. She slowly picked up with reviewing the books on her blog. Today, she is almost on the verge of finishing her own novel and planning to publish it as well. The virtual learning also helped a few introverts and lower order students in my classroom to open up and use different learning methods to master the concepts at their own pace without any peer pressure. It brought a completely different aspect of their personality and learning prowess which increased their self-confidence and self-belief.