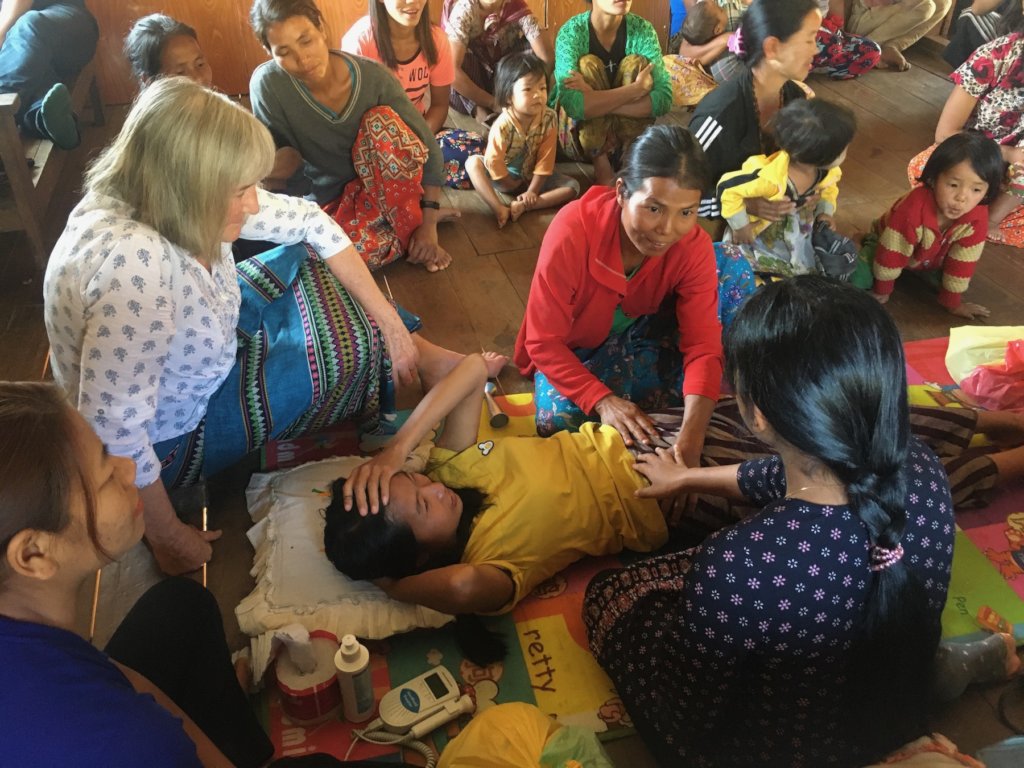 In our last update, we reported on the visit in March by two UK midwives, Frances & Maaike. Alongside running training workshops in Maternal and Neonatal care for Community Health Workers (CHWs), part of the trip involved assessing the effectiveness of the local ToTs (Trainer of Trainers). Feedback was conducted with twelve women trained from the rural villages. This was followed up by visits to the local communities to assess the quality of their training.
The ToTs had each visited two remote villages in the last six months and had received overwhelmingly positive responses. Each village was provided with a Birthing Bag for the TBAs to use, alongside a set of Clean Delivery Kits. As a result of these outreach visits, 47 TBAs were trained who could not attend the course at the Health & Hope training centre. In addition, 113 village women joined the training. This provided an excellent opportunity for health education and promotion on essential topics including hand washing, nutrition, normal and abnormal situations in pregnancy and breastfeeding.
The village visits gave Frances and Maaike an opportunity to see the ToTs in action:
"On arrival Mimi, the ToT, introduced us to the 10 TBAs that she has been training over the past year. They are all currently active and have been delivering babies either with Mimi or the local ambulant midwife. The trained TBAs are a great resource to the local community, as prior to Mimi's training there were no trained TBAs and Mimi mainly had to work alone. She could not always be there when a woman went into labour, which brought additional risks."
The TBAs were so enthusiastic about Mimi's support: "Yes! She is a good teacher. We are so thankful because now we have confidence to manage normal pregnancy and birth as well as the difficult ones. We used to be scared of problems, but now we have practiced the emergency drills and know what is normal and what isn't. As a result we are no longer afraid that women will die."
During the COVID-19 outbreak, TBAs have become increasingly important. Our recent COVID-19 study conducted in the villages, found that ambulant visits from government midwives had stopped and villagers were also unable to leave the village for healthcare needs due to the lockdown. Without the trained TBAs, most women would not receive antenatal support and would have to give birth at home without a trained practitioner.
Despite the ongoing challenges posed by the Coronavirus, we have been able to gain government permission to travel out to villages to provide health education and support to local health workers. In April, we reached 135 villages and four camps for internally displaced people. Our aim for the coming year is to continue to reach out to communities in need. Under this project, we will provide support to expand the ToTs work to a further 24 rural villages. The local trainers will be equipped to deliver a bespoke training package to TBAs, whilst our staff team will provide Maternal and Neonatal health services to women across a larger geographical area through outreach services from our local clinic.
Thanks to your financial giving, we have been able to train and develop a strong local staff team to support this work. Do click through to our website here to see a short update on the amazing team serving their local communities as a result of your support.
With thanks for your continued generosity,

Hannah