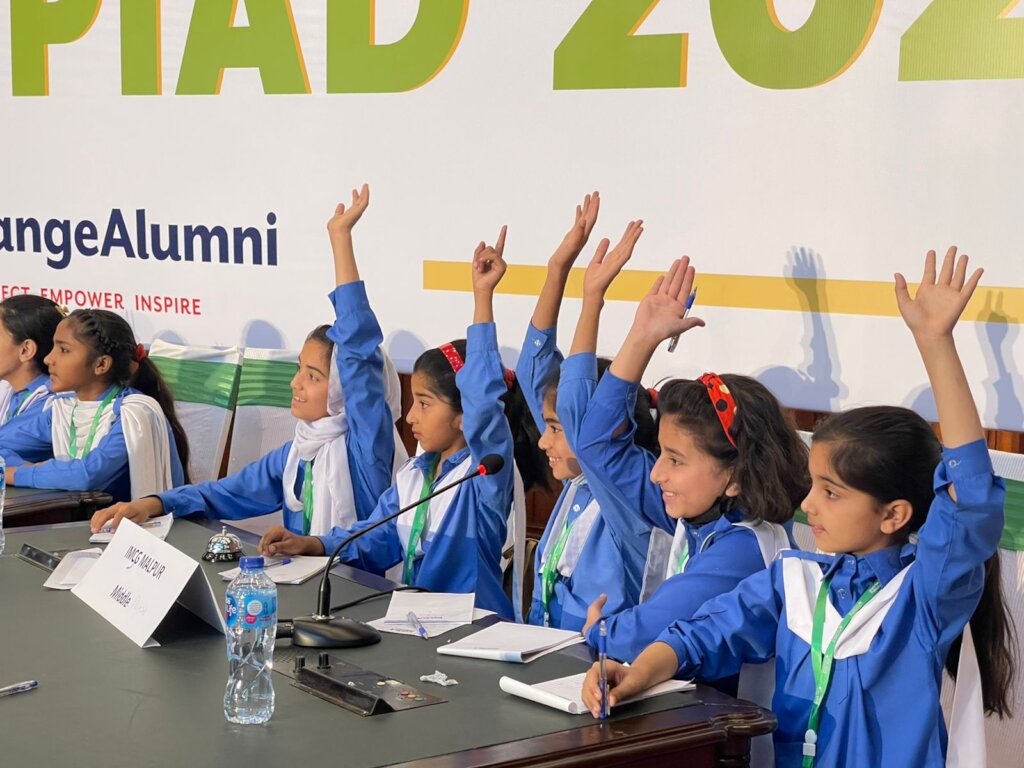 Dear Partners,
I hope you've had a blessed Eid with your loved ones. On behalf of Teach For Pakistan, I thank you for your generosity in ensuring that over 9,700 students have access to the learning resources they need. Our students, with whatever stationary, reading material, and learning resources they have, are already on the path to participating in an excellent education. With your help, they will learn without the worry of limited access to basic learning resources.
Teach For Pakistan is working to expand opportunities for our children and to also expand and deepdn our impact across schools and school systems in Islamabad. In June, 37 second-year and third-year Fellows successfuly completed their Fellowship and joined our Alumni movement that is working across Pakistan's system to bring the voices of our most critical partners - our students and their parents - to the most important decision-making platforms of the country.
Meanwhile, our now second-year Fellows are gearing up for the new academic year to begin in August. These 34 young men and women will continue their journeys in 21 of Islamabad's schools to teach their bright and brilliant 3,370+ students.
This report provides an overview of Teach For Pakistan's work since April and also give you, our partners, a peek into three of our classrooms.
The 2020 cohort's Community Partnership Projects
Community Partnership Projects are small scale initiatives undertaken in the second year of Fellowship and are designed to address the most salient barriers to learnings in classrooms. This time around, given the exacerbation and accumulation of learning losses due to COVID 19, a large proportion of the Community Partnership Projects focused on building literacy and numeracy in their students, the benefits of which extend to the communities and schools in which the Fellows are placed as well.
The 13 projects targeted numeracy, literacy, independent learning and critical thinking in students, and included classroom, school and community libraries, remedial support for students, student extra-curricular clubs and specialized support for teachers. Many of these projects continue beyond the Fellowship and have been handed over to community members and school staff for implementation.
Girls conquer the STEM Olympiad!
On the 16th of April, Teach For Pakistan conducted a first-of-its-kind STEM Olympiad where 800+ students were in attendance. The day was packed with intense competitions where teams from 28 FDE schools showcased their confidence and academic prowess in English, Math, Science, and General Knowledge. Our participants had spent months in preparation with their Teacher-Fellows for the Grand Finale of the Olympiad. Since our students do not get the opportunity to competitively participate in academic competitions, we witnessed excitement, joy, and confidence among our students. The participating students were cheered on by their peers, parents, teachers, principals. After some nail-biting buzzer round competitions coupled with incredibly amounts of support, two teams emerged victorious at the STEM Olympiad.
Welcoming 110+ Fellows to the Movement!
As the 2021 cohort prepares to begin their second second year in school, Teach For Pakistan welcomed its largest-ever cohort to begin their Fellowship. These bright and inspired young men and women are engaging in an immersive and intensive six-week induction training with Teach For Pakistan before they are placed in their schools. This cohort is the most diverse one in Teach For Pakistan's history, hailing from over forty districts across Pakistan and over 39 universities within and outside Pakistan! This will mean that Teach For Pakistan supports and partners with more students, schools, and communities than ever before.
Fellow Sheeba's students inching closer to realizing their dreams
In August 2021, when Sheeba first stepped into her 9th grade classroom, she was welcomed by 162 bright young women eager to learn from their new Math teacher. When she first began teaching, she conducted a vision exercise with her students for them to set goals for where they want to be at the age of 25. Many of her students set ambitious professional goals for themselves but did not know the steps that led to realizing them. Given that Sheeba teaches higher grades, her students' dreams seemed closer and so she set out to enable her students to get on the path to achieve them. She invited a couple of students from National University of Science and Technology (NUST) for a day-long career counselling session.
The goal was to break down their ambitions into achievable and realistic steps that they must start taking in the next couple of years. Through this day-long session, Sheeba's students learnt how they could become pilots, scientists, journalists, teachers, and in turn requested their teacher to create more opportunities such as this. She consequently planned for deeper and more frequent counselling sessions for her students in the second year of her Fellowship.
Nilore's writers-in-the-making
Ushna Fawad (2021) teaches English to 6th and 7th graders in IMCG Nilore. As she was working on grammar with her students, she noticed that her students would routinely share stories of their daily lives with her, except that they did it verbally. This is when she decided to give her students a prompt in each class and ensure that they express themselves on paper. By the close of the academic year in June, Ushna's students use pen and paper to express themselves and one of her students even wrote a story about Ushna, complete with 5 chapters, and all she's learnt from her. Moreover, the young writer requested that her teacher give feedback on the story so she can improve even further.
Maria, Oneir, and Syeda's 'favorite student'
In IMSG Sangjiani, Fellows Maria, Syeda, and Oneir taught 4th and 5th graders for two years. Throughout their Fellowship journey, they were asked routinely by their students who their favorite student was. In anticipation, their students would predict this periodically based on who had performed academically or otherwise better than others in the classroom. On their last day at school, much to the students' surprise, the Fellows told their students that they would finally disclose this information to the whole class. As part of the last day of their Fellowship, packed with activities, the Fellows had brought a box with candies and a mirror inside that the students would observe one at a time to find out who their teachers' favorite student was. The picture below revealed their favorite student!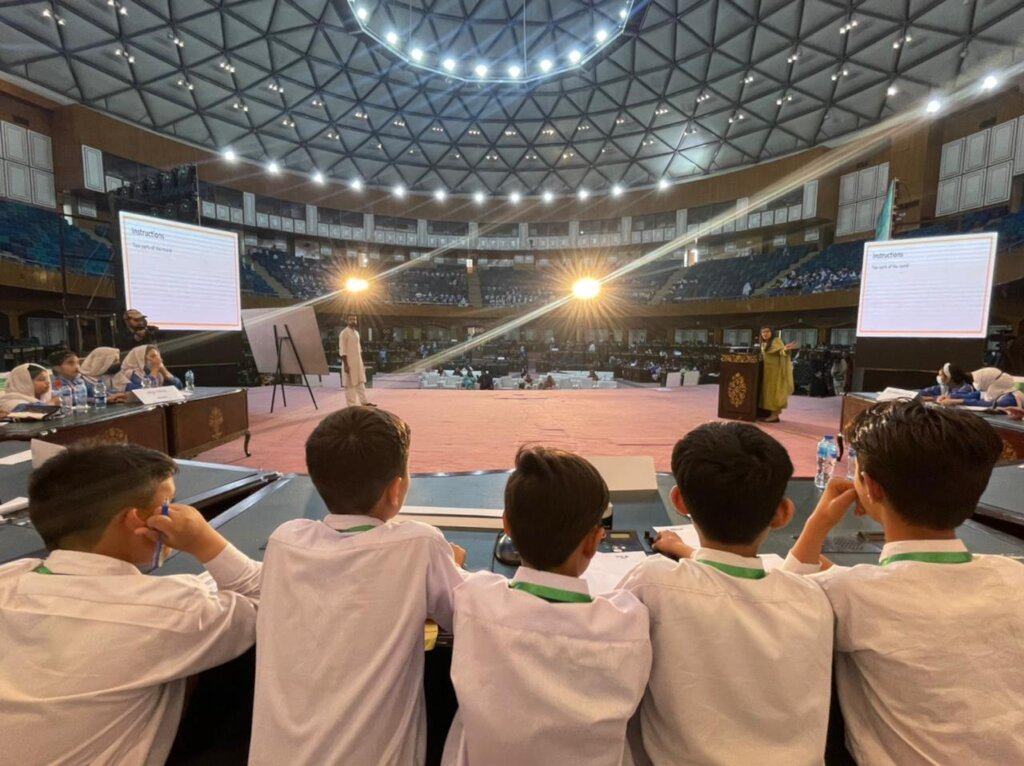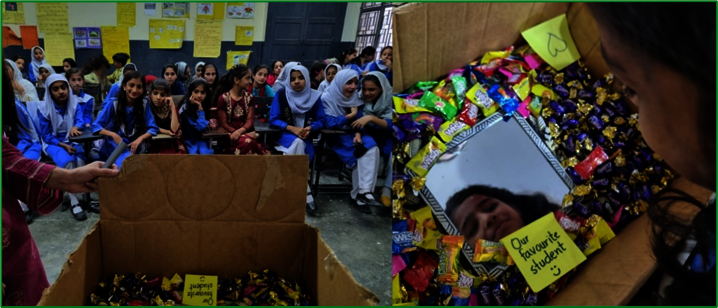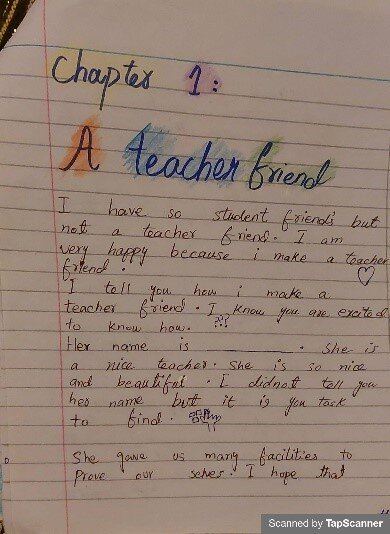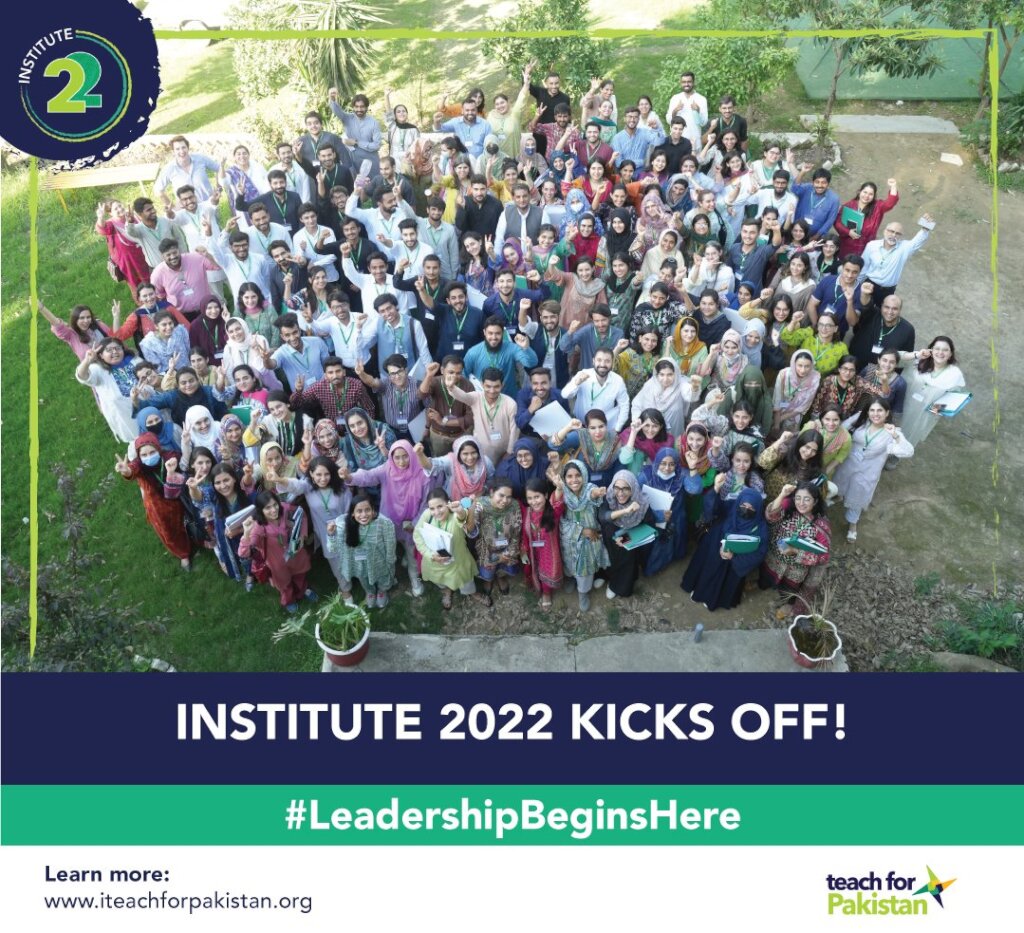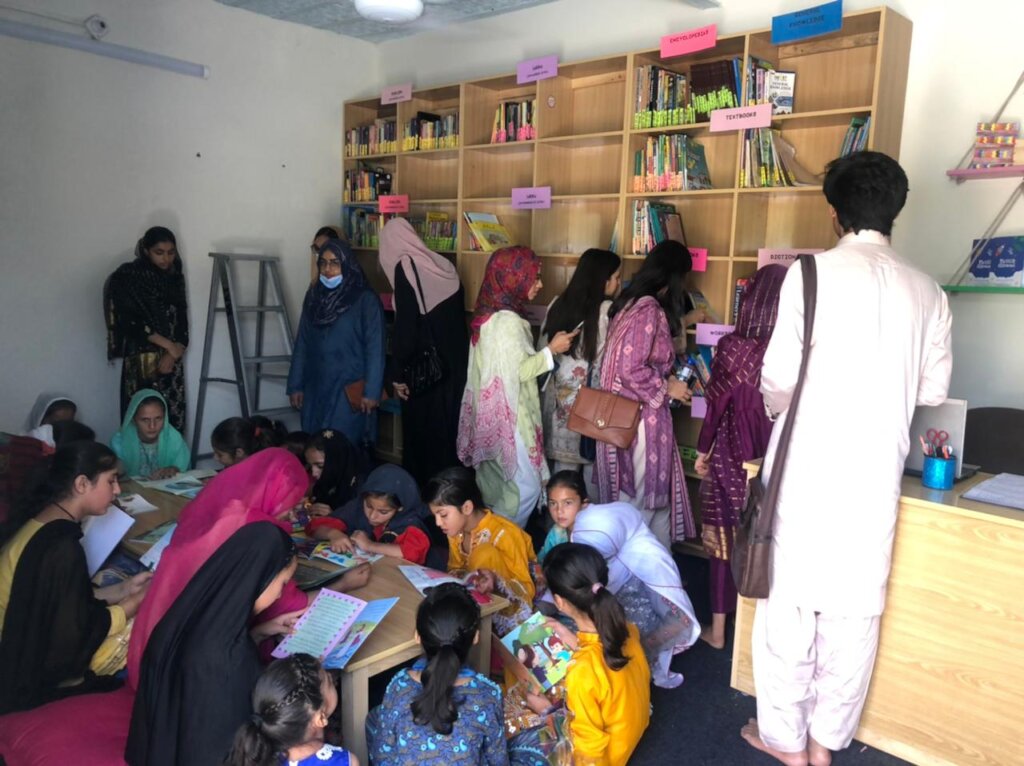 Links: