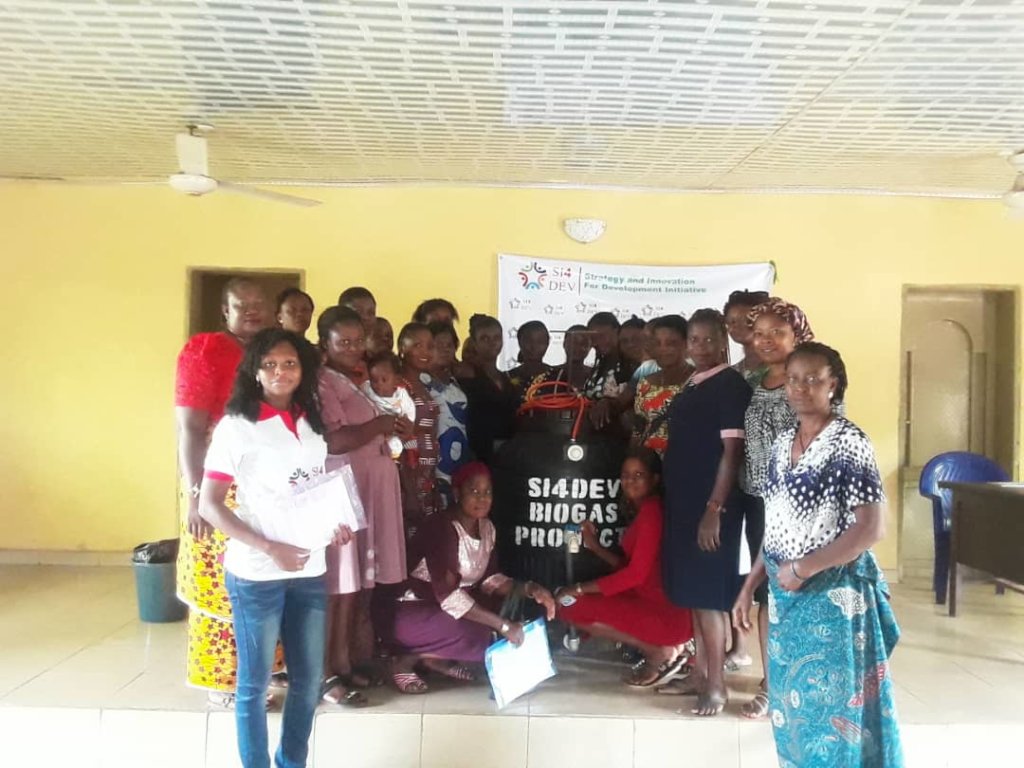 This Innovation pilot project trained 20 women engaged in agriculture on converting poultry dropping to clean cooking energy and biofertilizer for reduction of greenhouse gas emissions and promotion of food security in Ugwogo Nike community within the first year period. The project ran for 3 months after initial delay due covid restrictions, it started in August 2020, and ended in November 2020. The project was designed by SI4DEV partner Adaobi U.
Project Objective: To provide training to women that are engaged in agriculture in Ugwogo Nike community on how to convert poultry waste to biogas for cooking and production of bioslurry as an organic fertilizer for farming for the reduction of greenhouse gases emission and food security.

PROJECT ASSESSMENT
Project design and objective were relevant because Biogas is a biotechnological device that without much stress converts organic waste into wealth to serve as raw material that can be used to provide energy and replace chemical fertilizer for sustainable development .Due to the unequal opportunities given to women in Ugwogo community to benefit from environmental projects, relegation to the background and high rate of restrictions which limits their access to resources, inadequate support needed for prosperous farming and community leadership. Findings of the project implementer baseline survey provided evidence shown high rate of marginalization of women rights and low decision making power both at the family and community levels which results to high rate of poverty as women are deprived of the opportunity to realize their potentials, lift themselves and their families out of poverty and improve agricultural production..
The project was effective as the Food Security and Agric business skills training of 20 women in Ugwogo Nike community on the construction of biogas recorded a huge success. The women were happy to learn how they can utilize their agricultural waste for generation of biogas for cooking and biourry to serve as organic fertilizer for farming. The trainees were highly impacted by the knowledge shared during the training program. They asked questions extensively during the training and expressed satisfaction on the novel information shared with them. A biogas plant was constructed in the practical training session to produce cooking gas and organic fertilizer for farming. The women clearly understood the processes involved in the construction of a biogas plant. They appreciated the technology, it is relevance and their ability to utilize agricultural waste(biomass) like poultry droppings, cow dung, kitchen waste and other forms of waste to ensure food security in the community. Resources were used efficiently, as items were bought at the cheapest price with high quality. The project is sustainable The Ugwogo project is a self-sustained venture as it will generate income through the sales of the biofertilizer.

Testimonial:
"This program really taught me a lot, i am going to start producing organic fertilizers by utilizing my agricultural waste. Thank you, Strategy and Innovation for Development Initiative," ~ Amarachi U~
~I am a cassava farmer in ugwogo community in Enugu state, all this while, I have been throwing my agricultural waste product, the trainer taught us how to convert this waste to bio gas and organic fertilizers, I will start making money after this program. ~ Stella A~