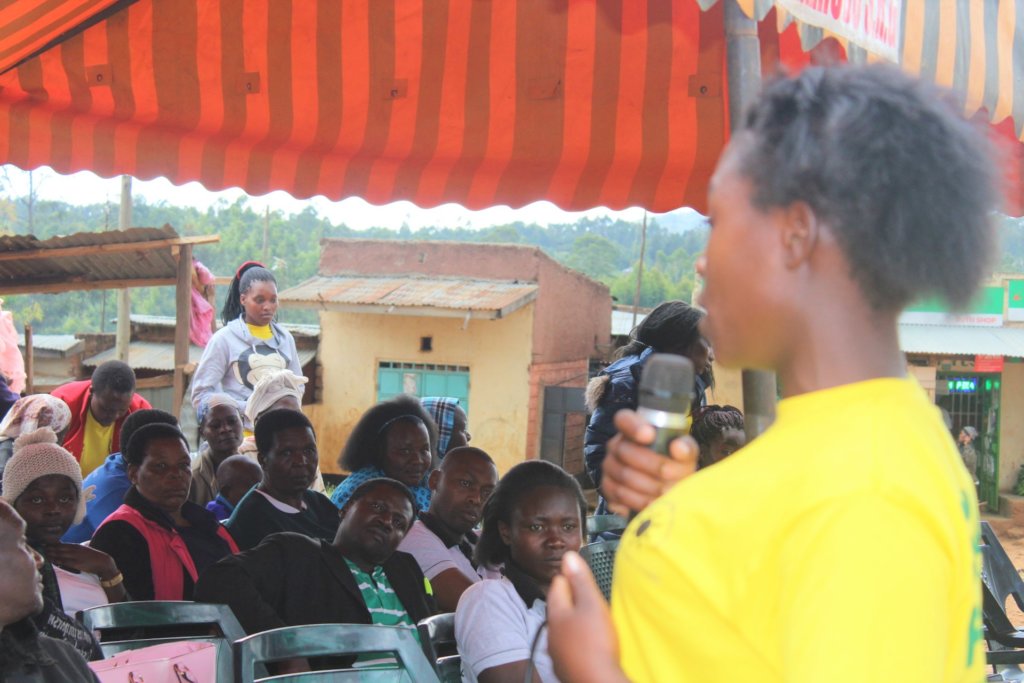 Dear Friend and Partner,
We wish to thank you supporting the development of our community through empowering men and women to be community health and human rights promoters. We have trained them and impacted them with skills that they are using to address the challenges experienced in the community. While there is still more work to be done, we appreciate that, courtesy of the efforts by the CHHRPs, more parents are shunning FGM, girls are expressing interests in continuing with education instead of engaging in behavior that put them at risk of teenage pregnancies, and matters previously discussed in low tones like menstrual hygiene and sexual and reproductive health are being discussed in open forums hence leading to effective and long-term solutions.
On the 14th of October, we marked the International Day of the Girl Child at Nyaronde grounds, Nyamira. We focussed on advocating for the end of FGM, teenage pregnancies, period-shaming, and encouraging girls to stay focused on their education. The projected received special support from Khatsimi Simami, Ph.D. student, University of Washington, Information School. The event attracted more than one hundred girls and women from Nyaronde, Nyamira. The day is usually marked annually worldwide on every 11th of October. However, the community members requested us to hold the event on the 14th. The CHHRPs expressed interest in being part and parcel of this day so that they could use this platform to continue advocating for the protection of girls and women's rights.
The event began with a walk covering a distance of at least 5 km. Then the participants convened at Nyaronde grounds to discuss the theme of the day, Gilrforce, unscripted, and unstoppable. The highlight of the day was the provision of sanitary towels to girls from deprived backgrounds who can barely afford sanitary towels.The idea was inspired by a sad case of a girl who committed suicide because her allegedly teacher ridiculed her for staining her skirt with her menstrual blood. By gifting the girls sanitary towels, HFAW hoped to change the negative attitude towards mothly periods and increase the confidence and sense of self-worth among girls who live in an environment that rarely give them emotional and economic support during such moments.
'Many of us struggle to get sanitary towels. Worse is the fact that no one psychologically prepares us for the effects periods will have on our bodies. I witnessed my primary school classmate refusing to leave her seat in class until everyone is gone because of being worried about stains. I have also had moments where I lack sanitary pads hence using pieces of clothing which is unhygienic and unhealthy. Sometimes I would resort to missing school. I know I am not alone. Something needs to be done. We are grateful to organizations like HFAW, which are working to eliminate the problem', Catherine, a 17-year old girl.
'I believe that teenage pregnancy is still among the main challenges affecting girls in this area. I do not have a child. I owe that to the mentorship I have received from my sister and parents. Also, I want to focus on excelling in my studies first, get a good job, then think about starting a family. I wish other girls would receive the type of support I have received. We would not be witnessing the high cases of teenage pregnancies in this region.', said Sali.
'Words cannot begin to describe how thoughtful this project was. I enjoyed being part of this. I plan to issue the pads to girls whom we identified. I hope you consider doing this in this area again. It directly impacts and uplifts girls', Jackie, the area sub-chief.
Dear friend and partner, after wrapping up the event at Nyaronde grounds, the HFAW team went to Pisgan primary school to gift girls from poor backgrounds with sanitary towels. The headteacher, deputy, and staff member received the team. After the introduction, the girls were called to receive their gifts. We are grateful to Simami and the whole GlobalGiving platform for showing this kind of love for girls in our community. Because of you, they are no longer ashamed of having to go through a menstrual cycle because, thanks to this event, they now know that periods are natural, beautiful, and a sign of growth.