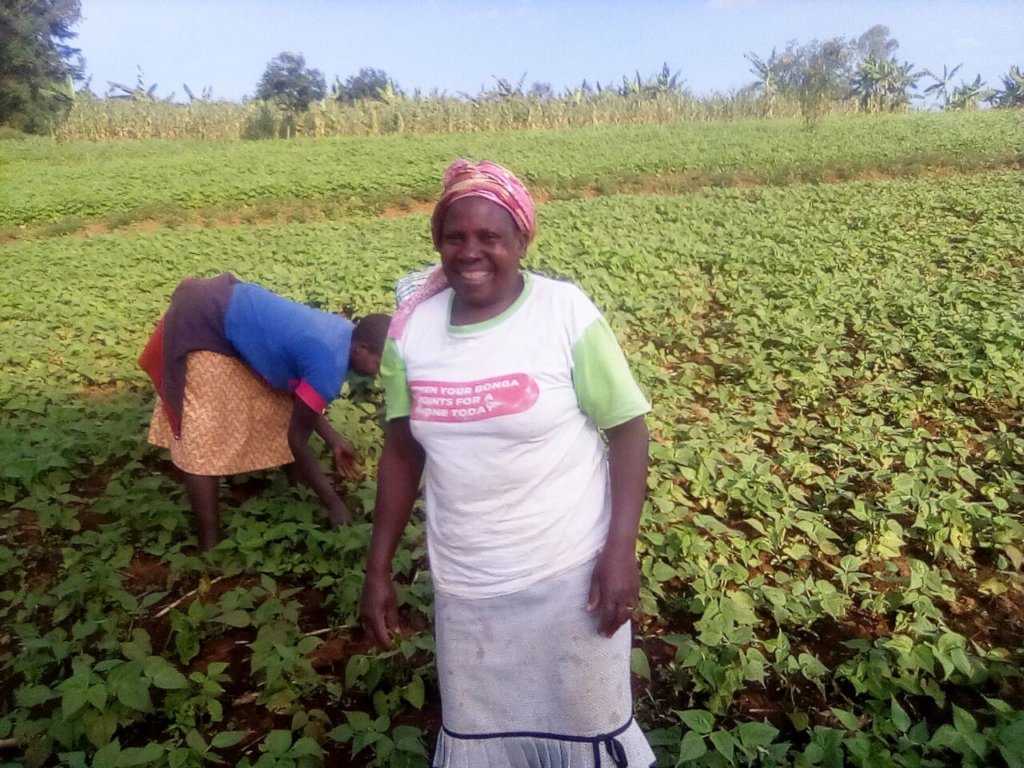 Dear Friends, Colleagues and Supporters,
On 16th October 2017 and 1st May 2018, HFAW embarked on journeys in Nyamira County to empower 30 small scale women farmers on Animal Husbandry and Crop farming training respectively. The trainings included field visits to model farmers in dairy and crop farming namely i.e Mzee Livingstone for dairy rearing visit and Wilkister Anangwe for crop farming model. The participants learnt a lot of good things on best practice in agriculture and promised to implement the same in their farms. Ever since, HFAW has worked worked consistently to ensure that these women and a few men have government and non-government experts on their side to support them do better farming and improve their yield for increased income.
July 5th and 12th 2018, HFAW made a monitoring and evaluation follow up to see how these women were fairing on after the training and recorded the following improvements:
"I used to tie my cow on a post outside during the day and at night the cows used to sleep outside whether there was rain or not. After the animal husbandry training last year, I decided to make a permanent cow shed structure." Explained Martha, while showing us her new cowshed....... "I also used to throw cow dung by the roadside, but after the animal husbandry training, I allocated a place to pile it and wait for it to 'cook' and when it is ready i apply it as manure on my banana plantation. I have also planted napier grass to prevent soil erosion as I learnt during the crop farming training" Martha added.
Martha also showed us the chicken she begun rearing around her homestead and lots of beans which she is so proud of having.
"Knowledge is important for growth in the homestead," said Martha happily. "With this kind of change, I won't see food scarcity in my household."
"I also improved my cow structure," said Karen. "I no longer use the bull method of fertilization, I use artificial insemination (AI) as we were taught at Mzee Livingstone's farm," stated Karen.
On 12thJuly 2018, HFAW visited Mr. Kennedy and saw the breakthrough he had made with transforming his cow sheds.
"I have built a shed holding a capacity of 12 cows. I have different structures where they eat, sleep and even a milking parlor. The training enabled me to interact with other farmers and enhanced my production skills. I learnt what works and what does not."Said Kennedy
Lydia who was also a participant in the dairy training commented about what she had done so far.
"I did not know what to do and how to get to feed my cows during the dry season. After the animal husbandry f training, I have been able to make silage."Said Lydia.
"God bless HFAW, United Methodist Women and all our Global Giving friends and supporters for assisting in this knowledge to reach us," said Joyce, the HFAW Grassroots Coordinator and a direct beneficiary of HFAW projects.
In order to end structural gender inequalities which encourage the persistence of GBV and FGM/C, HFAW works towards economic empowerment of women. One way of doing this is to bring in other partners such as One Acre Fund who are training women and giving them crop farming skills and Nyamira County Government ministry of livestock and crop which is sharing and following up animal husbandry and crop farming skills. These skills range from sources and use of better breeds, feeds and seeds and other best practices.
The positive transformation is evident in the anticipated increased farm produce, improved livelihoods and most importantly, in the bright smiles on their faces.
Thank you again for your continued support in making the world a brighter place.
With utmost gratitude,
Winnierose N Sululu.