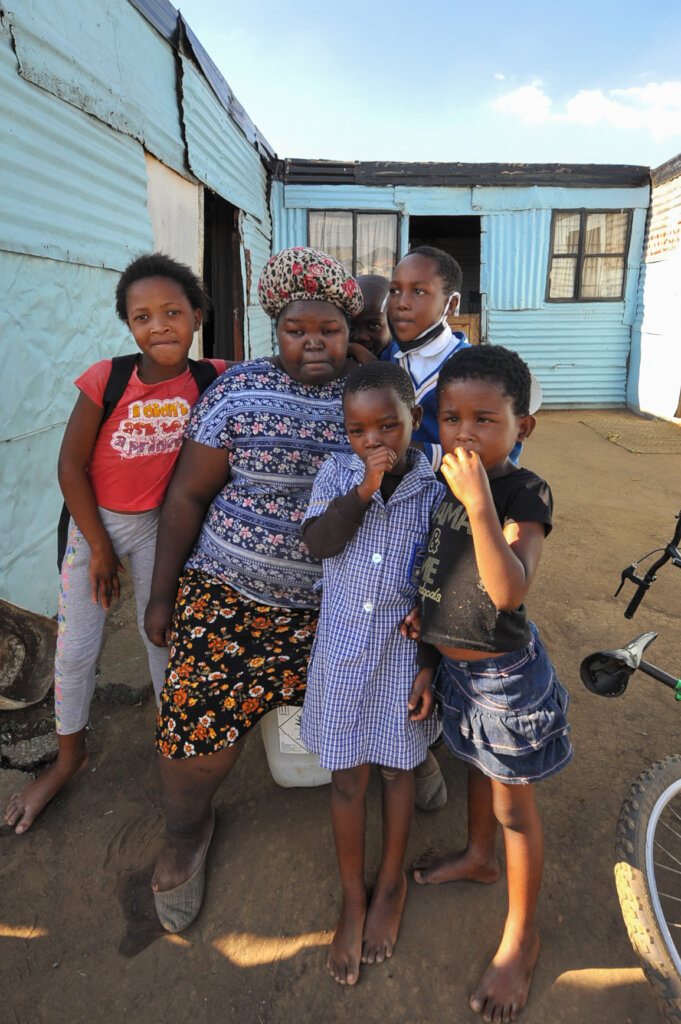 Food Security and Nutrition
The high levels of food insecurity result in many families eating what they can, which usually does not meet the nutrient requirements for a balanced meal, leading to high numbers of malnutrition and stunting in children in their developmental years.
To ensure children in our programme are receiving nutritious meals, our response is to provide our ECD centres partners and beneficiaries in our OVC (Orphaned and Vulnerable Child) project with nutritious meal packs. We were fortunate to get a donation from Ogilvy South Africa for 5000 meal packs from Rise Against Hunger, an international non-profit organisation working to alleviate hunger in the world. The meal packs comprise fortified rice, soya for protein and a vitamin sachet resulting in a complete and nutritious meal. Meal packs were packed by Ogilvy staff members.
We believe that a hand up is a better option than a handout, that is why we pride ourselves on empowering beneficiaries by teaching them to establish food gardens. This is a lifelong skill that is beneficial because beneficiaries can always provide for themselves, with a sustained source of nutritious food for free. With the high unemployment rate in the communities, we work with, many people have been left feeling dejected.
The vegetable gardens have brought joy and a sense of purpose to those working in their gardens. They have beautified the communities and enabled some beneficiaries to have a source of income by selling surplus vegetables.
Progress in Embalenhle Community
The first phase of the expansion has included Psychosocial Support, Food Security and Nutrition. We have identified 1703 households with orphaned and vulnerable children, or come from single parents, child-headed or elderly headed homes. We provide the families with food parcels for three months and assistance to establish food gardens with tools, seeds, training, and mentoring through our Food Security and Nutrition Project. Other gardens are in schools, Early Childhood Development (ECD) centres and open spaces in the communities. We have empowered communities in EMbalenhleto to establish over 551 gardens, providing food security and nutrition for 10,602 individuals.
We have found that the stories of those who receive our services and support are the best way to show the work we do. Below are just some of these stories and feedback from our beneficiaries.
Play to Learn and Educational Support
Children learn in different ways, this does not only happen in the classroom but also at home, the 'classroom-home' relationship is essential for the growing child to develop skills. Play is one of the important activities for a child to do, it helps nurture their imagination and give the child a sense of adventure. This is not only beneficial to the child alone but to the family unit as it encourages open communication between parent and child thus building a strong family bond.
Care for Education six brick Lego blocks were distributed to the communities in the Govan Mbeki and Dipaleseng Municipality for parents to use at home with their children. A quick demonstration was made to the parents on how to utilize the easy guide booklet and the activities they can do at home and how it will assist their children. Each child received 3 packs of Lego toys and a booklet. Children will develop essential skills from these educational packs such as sequencing, comprehension, colour sorting, hand-eye coordination. Parents will also get a chance to spend quality time with their children working as a team in a fun way.
Strong communities are built by strengthening the family structure and nurturing children from birth. Through playing as they grow, they will learn problem-solving skills, working with others and sharing that will help them at school and in the future. This will therefore help raise happy and confident children who will in future grow up to be well-rounded adults. With your continued support and donations, we will be able to continue to make a life-changing impact in the communities we work in.