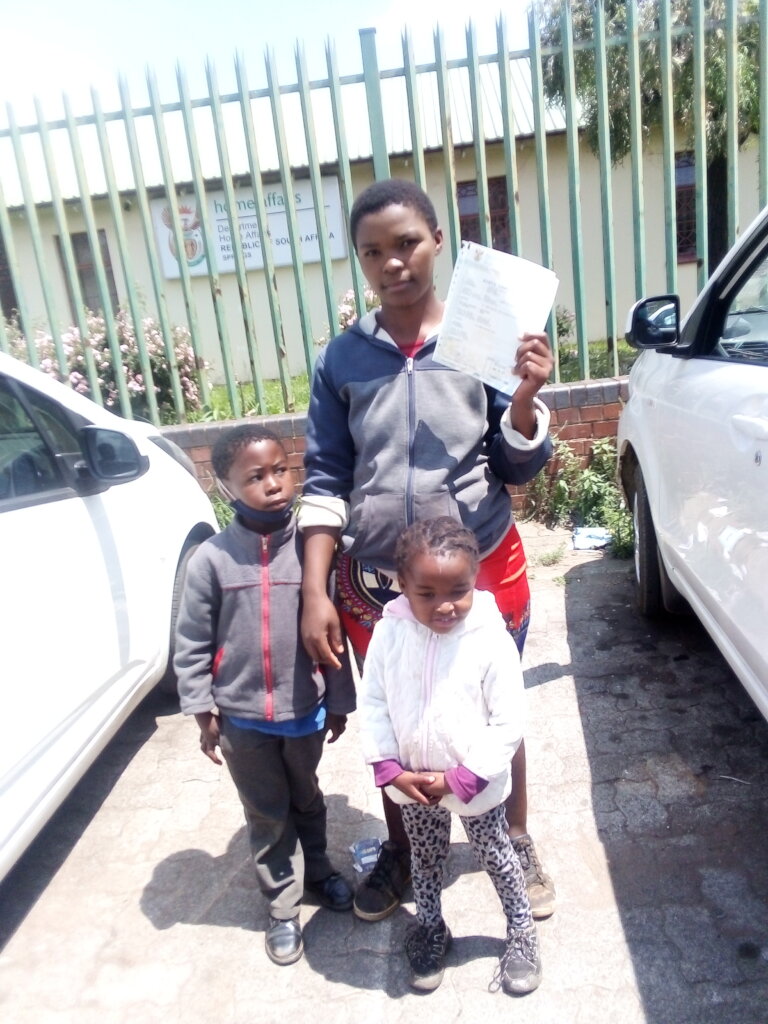 Our Early Childhood Programme provides rural communities with the support and tools needed to raise happy, healthy and capable children. We have chosen a holistic approach to our support to ensure that children thrive and develop in the best possible environment.
The Topsy Foundation's Early Childhood Development Programme supplies:
1. Educational support and stimulation for early learning through close work with Early Childhood Development Centres within the community and our Play and Learn Centre situated in Grootvlei
2. Primary level child health through medical support comprising health development screenings, provision of treatment, the dispensation of basic medicines, and referral for specialised attention
3. Nutritional support through the establishment of food gardens and food donations
4. Support for primary caregivers through home visits, counselling and parental skills training
5. Social and income support through assistance with birth registration, accessing of child support grants and child protection
The programme has proven vital in the past eighteen months, as it responds to the needs of those who have been left vulnerable. We have increased the number of individuals benefiting from our programme and now provide support for over fourteen thousand adults and children.
The heart-warming stories and feedback we receive encourage us to keep working hard. These are just some of them:
Stories and Feedback from The Communities
Psycho-social Support
We recently assisted two families to get birth certificates for their children. Without birth certificates, children are not able to access essential services like child grants which can bring a source of income to families with no income, healthcare and education.
Emma is a 27-year-old unemployed mother of four small children. She was referred to Topsy because she did not have an Identity Document (ID) which meant that her children did not have birth certificates. We assisted her to apply for an ID through the Department of Home Affairs. Whilst she waited for her ID, she was referred to the Department of Social Development to apply for a temporary grant for her 3 children which she received for a period of three months. Since she is unemployed, she also received emergency food parcels from Topsy.
After waiting for six months, the Department of Home affairs notified her that her application was successful.
Matediso is a mother to a 16-year-old teenager. Topsy assisted her to get a birth certificate for her son whom she gave birth to at home, assisted by her grandmother. Sadly, her Grandmother passed on before she could apply for her son's birth certificate. A witness is needed at Home affairs especially in a case of home birth, the only person remaining who witnessed the birth was her cousin. Her son's birth certificate application was successful six months after being interviewed.
These interviews were conducted at Home Affairs and serve to authenticate the information given on the application form of the candidate and to establish the reason why they applied late for the birth certificate. Both mothers were assisted by our Social Auxiliary Workers with the applications and transported by Topsy to and from the Department of Home Affairs in Nigel and Department Social Development in Springs which are between 50-70 km away to submit application forms, for the interviews and to pick up the birth certificates and ID. Many do not have the money to travel such a distance and are therefore not able to get access to essential services.
We continue to monitor the family closely through home visits done regularly by the field workers, providing support to the family and particularly the children.
***************
Play to Learn and Educational Support
Children learn in different ways, it does not only happen in the classroom but also at home, the "classroom home" relationship is essential for the growing child to develop certain skills. Play is one of the most important activities for a child, it helps nurture their imagination and give the child a sense of adventure. This is not only beneficial to the child but to the family unit as well, as it encourages open communication between parent and child thus building a strong family bond.
Care for Education Six Bricks Duplo sets were distributed to the communities in the Govan Mbeki and Dipaleseng Municipality for parents to use at home with their children. A demonstration was made to the parents on how to utilise the Parental Guide, the activities they can do at home and how it will assist their children. Each child received two packs of Lego/Duplo and a booklet. Children will develop essential skills from these educational packs such as sequencing, comprehension, colour sorting, hand-eye coordination. Parents will also get a chance to spend quality time with their children working as a team in a fun way.
Strong communities are built by strengthening the family structure and nurturing children from birth. Through play, they will learn problem-solving skills, working with others and sharing, which will help them at school and in the future, therefore, helping to raise happy, confident children who will in future grow up to be well-rounded adults.
Ntomfuthi is a member of staff at Zenzele Daycare Centre and has "Topsy has helped us a lot since we have partnered with them. We have received food parcels so that we can feed the children every day. We also received a container classroom through the assistance of Topsy, which allowed us to increase the number of children attending our centre. Before we go the donation, it was our dream to expand our centre, but we could not afford it. The classroom containers are a nice place for the children to learn in. It is difficult for us to secure funds being in a rural area that is why we are so thankful for Topsy and appreciate all they do for us."
***************
Food Security
Billy is a 38 years old male who lives alone in an informal settlement in Embalenhle. He is actively seeking employment and his only means of income is a temporary social grant. Before joining our Food Security and Nutrition Project, he already had a vegetable garden but could not expand it because he did not have the money for seeds and fertilizer.
His garden has been described, by one of the Community Field Workers as neat and beautifully kept, it was clear from the beginning that Billy had a passion for gardening. He would buy seeds and fertilizer with the little money he made from doing odd jobs cleaning people's yards. Being part of this project means he receives seeds, netting to secure his garden and fertilizer. As he is unemployed, he qualified to receive emergency food parcels and "Rise Against Hunger" rice packs for a period of three months to help him get on his feet.
Topsy community workers continue to do monthly visits to his home to check his progress and how he continues to maintain his garden. He receives advice from our Head Gardner to make sure that his garden produces quality crops he can sell and eat.
Martha (62) lives in Grootvlei with her husband and grandchildren, both receiving pension grants. Martha loves to garden, spending a lot of time on her vegetable garden and flowers in her yard. She is part of the Food Security and Nutrition Project and receives seeds, fertiliser, gardening tools and training on how to expand her existing vegetable garden from Topsy.
"Before knowing of Topsy, I used to buy spinach and tomatoes seed only because that's all I could afford. But now I receive different seeds from Topsy and my garden is big enough to feed my family. I don't have to struggle to feed my grandchildren because there are fresh vegetables in my yard. I also make a little bit of money by selling some of the vegetables, and I can buy bread and other things for the house.
Sibusiso (36) started a vegetable garden through Topsy as a distraction to avoid getting involved with bad crowds and focus on being positive while unemployed. He has two children and is one of the many unemployed people in Dipaleseng. He depends on his income on the vegetable garden and odd jobs he finds around the community like doing gardens, building shacks and general handyman jobs.
He chose to start a vegetable garden because of his love of gardening which he got from his parents. He says, "My mother and father were the ones who taught us how to garden. I received seeds from Topsy which has been a huge benefit for me since I am unemployed, like many young people in my community. Trying to earn a living is hard these days. The gardening helps ease the stress of poverty because each day I receive something to eat that is free and healthy from my garden."
We are so proud that we can empower our communities, especially during this hard period. There is still so much to do, and we thank our donors for supporting us.