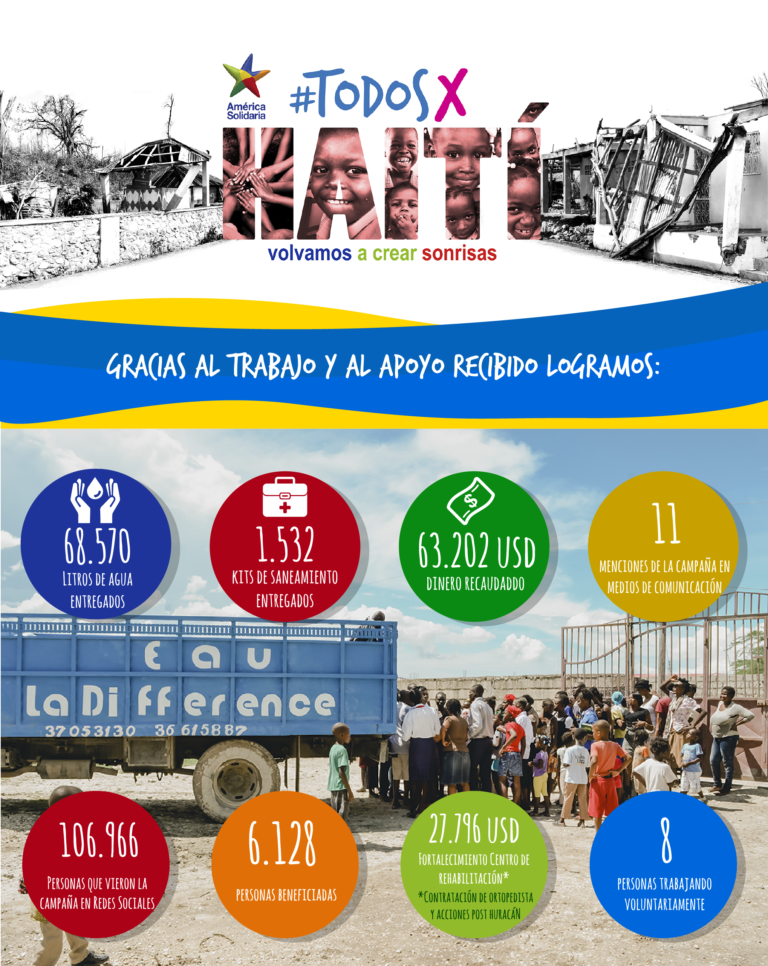 TodosxHaití:
Movilizar a todo un continente por una causa no es una tarea fácil, pero es posible bajo un mismo sentimiento de solidaridad. Este fue el caso de nuestra campaña TodosxHaití, que se gestó a favor de los damnificados tras el paso del huracán Matthew en Haití y que consiguió el apoyo de miles de personas en distintos países de América, permitiendo concretar con éxito 3 objetivos:
-Entregar agua potable a 3.800 personas de la comunidad de Boutin
-Entregar 1.532 kits de saneamiento en las localidades de Boutin y Okay
-Apoyar al Centro de Rehabilitación "Tous Ensemble" en Okay, por medio de la contratación de un especialista, el fortalecimiento organizacional y el financiamiento de acciones post huracán
Tras meses de trabajo, cerramos esta campaña con éxito y con números bastante positivos, lo que nos hace agradecer una vez más a todos y todas quienes se sumaron de distintas formas para poder hacer posible esta ayuda.
A continuación, les presentamos en detalle las rendiciones de los gastos realizados con el dinero recaudado.
¡Muchas gracias por ser parte de esta gran movilización!
Haga clic aquí para ver la rendición financiera
Haga clic aquí para ver las órdenes y comprobantes de pago
TogetherforHaiti:
While it is no easy task to mobilize an entire continent around a cause, anything is possible when people unite around solidarity. This was the case with our TodosxHaití campaign, launched to support the victims of Hurricane Matthew in Haiti, bringing together the support of thousands of people from different countries across America to successfully achieve 3 goals:
-Provide drinking water to 3,800 people in the community of Boutin
-Provide 1,532 sanitation kits in the towns of Boutin and Okay
-Support the "Tous Ensemble" Rehabilitation Center in Okay by hiring a specialist, strengthening the organization and funding post-hurricane activities
After months of work, we wrapped up the successful campaign with very positive numbers, and we want to extend our thanks once again to everyone who made this possible.
Below is a detailed report accounting for all expenses made with the funds raised.
Thank you very much for being part of this major mobilization!
Click here to see the expense report
Click here to see the payment orders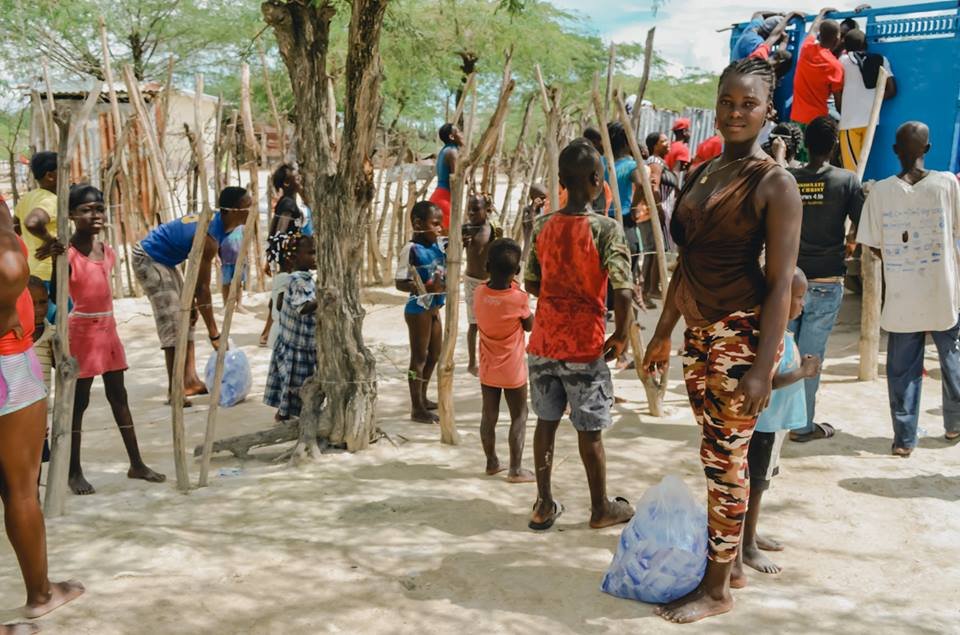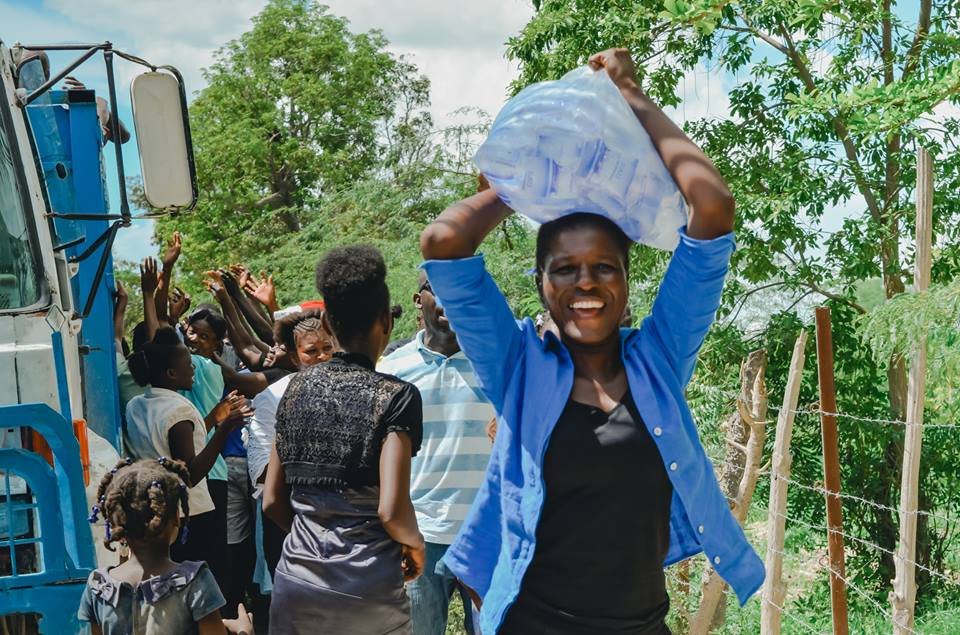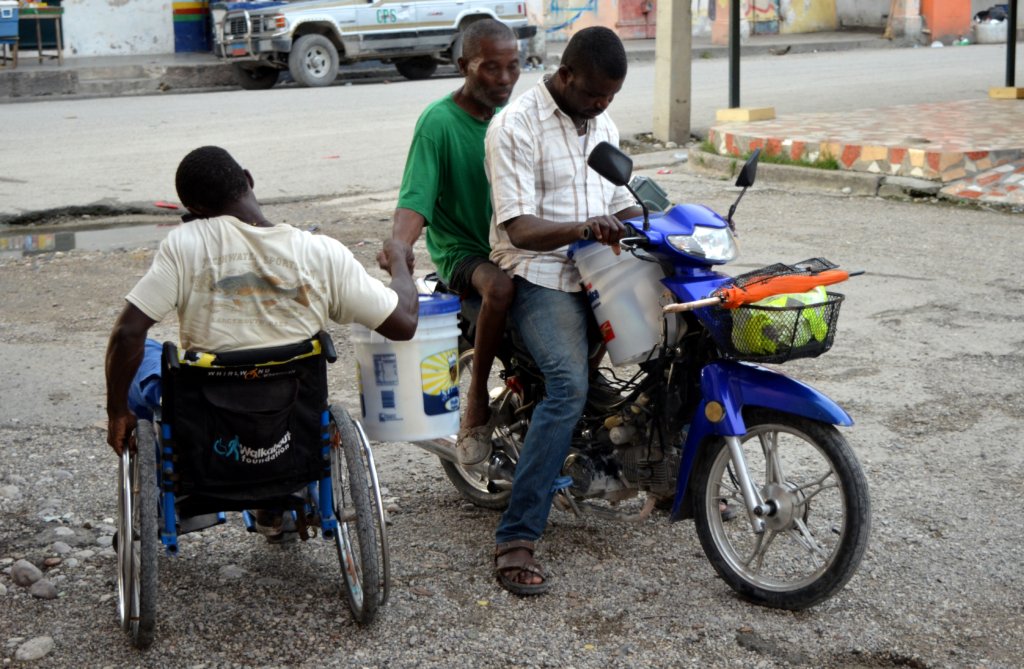 Links: