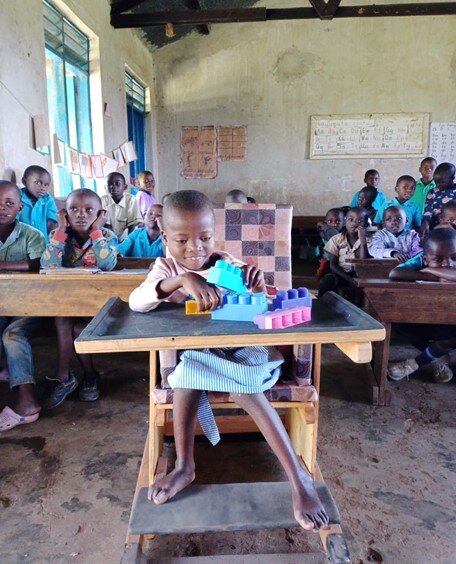 Since 1991, the 16th of June has been recognised as the International Day of the African Child and is a time for the world to reflect on the progress made toward children's rights and the barriers they continue to face. It honours the twenty thousand children of Soweto, South Africa, who participated in the uprising on the 16th of June 1976, protesting the poor quality of education and demanding to be taught in their own language. Many of the children were shot during the march.
The day recognises that all children, whether boys or girls, of any colour or race, with or without disabilities, deserve a healthy start in life to enable them to survive, thrive and transform their health and human potential. To do this, they need to have access to quality education and be protected from harm, such as child marriage, child labour, teenage pregnancy, and stigma towards disabilities, which all impede access to education.
Your donation to Kyaninga Child Development Centre goes directly to supporting children with disabilities in western Uganda to access physical, occupational and speech therapy and inclusive education services to transform their lives, achieve functional independence and enrol in school, giving a greater start to life and greater opportunities in the future.
Gloria is one such beneficiary of your support. Now 7 years old, her mother first brought her to Kyaninga Child Development Centre (KCDC) at 1 year. Gloria was assessed based on interviews with her mother, previous medical documents and conducting a physical examination and observations.
The findings indicated she had a weak right side of the body (right hemiplegia) secondary to a lack of oxygen at birth (asphyxia) following complications during delivery. However, her twin sister is developing without complications. As a result of this condition, Gloria has delayed motor developmental milestones. She has difficulties using both hands together, making it difficult to engage in play and activities of daily living such as feeding herself, bathing, dressing and toileting.
On probing Gloria's mother, it was found that her husband, Gloria's father, had abandoned the family due to the condition of a disabled child, leaving the mother feeling devastated and rejected and during one of the interviews, the mother mentioned that:
" I am so disappointed and depressed that my husband abandoned me because of having a disabled child, and I am worried that I will always solely be responsible for her welfare for life in assisting her in all her activities".
As part of Gloria's therapy interventions, the long-term goal of treatment was to improve her independence in activities of daily living using 2 hands and fine motor skills to reduce the stress levels from the mother. As a result of occupational therapy interventions, Gloria can now engage in self-care activities such as feeding herself, cleaning herself, dressing and undressing, all done with limited assistance from her mother. During the COVID lockdown, she was also regularly visited by the inclusive education team to prepare her for school enrolment and to identify any accommodations she may need to support the school and her teacher. In January 2022, when schools reopened, Gloria was ready and able to go to the local school and was given a special seat for additional support.
The mother reports "as a result of therapeutic interventions, I am no longer stressed since my daughter can do self-care activities independently as I concentrate on income projects such as farming. I have also moved on in a new relationship, and her stepfather is very supportive and loves Gloria despite her physical limitations".
Links: