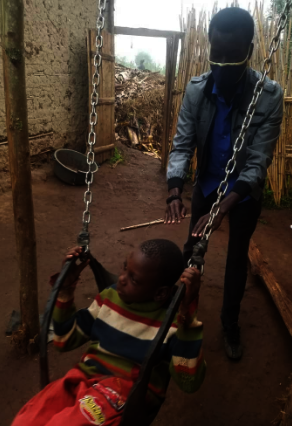 Reflection of the year 2021
Despite the challenges that everyone was facing with the COVID-19 pandemic, we are so delighted to report that in 2021 we; -
- Received 924 new referrals
- Conducted 8,915 therapy session
- Supported 113 families with food and therapy packs during COVID-19 lockdown
Our multidisciplinary team worked tirelessly amidst COVID-19 to ensure that our children and families are not left behind.
Jonathan's story, by Charles
"The speech and language therapy department registered remarkable therapy outcomes with most of the clients seen in 2021. This was possible partly through more joint work with other departments. Below is one such case example.
Jonathan is 6 years old. In 2017 during our initial assessment, he was very hyperactive and had severe challenges in behavior, social skills, communication, and processing sensory input which often triggered fights with siblings. He had severe self-stimulatory and repetitive behavior including head rocking and hitting. He seemed to have a low response to pain as he seemed unconcerned when hurt and even bleeding. His caregivers were most worried about his hyperactivity and struggled to find him each time he wandered off, often destroying neighbors' valuables with resultant frictions. They were also concerned about his safety and risk of road accidents since the home was close to the road.
Intervention: He received therapy focusing on social skills, sensory processing, language, and behavior shaping. Most rewarding of all was a swing project that was collectively established by the team, as one of the calming and sensory integration strategies. Jonathan loved it and was happy to keep at home periodically to have his fun, not knowing how hugely this contributed to his improvement.
The family couldn't hide their excitement seeing Jonathan more settled. He now concentrates on tasks for a significant time, while happily imitating actions and few utterances. He is now more tolerant and accommodative and plays more jointly and meaningfully with siblings. He also gestures to communicate his needs and follows simple instructions consistently and as a result, communication with family is better. He now performs most activities of daily living (ADLs) with significant independence.
The Speech and Language department together with other departments share this excitement too as work continues for better and bigger results."
Brian's story, by Charles
"Brian, initially seen for Speech and Language Therapy in June 2018 at the age of ag12, with 3 words reported. His mum was concerned about his speech and understanding. At the point of assessment, Brian presented with speech and language disorder associated with moderate intellectual difficulty. He had an emerging speech at 1-word utterance level and with an understanding of 1 keyword instructions typically seen in children aged 1 yr. Brian also had behavior and social skills that were inappropriate for children of his age. He had no empathy and would laugh at hurting someone and struggled with turn-sharing, listening attention, and eye contact. Brian had significant difficulty learning simple common concepts matching, sorting, and colors.
Intervention: Therapy was aimed at improving social skills, behavior, and language co-currently. Through strategies which include intensive interaction, Adult-Child interaction, and the use of conditioning to shape behavior. A multi-disciplinary approach was used for better outcomes.
Results: Brian now follows up to 3 keywords (Step) instructions and does complex sequential domestic activities such as gardening, herding to mention but a few spontaneously with minimal assistance.
Brian now speaks in phrases of 2 words together and attempts 3-word utterances mostly understood by familiar people.
He enrolled at a nearby school a midst fears from family and is coping fairly well
Next Targets: Continue development of Receptive and expressive language and attention to tasks led by others"
Your support enabled us to reach 2131 children in 2021
Let's change more lives this year.
Thank you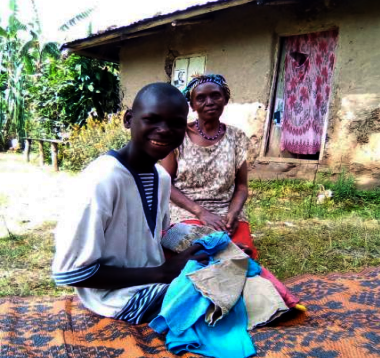 Links: