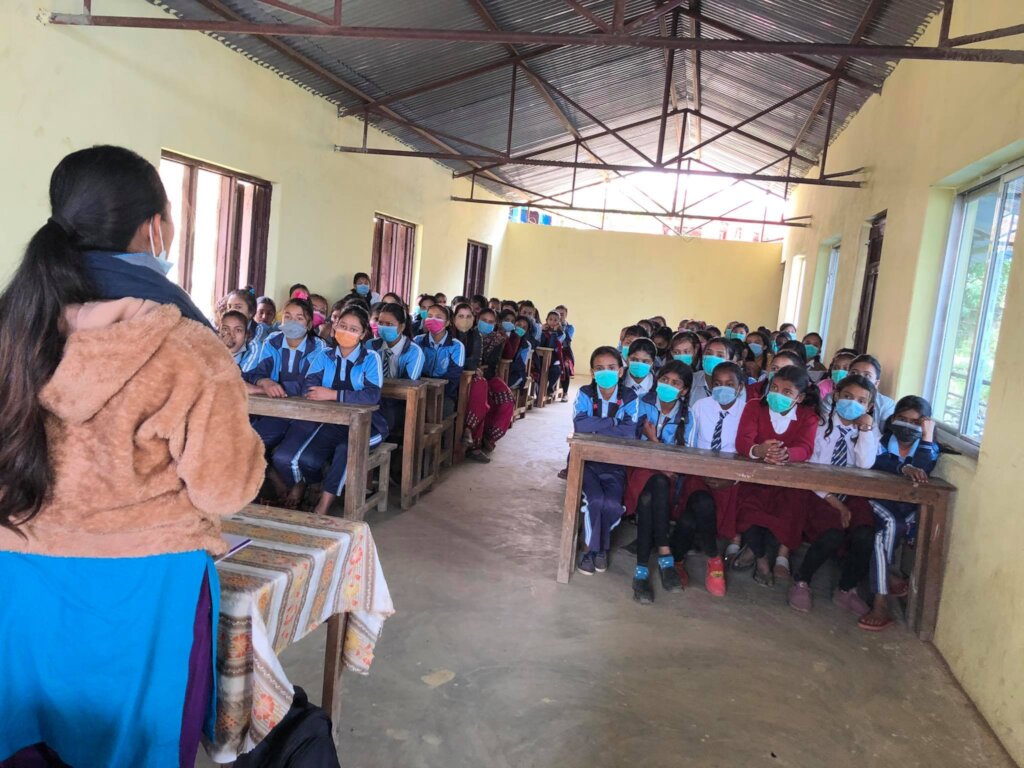 Dear friends and supporters.
Phase 1 of this project has been successfully completed and 40 schools have received health and awareness training together with improved WASH facilities. Initial results indicate greatly improved school attendance particularly for girls and a much wider acceptance of menstruation and its perfectly natural part of growing up.
We are now ready to start Phase 2 which will work with 40 more schools but we need to secure funding first. Total funding required for this second phase £68000. If you can help we would be very grateful. Perhaps you know someone who might like to become part of this groundbreaking project and give a future to women and girls. Give them a future and something to look forward to!
The following is a case study of a young girl (name has been changed) from the poorest community in Nepal. This project has opened up a whole new world for her.
My name is Bina and I am 16 years old. I come from Galcot Municipality. My family has 5 members and we are from the Dalit community and are very poor people. I am the second child of my parents and I am a student in Class 9 in Kharuwa Secondary School in Baglung. My father is a peasant.
Before the project started our school had no proper toilets. There was no sanitary pit for disposal of used pads during the menstruation period. Due to there not being a sanitary pit in the school I always used to put the used pad in my school bag secretly and when I reached my home then I used to throw it into bush areas surrounding my home. This pattern was continued since when I studied in Class 6. Similarly, there was not a sufficient water supply to cleanse my hands after using the toilets as well as using the sanitary pads. I never went to water for a drink because the tap was inside the toilets. Due the strong, bad smell my colleagues did not use that water tap. At a critical time I had to use the tap to wash my hands and face but I had problems to open the water due to my small height. At that time I had no option and felt very humiliated and crying. Sometimes taller students used to help me to open the water.
Now we have maintained toilets with a good water supply in each cabin of toilets with connected sanitary pits to our girl's toilets. I started to throw the used pads in such sanitary pits and not putting inside my bag with my books. Similarly, I felt very happier to wash my hands and face after toilet as well as changing of the sanitary pads. DIRDC* gave support to our school to enhance the toilet upgrading/repair, improving the water supply and constructing the very impressive WASH basin fit according to the height of the students/teachers with the financial support from the Nepal Trust.
At last I am very much grateful to DIRDC and the Nepal Trust for supporting our school in the areas related to the rural school girls. It is really supporting to the poor and disadvantaged Dalit like me. My goal is to complete higher education in the future
*Dhaulagiri Intergrated Rural Development Centre.
For girls like Bina your help and support is life-changing and has opened up a whole new world for her and her friends. She now sees a future.
Thank you for your help and support and please spread the good news to all your friends and colleagues and encourage them to help too. Every little helps and encourages girls like Bina to be positive and think ahead.
Namaste.