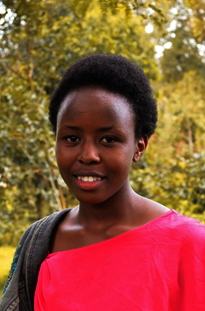 Happy New Year! For our first update of 2020, we want to share a note from a young woman named Priscillah who graduated from our school in 2014 and recently started medical school in Nairobi.
Thank you for all you do to make Priscillah's story, and so many others, possible.
My name is Priscillah. I am 18 years old. I was born in a small village in Kisii called Getare village. Sometimes life becomes so uncertain and unbearable due to the loss of a loved one. My life's journey has been tough since the death of my father in 2008 when I was seven years old. My dad passed on and left behind four children. I am the third born in my family and every time I saw my mum struggle to raise us or rather look for our basic needs, I wept silently. She was unemployed and after my father's death, she was rejected by all our relatives and friends.
One thing I always admire in my mum is that she is a prayerful woman. In 2012 an uncle of mine came to our home to visit us. At that time, I was in grade six at a local primary school near our home. From the conversation between my uncle and my mother, I could hear the mention of a school that sponsors orphans and children from humble backgrounds. It was a sign of hope. The following month after my uncle's visit, I went for an interview at Margaret Okari Primary School. This is the first time I met Auntie Kwamboka, a very jovial and lovely woman who became my second mum. Fortunately, I got admission to Margaret Okari Primary School where my life changed and I was shaped into the person I am today. I went from walking barefoot to school to wearing good shoes and socks. From wearing torn clothes to wearing a new school uniform. From walking daily from home to school to waking up every morning at school and all I had to do is walk to class. The faded future I had seen before started gaining some light.
I joined Margaret Okari Primary School in grade six in 2012. It was like a small heaven on earth to me when I compared my life at home and my school life at the Okari School. The food was readily available and well cooked. I had a warm bed to sleep in, good teachers who treated us like their own and good colleagues who were warm and welcoming. One most important thing that I gained from the school is the spirit of giving back to the community. This I especially learnt from Auntie Kwamboka and the visitors from the USA who used to visit us.
In 2014, I did my grade 8 national examination and passed with strong marks. I was proud of my accomplishment and I think the school was proud too. It is through Margaret Okari that I got to join the school of my dreams. The motivation I got from my teachers, especially our Head Teacher Mr. Wekesa, who was more like a dad to me, gave me hope for the future. I believe that someday I am going to be like Auntie Kwamboka by impacting the lives of the community through giving back.
I joined Starehe Girls Center, my dream high school, which shaped my future. I was fortunate to earn a scholarship to Starehe from Equity Bank. It was like a dream come true. I graduated in 2018 with an A- and went to work for Equity Bank as a way to earn tuition support for university. I am now pursuing my dream career of a bachelor's degree in medicine and surgery. I strongly believe that it is by God's grace that I am here. He closes one door and opens another. I am proud of being an alumnus of Margaret Okari Primary School. It was the best place to be.
I can write much but words are not enough to describe how grateful I am to everyone who supported me to become the person I am today. It is not the end of the road still and I believe that someday I will also stretch a hand to the needy who cannot afford a quality education.
~Priscillah
Wishing you a happy and healthy new year!
With gratitude,
Kwamboka Okari, Executive Director