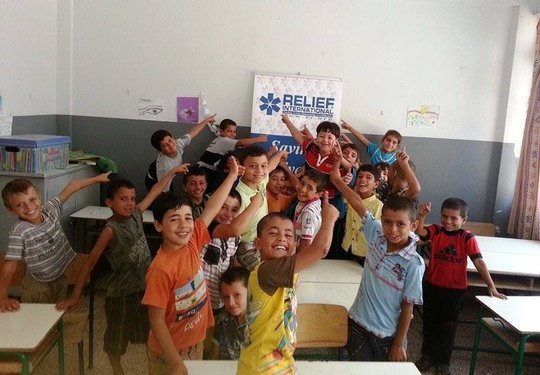 Syria is wrapped up in a complicated, multifaceted, and often misunderstood conflict. While the situation currently appears relentless, we cannot forget about the thousands that are fleeing their homes in search of safety for their children and their families. It is your donations to this Syrian Refugee fund that get people the safety they need and deserve. Your generosity helps with building and upkeep of the life-saving refugee camps. Unfortunately, Syria and the whole region is facing a very cold and harsh winter, our partners have focused all their efforts on getting the refugees through the season and providing the basic necessities of life; like food, shelter, healthcare and education.
The organization Relief International, is trying to cover all areas with the donations they receive from this GlobalGiving fund. Throughout the conflict, RI has prioritized education and getting refugee children back in school. Through their accelerated learning program in Lebanon and Jordan, RI has already reached 8,000 children between the ages of 3 and 14. In Iraq 7,000 refugees live in the Dara Shakran camp, here RI operates a laboratory which examines water quality to ensure it is safe to drink. Also at this location they distribute sanitation and hygiene packs, which have daily basic toiletry needs. Like I mentioned before it is an especially harsh winter in the Middle East and Relief International has responded by also distributing winterization kits to children in need. Relief International is just one of many benefitting from your donations!
The next organization doing great work because of you is actually inside the war-torn Syria and has saved millions of lives already. Doctors Without Borders works on the ground in crumbling hospitals and makeshift response stations in order to help civilian victims of war. With limited supplies and dangers of blasts and crossfire, Doctors Without Borders is still rescuing the most needy among us. Recently they shared a story of the premature baby Sedra. Sedra's mother went into labor three months early and delivered twin girls in an insufficiently equipped and makeshift hospital in Syria. The facility had no incubators or medicines meant to treat premature babies, which is common in the war stricken state. Sedra made it past her first few hours of life, sadly her infant sister was lost soon after birth. Sedra and her mother were ambulanced in the middle of the night to the border where she was passed in a tiny bundle through barbed wire to awaiting medic hands. Sedra spent 24 days in an incubator, she has since recovered and is a healthy baby girl. This beautiful story of survival, even against many odds, is one of hundreds like it thanks to Doctors Without Borders and your generous donations through GlobalGiving.
World Food Program has the a clear cut mission, get food to the most needy among us. The Syrian refugee relief program is currently their biggest project, feeding around 3.4 million people already. Along with Doctors Without Borders, WFP is one of the few organizations actually inside of Syria, most do their work in the refugee camps on the border where the dangers of war are not as evident. In-country, WFP distributes local staples like wheat flour, bulgur, lentils, and canned goods, they also give out specialized nutritional products called Plumpy'doz and Nutributter. These products give a malnourished child all the nutrients and vitamins his or her body needs for healthy development. Every month 100,000 Syrian children get this lifesaving tool thanks to your donation to this GlobalGiving fund. In the refugee camps, where there is enough food for everyone, but not everyone can afford it, World Food Program hands out vouchers to needy families. So far, WFP has given $100 million in food vouchers in Lebanon and Jordan; these are are accepted by local markets and vendors which thereby bolsters the local economy. World Food Program saves millions of lives, and by donating here, you have made that possible!
We at GlobalGiving want to extend our deepest thanks to you and your generous donation! Your donation gives a premature baby girl a chance at life, or feeds a malnourished refugee child, or just ensures that someone has clean drinking water. Without you this ongoing struggle would be insurmountable. For three years war has ravished Syria and its people, the international response has been a mess of politics and opinions, but it is your tiny voice that has been heard the loudest. Your donation is impacting the lives of thousands of needy families; some hundreds of miles from home, some separated during the journey, some devastated by lost loved ones. All humbly thankful towards your contribution, thank you for being their voice and saving a life.