Project Report

| Jul 12, 2021
"Hope is the resilience to build again"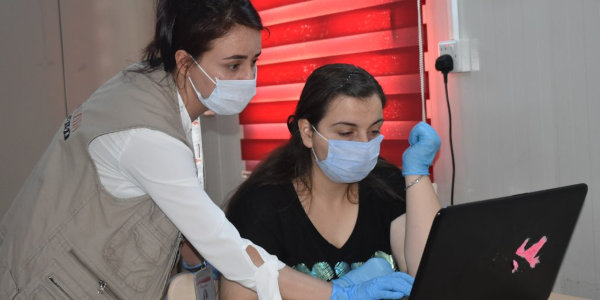 Around this time last month, hundreds of tents housing Yezidi refugees in northern Iraq burned to the ground after a massive fire broke out in the refugee settlement. Hundreds of families lost their homes after seven long years of genocide, forced displacement, and extreme violence against the Yezidi community for their religious beliefs.
Overlapping crises and instability have wreaked havoc on communities across Iraq. Conflict in Iraq and across the region, including the war in Syria, has led to massive displacement of families within and across borders. Your support is helping refugees recover from the devastating fire through the Free Yezidi Foundation.
"While Yezidis desperately need the basics, like better shelter and basic provisions, they also need better tools for the future,'' Pari Ibrahim, founder of the Free Yezidi Foundation, said. "Trauma has been debilitating to the Yezidi community. Our clinical psychologists have identified very high levels of trauma throughout the entire community."
To help the community heal from within, the Free Yezidi Foundation is finding success in having members of the community help facilitate the recovery process.
"They learn the basics of psychological first aid and coping mechanisms. After that, they can show what they have learned, in their own language and in their own setting, to other members of the Yezidi society. We have found that this helps build community resilience and also empowers the Yezidi Harikara (helpers)," Pari said.
Pari told us a story about one of those helpers that we would like to share with you today:
"Despite all the pain and horrors, there are glimmers of hope. We worked with a Yezidi woman who was held in literal slavery by ISIS for more than a year. She suffered the worst crimes imaginable, including brutal sexual violence, and the men from her family were all murdered. We worked very hard to encourage her to come to our center and just spend time there, day by day. She worked closely with a clinical psychologist for many months. Later, she became a supporting instructor at our center....Nearly two years later, she was a transformed person. Of course, nothing can ever erase the trauma and the misery that she suffered. But through her own strength and the solidarity of her peers and other women at our center, she found the will to reclaim her life and start again."
Her story of recovery is possible thanks to the hundreds of people like you that are supporting refugees through this fund.
"One of the reasons your gift to the Syrian Refugee Relief Fund is so powerful is because it can be flexibly applied to address the greatest unmet refugee needs in Syria and neighboring countries. Crises in the region are interconnected and complex, and with GlobalGiving's adaptive grantmaking your support delivers greater local impact," Sandrina da Cruz, GlobalGiving, said.
I will leave you with this final quote from Pari:
"Hope is the resilience to build again after overcoming pain and suffering. Our programs exist to provide a place for that to happen."
Until next time,
Sami + the GlobalGiving Team