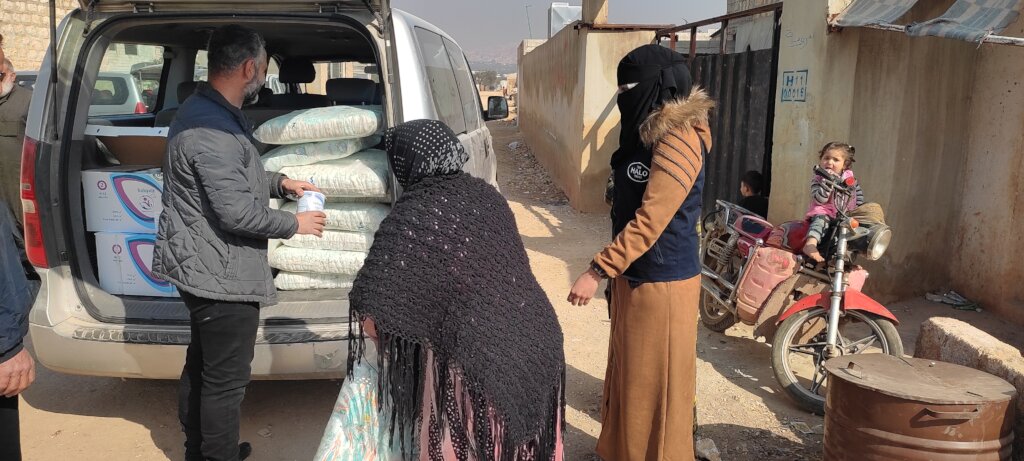 The earthquake significantly exacerbated vulnerabilities within communities that had been affected by a severe humanitarian crisis for over a decade. As the earthquake struck, some people managed to escape their homes before they collapsed. But many others were trapped under rubble and thousands of people were injured or died. There is still a huge need to help communities recover from this crisis.
The HALO Trust's work supporting the earthquake relief efforts and those impacted in northern Syria has continued. In Salqin, we have been using our excavator – which is normally used for landmine clearance – to remove and sort through rubble to help families find their personal belongings and furniture. This critical work is helping families who have lost homes and much of their belongings start to recover from the aftermath of the earthquake.
We are also working in partnership with other organizations to help fill the gaps with our logistical capacity. We are using our vehicles and ambulances to transport people with injuries from the earthquake who need specialized care to facilities where they can get the help they need.
Our case management workers, who normally work with victims of landmine accidents, are now working with their large network of operators which include doctors, medical centers, humanitarian relief organizations, and volunteer organizations, to connect people in need with resources as efficiently as possible. This includes a wide range of support services from medical care to basic needs such as formula and diapers.
Additionally, HALO teams have been supporting displaced families and shelter centers by monitoring and responding to their needs. We have also been transporting those with medical needs at the shelter centers to nearby medical facilities. The most important needs reported have been food, clothing, hygiene kits, formula, and baby diapers. We have been coordinating with volunteer groups and supporting logistically to deliver food baskets, clothing, formula, and diapers to shelter centers. And we have been working with another local organization to provide furniture to families whose houses and belongings were destroyed.
The impact of the earthquake has been devastating for so many. But our team on the ground in Syria tells us how encouraged people have been from the solidarity from others and from so many people wanting to help the organizations doing relief work. They told us - 'in Syria, communities are resilient' - and they are incredibly grateful that everyone is doing their best to help those in need. Thank you to GlobalGiving and everyone supporting this project and helping to make this work possible.