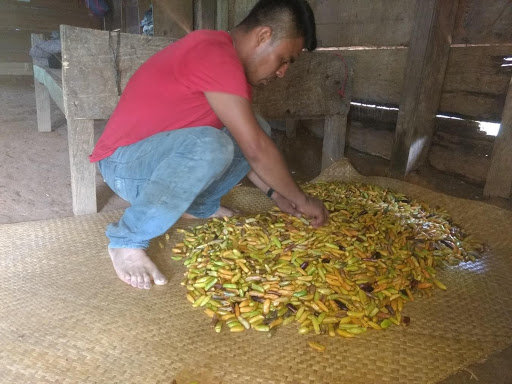 Dear GlobalGiving Friends,
In northern Guatemala, EcoLogic is working with 153 farming families to help them grow their crops in a more sustainable way using agroforestry practices. This includes an approach called "alley cropping" which entails planting crops between rows of trees. One of the trees we use to establish these systems is called "guama" or Inga edulis.
During the months of March through May, Inga edulis trees produce copious seeds. The producers in the communities take the opportunity to make seedbeds and thus increase their ability to plant Inga each year. As neighboring communities and other local institutions have seen the benefits of agroforestry, there has been interest in replication, which has made it possible for these farmers to sell the seeds to other producers and interested organizations.
This year EcoLogic-supported producers were able to sell 65,500 seeds to carry out diversification of agroforestry systems in the region. This resulted in Q. 19,012 or about $2,400 in supplemental income for these farming families. Producers like Eduardo, from the community of San Antonio Chiquito, in Ixcán, Guatemala, were able to sell their seeds and generated additional income for his family.
The farmers practicing agroforestry have realized that they can benefit from planting Inga edulis on their land, which helps in the recovery of degraded lands, provides firewood, gives shade to their crops. But they can also have economic benefits from the sale of seeds and that is an incentive to keep working.
Thank you for your interest in this work!
Mario Ardany de Leon
Program Officer, Guatemala