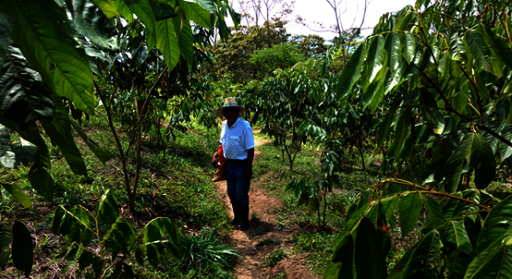 Dear GlobalGiving supporter,
Happy New Year! We are grateful to you for your support of this project and for making this work possible.
For this update, I want to share with you the story of Luis, a farmer in San Antonio Tzejá in Guatemala. He is mostly dedicated to the production of basic grains such as corn, beans, but has recently increased the production of species such as cardamom. Before that Luis had tried his luck with cattle but because of the low prices, he was forced to get rid of them--leaving behind the degraded pasture on which he kept his animals.
After being used for raising livestock the land was overgrazed and not a good option for agriculture. Luis was a part of one of the communities EcoLogic works in, where he learned about the recovery of degraded lands through agroforestry. Integrating trees within agricultural lands has remarkable ecological and economic advantages. Agroforestry systems can: replenish soil nutrients and help retain moisture; reduce erosion; increase crop yields; create habitat buffers; and limit pressure on standing forests.
EcoLogic trains subsistence farmers in these techniques to reduce slash-and-burn agriculture and improve their food security. Agroforestry practices are considered one of the key strategies for the development of climate-smart agriculture.
After learning all of this, Luis wanted to try to make his land productive again by planting Inga on his pasture land. After two years of growth of the Inga edulis trees, total canopy coverage was achieved, thus preventing the growth of the forage grasses for cattle. The roots of the Inga trees succeeded in softening the land and fixing nitrogen in the soil. The mulch from the leaf litter also helped make the land fertile again so that he was able to plant cardamom in the third year.
Because Luis is getting older his daughter, Angelica, is helping him in the agricultural work. Angelica likes cardamom production, which is why she has been involved in her father's activities. They have now managed to recover 3 hectares and during the Inga edulis seed production season, they are filling bags to produce more plants. This year they plan to extend the recovery of land to one more hectare, their shared goal is to expand agroforests on everything that was once a pasture.
I have included a few pictures for you. I work with these communities day in and day out. I know how much they appreciate the positive impact you are making in their lives and on their forest through your support of EcoLogic. If you have any questions or comments, please get in touch with me at mdeleon@ecologic.org. Or, better yet, come visit us and see for yourself!
Saludos,

Mario Ardany de León
Program Officer, Guatemala
EcoLogic Development Fund