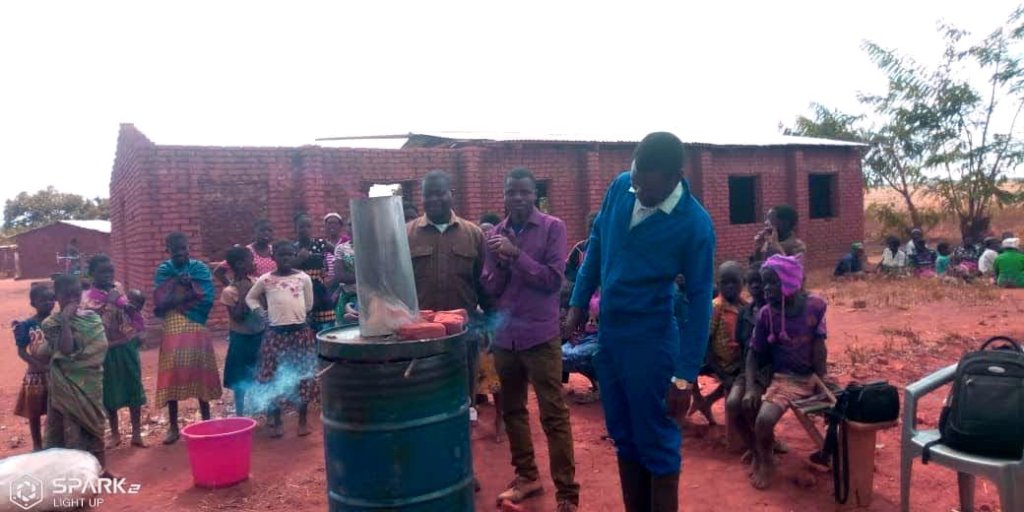 The virus stopped the biochar training in Malawi and Kenya, but the villages have been asking to restart. Sister Miriam Paulette applied for and won a small grant to train in 20 villages, but the grant funds have been stalled with the US government shutdowns. Your gifts provided the means to buy corn cobs from struggling farmers until they can learn to make biochar and re-start village training on June 13.
Our team leader was joined by trainers from local organizations at the June 13 event: "Today we had Biochar Training in Dowa district. The training was graced by both men and women, Boys and Girls. In total, we had 56 men and women… We had a number of challenging questions from the participants, but [local leaders] showed a professional understanding on the subject matter, Moving forward, I hope will discuss ideas, the sustainability of the Biochar as the group was keen to know a lot about Biochar and stay in touch with Warm Heart Malawi."
The sisters at the Holy Carmel Family Monastery have been sewing face masks for the hospital and the local community. They asked for additional sewing machines and we raised the money for one more. When Sister Paulette and the Prioress went to purchase the sewing machine, the shop keeper sold them two for the price of one, since it was such a good cause.
We are also helping raise funds for an egg incubator. The monastery chickens are so healthy now from the added biochar in their feed. The new chicks will go to feeding the children in the community. We have almost reached our goal, we need another $200 to be able to help buy the incubator.
The young man in the photo collecting corn cobs and corn stalk for biochar is called Steven and Sister Miriam Paulette considers him a son of the monastery …" one is of the poor boys that she was trying to feed when she first reached out to Warm Heart some years back….He was stranded and could not go to school due to school fees but later on, he found another way and he is now in college doing plumbing. He is [back at the monastery] because of lockdown so he is the one who is helping to carry corncobs. He is not part of the working staff and can render his services freely without inconveniencing the community. [We, the sisters,] give him little money as a gift for the job he's doing but also to support him as a poor boy who depends totally on the sisters' help."
Your investment in these farmers and our team leaders is spreading the means to improved livelihoods, one village at a time.
Thank you for your enduring support!