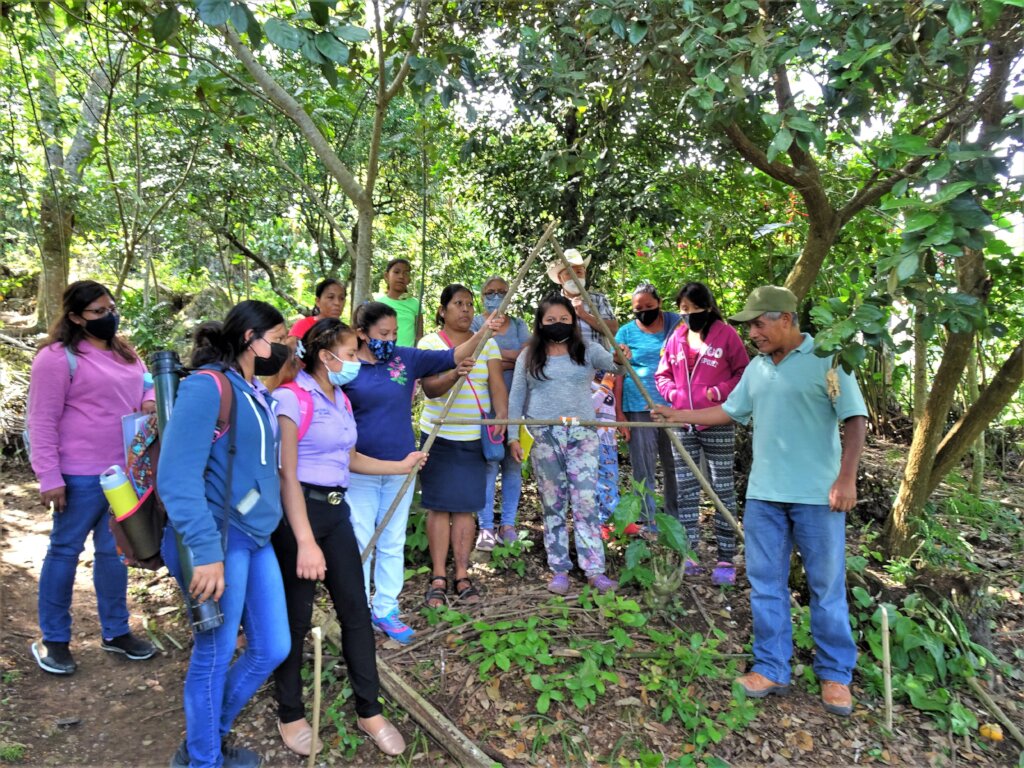 Estimados Amigos/as:
Durante esta etapa del inicio de 2022 gracias a ti y nuestra comunidad donante, hemos realizado talleres de agricultura bio-intensiva con las familias en Tepetzintla, Uxtuapan y Pemoxco aquí en la Huasteca en la elaboración de huertos familiares para generar mejor salud, auto-consumo y la generación de ingresos. Las técnicas incluyeron como elaborar el aparato "A" y para poder generar terrazas y construir barreras vivas para la protección de terrenos con pendiente, evitando la erosión del suelo, generando abono, protegiendo los cultivos y mejorando la producción.
Se capacitó en la elaboración de las camas elevadas, excavado, siembra directa y trasplante, mantenimiento de las hortalizas elaboración de tratamientos orgánicos para las enfermedades y plagas de las plantas. Trabajamos con otras organizaciones de la región incluyendo la ONG Tlalij A.C. para acceso a mercados para la venta de sus verduras en un mercado solidario que junta las verduras producidas en comunidades de diferentes municipios de la Huasteca para comercializarlos a un precio justo en mercados del Capital como agricultura apoyada desde la comunidad.
Implementamos talleres de educación ambiental en tres comunidades con voluntarias de servicio social de la universidad Tecnológica de Tamazunchale. También realizamos un intercambio de experiencias de campesino a campesino con miembros de los pueblos originarios autónomos de Nahuatzen y Cheran del Estado de Michoacán sobre saberes tradicionales de agricultura, les enseñamos técnicas de ecotecnias incluyendo tanques de ferrocemento y letrinas secas ecológicas para la protección del medio ambiente y salud comunitaria para la aplicación en sus comunidades. Gracias por todo su apoyo.
Atentamente, El Equipo de Sedepac Huasteca - Baldomero, Gregorio, Jocabeth, Virginia, Pedro, Solomon
_____________________
Dear Friends,
During the period of the beginning of 2022, thanks to you and our donor community, we implemented bio-intensive agriculture workshops with groups of families in Tepetzintla, Uxtuapan, and Pemoxco here in the Huasteca in family organic gardens contributing to better community health, and auto-consumption and family income. The techniques included elaboration of the "A" device to generate terraces and living barriers in steep terrain protecting against erosion, soil depletion, generating compost, increased fertility, crop protection and improved production.
We also implemented workshops on raised beds, direct planting, transplanting, crop maintenance, and organic treatments for plant diseases and pests. We worked with other organizations in the region including the non-profit Tlalij A.C. to generate access to markets for the sale of their vegetables in fair trade that connects vegetables, fruit and other organic foods produced in the villages of multiple municipalities in the Huasteca and markets them through community supported agriculture in city markets.
We implemented environmental education workshops in three communities with volunteers from the Technological University of Tamazunchale. We also implemented a campesino-to-campesino exchange with members of the autonomous First Peoples of Nahuatzen and Cheran in the State of Michoacán in techniques of traditional agriculture, and we shared with them eco-technical methods that we implement including ferrocement tanks and composting dry latrines for protection of the environment and community health for its application in their communities. Thank you for all your support.
Sincerely, Sedepac Huasteca Team - Baldomero, Gregorio, Jocabeth, Virginia, Pedro, Solomon