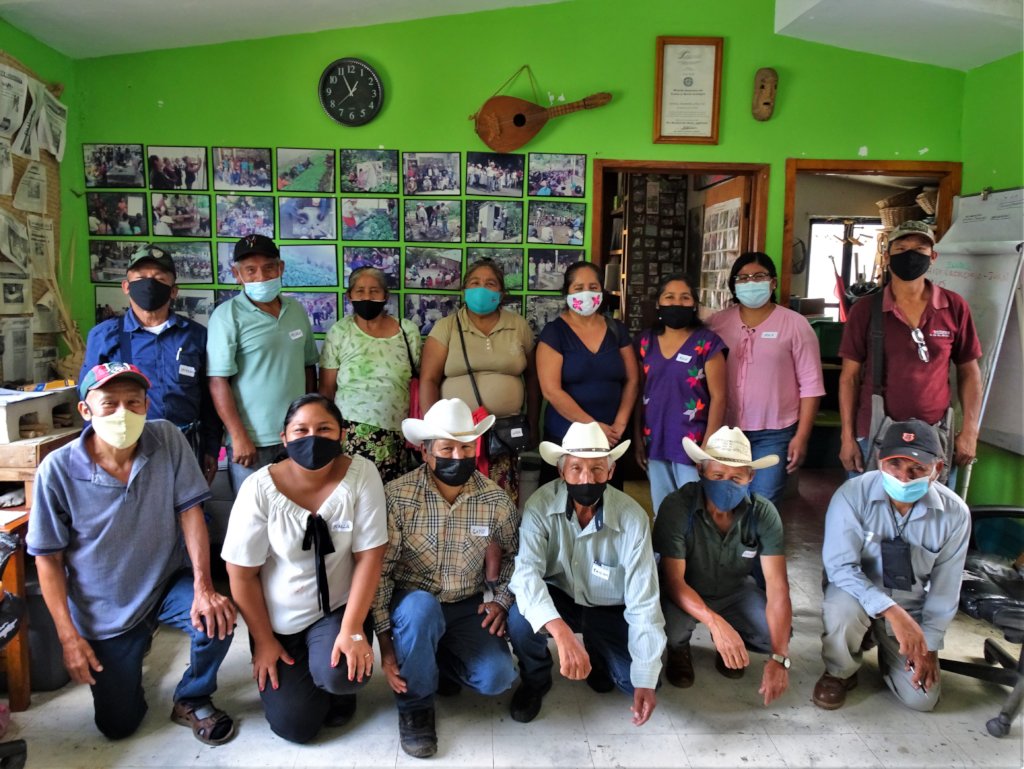 Estimad@s Amig@s,
Gracias a su apoyo hemos seguido colaborando de tiempo completo con las comunidades campesinas e indígenas de la Huasteca Potosina este año. En los últimos tres meses hemos implementado tecnologías incluyendo la instalación de estufas ahorradoras de leña 9 estufas más en Xilitla, enseñando la técnica a las familias participantes y sus vecinos; y las estufas ya están generando beneficios para la salud y el medio ambiente en la comunidad; y también hemos realizado otro tanque de ferrocemento y sistema de captación de agua de lluvia con la capacidad de 60 mil litros para la comunidad de La Trinidad, la cual fue implementado con nuevos promotores jóvenes juntos con los vecinos de la comunidad, para enseñar los métodos a las nuevas generaciones e integrándolos en el grupo de promotores agroecológicos de la Parcela Escuela.
Realizamos cinco diagnósticos participativos, 3 en comunidades, Uxtuapan, La Gloria, Tepetzintla, y 2 al nivel municipal con productores/as locales para acciones de fortalecimiento en producción agrícola y técnicas de cultivos orgánicosen la zona para organizar talleres de capacitación técnica y fortalecimiento en los próximos 6 meses. Como parte de este proceso se recopilaron 67 recetas de plantas nativas que se están incorporando en un recetario de platillos de plantas nativas, para fortalecer la sana alimentación e identidad y cultura de los pueblos nahua y tenek de la zona.
Documentamos el conocimiento gastronómico de las personas mayores en la identificación y uso de plantas de la región.Junto con una red de productoras/es de alimentos y artesanías locales realizamos acciones para desarrollar la economía solidaria/mejoramiento del mercado, gestionando con los gobiernos locales un programa y espacio específico para la venta exclusiva de productos orgánicos locales, y realizando talleres para mejorar la producción, presentación, promoción, y venta de los cultivos.
Realizamos 6 talleres de capacitación sobre equidad de género, paridad de las mujeres en cargos comunitarios y municipales, y planeación comunitaria y agendas de desarrollo comunitario liderado por comisiones de mujeres en los ejidos de El Cañón, Naranjal Dos, La Gloria, Agua Fierro en el municipio de Xilitla; La Providencia, Matlapa, y La Ceiba Tenexcalco, Axtla, y por medio de las agendas gestionar la ampliación del acceso a agua potable en Pilateno, la escuela secundaria y talleres de derechos de las mujeres en La Providencia, y acciones del gobierno municipal para prevención de violencia de género y extensión del camino en Agua Fierro.
En el periodo producimos 470 más cubrebocas lavables las cuales se distribuyeron con gel anti-bacterial en las comunidades para la protección contra covid19, y organizamos las/los promotores para que se vacunaron como capacitadores de adultos para su protección durante la realización de capacitaciones comunitarias. Y seguimos implementando sesiones de concientización sobre la protección contra el covid19 y medidas de cuidado de participantes para prevenir contagios. La vacunación de los promotores, y las personas mayores de 50 años de la población general, nos ha permitido a regresar poco a poco a las actividades presenciales al aire libre con grupos reducidos de participantes. En la próxima fase del proyecto estaremos realizando capacitaciones en hortalizas orgánicas y letrinas secas.
Durante toda la pandemia hemos mantenido al centro el cuidado y protección de todos los involucrados. Esto ha significado actuar de forma deliberada, trabajar en grupos reducidos y uno a uno, pensar sobre cada actividad, implementar protocolos de salud y control de los riesgos, ser pacientes y adaptarnos a las condiciones. Esto también ha requerido dedicar más tiempo a escuchar y planificar, y ha fortalecido la conexión con las comunidades y familias, aprendiendo más sobre sus caminos y desarrollando juntos estrategias para enfrentar los desafíos que enfrentamos. Gracias por tu ayuda.
Atentamente, Equipo de Sedepac Huasteca
Dear Friends,
Thanks to your support, we have continued to work full time with the campesino and first nations communities of the Huasteca Potosina this year. In the last three months we have implemented sustainable technologies including the building 9 more wood-saving stoves in Xilitla while teaching the technique to participating families and their neighbors; and the stoves are now generating health and environmental benefits for the community. We have also been building another community ferrocement tank and rainwater catchment system with a capacity of 60 thousand liters for the community of La Trinidad, which was implemented with the participation of new youth promoters and the residents of the community, teaching the new generations and integrating them into the group of agroecological promoters of the Parcela Escuela.
We carried out five planning workshops, 3 in villages/ejidos, Uxtuapan, La Gloria, Tepetzintla and 2 at the municipal (county) level with local farmers to strengthen small scale agricultural production and organic farming methods in the area and organize workshops for technical training over the second half of 2021. As part of this process, 67 native plants recipes were recorded that are being incorporated into a cookbook of native plants cooking, as a way to strengthen healthy diets as well as Nahua and Tenek first nation's identity and culture in the region.
We documented senior citizens' knowledge of the identification and use of plants in the region. We organized, together with a network of local farmers and craft producers, we develop economic solidarity and consumption of local agricultural products via planning of a specific market for local organic products with the local government, as well as implementing workshops that improve the production of natural and local products, as well as their processing, presentation, sales and promotion.
We provided 6 training workshops in the areas of gender equity, parity of representation of women in village and municipal leadership positions, and implemented community planning commissions led by women in the villages/ejidos, El Cañón, Naranjal Dos, La Gloria, Agua Fierro in the county of Xilitla; La Providencia in Matlapa, and La Ceiba Tenexcalco, in Axtla. Through the agendas the participating villages have initiated the expansion of access to potable water in Pilateno; secondary school education and implementation of women's rights workshops in La Providencia; and municipal government measures for the prevention of violence against women, and road access in Agua Fierro.
During our work over this period together with local craftspeople we produced and distributed another 470 washable face masks and distributed them along with anti-bacterial gel in the villages for protection against covid19. We organized and registered the promoters to vaccinate them in the program for adult education teachers for their protection while carrying out community training workshops. And we continue to implement covid protection education sessions and protection measures. The vaccination of promoters, as well as the general population over 50, has allowed us to slowly return to in-person open air activities with reduced groups of participants. In the next phase of the project, we will be implementing organic growing workshops and building dry latrines.
Throughout the pandemic we have maintained at the center the care and protection of all those involved. This has meant acting deliberately, working in small groups and one-on-one, putting thought into each activity, implementing health protocols and controlling risks, being patient and adapting to the conditions. This has also meant spending more time listening and planning, and strengthened the connection with the communities and families, learning more about their paths and together developing strategies to face the challenges we face. Thanks for helping.
Sincerely, Sedepac Huasteca Team