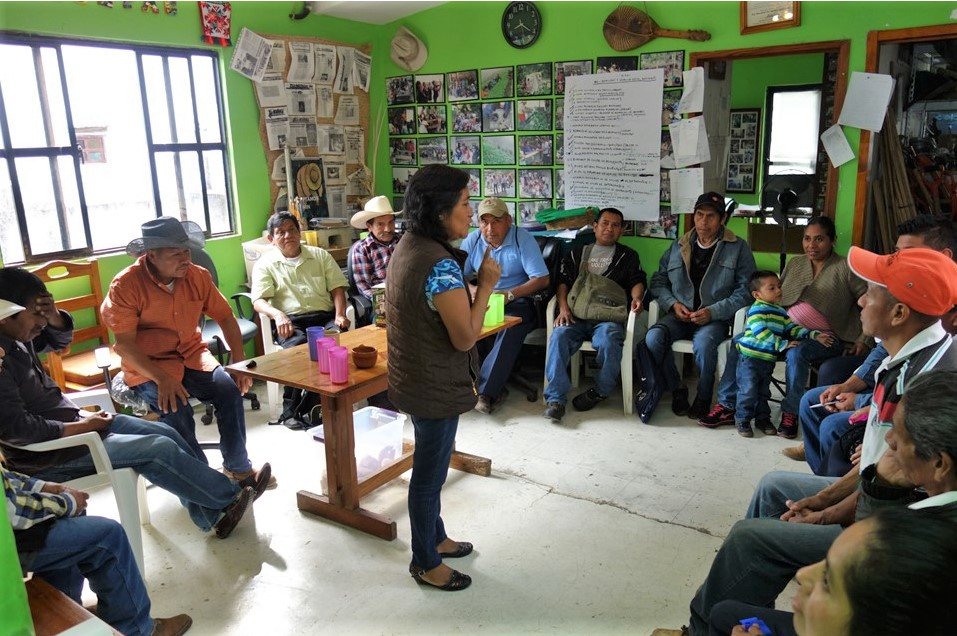 Estimados compañer@s, en este momento hemos realizado la prima fase del proyecto de la capacitación, instalación y construcción del proyecto de ecotecnologías; muchas gracias por tu apoyo que hace posible este trabajo. La primera etapa que estamos implementando en la zona es la selección de las comunidades, ubicaciones y la adaptación de los modelos a los contextos específicos, los cual estamos haciendo en reunión de planeación y programación con todo el equipo de promotores/as y coordinadores/as con intercambio de ideas y análisis, generando decisiones consensadas y el plan de acciones.
Estamos basándonos en los diagnósticos participativos previos que hemos realizado en la zona, para el caso de los tanques de agua se considera a las comunidades que no cuentan con nacimientos ni agua entubada y son las más afectadas durante las sequias. En el caso de los baños secos se considera las casas cercanas a los arroyos y ríos, que pueden ser contaminadas por desechos de las letrinas rusticas y/o donde las casas están más juntas aumentando la transmisión de enfermedades gastrointestinales. En el caso de las estufas evaluamos donde hay mas impactos negativos en los bosques locales por el sobreconsumo de leña.
El proceso de planeación colectiva y programación nos ha permitido incluir el conocimiento y experiencia local, logrando que los participantes se adueñan del proceso y sigan teniendo impactos a largo plazo. Estamos emocionados de iniciar la segunda etapa, realizar las asambleas comunitarias y nombrar los comités locales coordinadores en abril, y posteriormente realizar la tercera etapa de los talleres y las construcciones de las ecotecnias planificadas para este verano.
***
Dear supporters, we are implementing the first phase of the sustainable communities ecotechnologies training and construction project; thanks, so much for your support that is making this work possible. We are currently realizing the selection of the villages and locations of the installations and the adaptation of the designs to the specific local conditions, which we are doing in programming meetings with the team of promoters and coordinators with interchange of ideas and analysis, generating consensus decisions and the detailed activities plan.
We are basing the program on previous studies and participatory evaluations, which in the case of water tanks gives priority to communities that do not have dependable springs or piped water supplies and are the most affected during droughts; in the case of dry toilets, where the homes are located closest to streams and rivers which are contaminated by discharges from open latrines and/or where there is higher housing density increasing transmission of gastrointestinal diseases; in the case of stoves villages with the highest levels of overharvesting of local forests for firewood.
The process of collective planning and programming with the diverse team has allowed the inclusion of local knowledge and experience, and generates that local participants taking leadership roles in the process and therefore longer-term integration and impacts. We are excited to start the second stage, the village assemblies and naming the local coordinating committees in April and implementing the third stage - workshops and sustainable technology constructions, programmed for this summer.