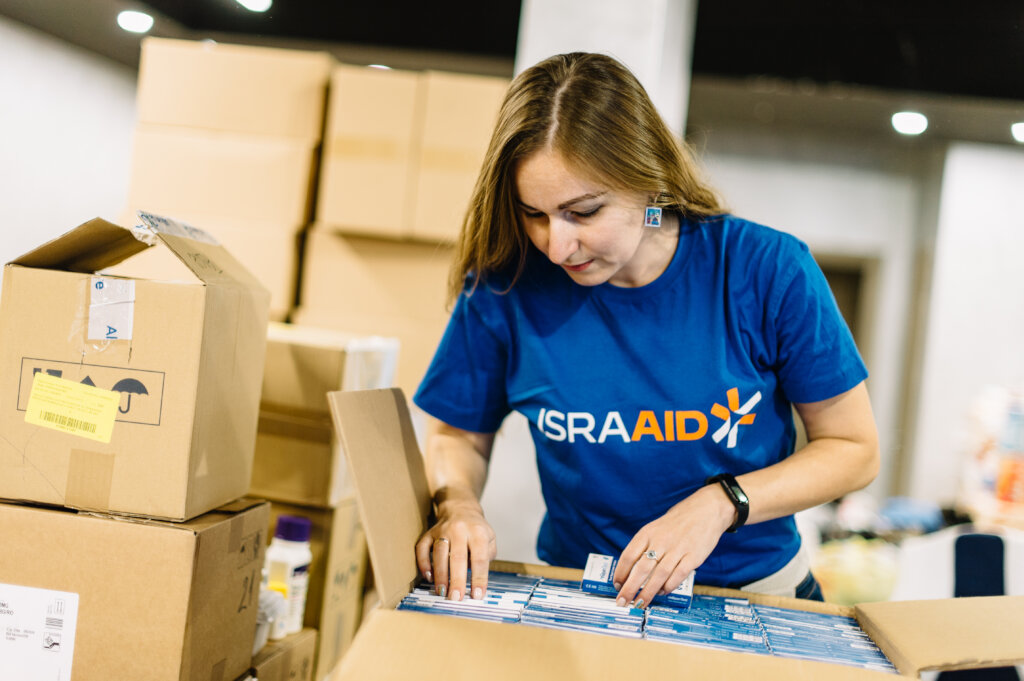 IsraAID's Emergency Response team arrived in Moldova on February 27, just three days after the large-scale Russian invasion of Ukraine, and immediately launched our response to the growing refugee crisis. Within weeks, we expanded operations to Romania in order to provide aid directly into southern Ukraine, and recently began working in Ukraine itself. Six months into the crisis, 15.7 million people face significant humanitarian needs.1 IsraAID is meeting urgent needs immediately at the same time as planning for the long-term recovery efforts that will be necessary in the years ahead.
IsraAID is opening two offices in Kyiv and Odesa and recruiting local staff to lead programs in Ukraine. IsraAID's senior management visited Ukraine and met with senior government and humanitarian coordination officials in July. We have delivered initial programs as follows, with more to come:
SAFE DRINKING WATER IN MYKOLAIV
IsraAID donated four reverse osmosis water desalination systems to the Mykolaiv municipality, after frequent attacks damaged local infrastructure and left residents without potable water for three months.2 The municipality adapted its system to access untreated river water from Pivdennyi Bugh, but this was unsafe for cooking and drinking. The new systems produce safe drinking water and were purchased locally, helping to stimulate the economy. The donation was attended by the Deputy Mayor and featured on local news. IsraAID is now working to upgrade existing infrastructure to accommodate these systems and planning the second phase of the project. We will provide additional systems and train municipal staff to operate them, so they can troubleshoot any issues independently.
LARGE-SCALE PSYCHOSOCIAL SUPPORT
During our assessment visit in Ukraine, IsraAID's experts ran MHPSS and self-care workshops for several groups of frontline workers, including social workers in Bucha, one of the worst-hit cities; 30 NGO staff and psychologists working in Odesa; and 12 staff from the Odesa-based Humanitarian Coordination Hub. This is the beginning of a close collaboration with the Office of the First Lady in Ukraine and the government to deliver large-scale mental health and psychosocial support (MHPSS).
As part of the First Lady's initiative, we are working with the Ministry of Health to train a core team of 60 hospital-based psychologists in displacement and crisis, psychological first aid, self-care, and stress relief. The psychologists will then deploy to Dnipro, Zaporizhzhia -- cities on the frontlines -- and Vinnytsia, a city that has faced heavy bombardment and now takes in many wounded patients. The psychologists will provide urgent trauma relief and support longer-term hospital-based recovery for wounded and/or traumatized patients and their loved ones. IsraAID will accompany the psychologists with long-term professional support to ensure they also have the tools to protect their own mental well-being in this challenging environment.
PRIMARY HEALTHCARE IN HOTSPOTS
IsraAID is partnering with FRIDA, a Ukrainian-Israeli volunteer medical association, to reach civilians in urgent need of healthcare and MHPSS. Primary healthcare is often neglected amid conflict, but FRIDA provides both emergency and regular care in regions affected by fighting. Their services include diagnostics and medical evacuations as well as providing medication, and they are currently operating in Bucha, Dnipro, Irpin, Kyiv, Kharkiv, and Mykolayiv.
We have increased the capacity of FRIDA's mobile clinics with $150,000 worth of medical equipment delivered through our humanitarian logistics hub, including ECG monitors, ultrasound machines, vital signs monitors, a defibrillator, respirators, and finger pulse oximeters. We will train FRIDA's doctors to identify early indicators of malnutrition and other primary health concerns, and to maintain World Health Organization standards of medical storage and reporting. We will also deliver MHPSS training.
HUMANITARIAN LOGISTICS HUB IN ODESA
We are preparing to build a partnership with the Humanitarian Logistics Hub in Odesa. We will be able to contribute our expertise from Tulcea, Romania to streamline operations and expand procurement and reach. While our hub in Tulcea delivers to humanitarian organizations on the ground, such as shelters and hospitals, the hub in Odesa will focus on providing aid directly to communities and households in Odesa and Mykolaiv. We monitor the security situation closely and prepare contingency plans to protect our teams on the ground. All our programs in Ukraine are subject to change, depending on security assessments.