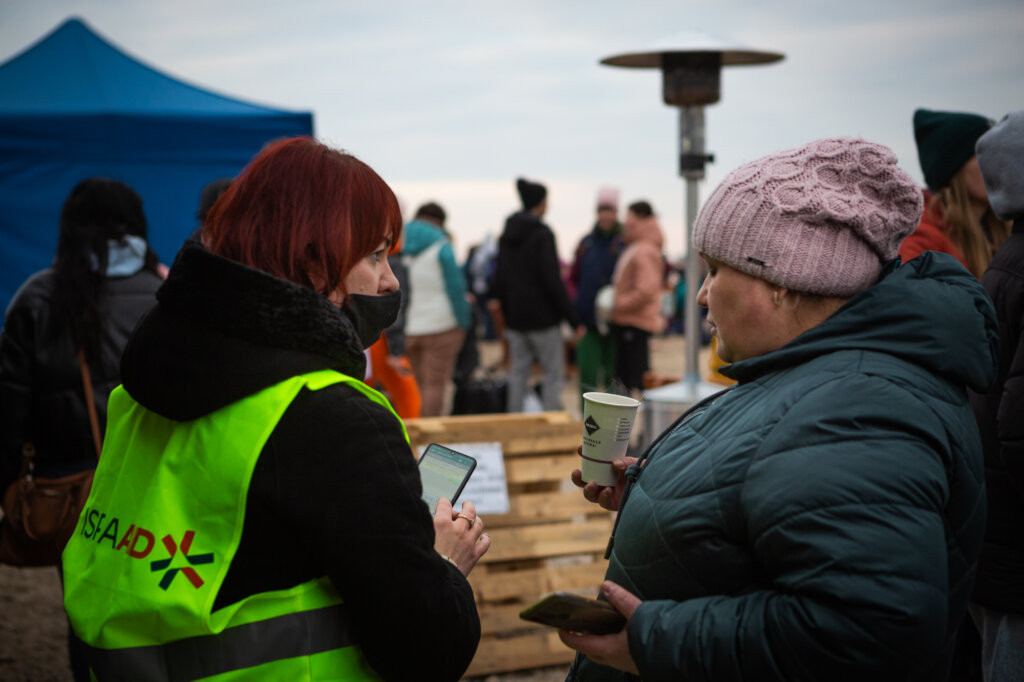 It has now been three months since Russia invaded Ukraine on February 24, 2022. More than 25% of Ukrainian civilians have fled their homes, with 6.3 million seeking refuge in neighboring countries, and an additional 8 million people displaced within Ukraine. Within Ukraine, essentials like food, medicine, and electricity are scarce.
Since February 27, our experts have been supporting Ukrainian refugees in Moldova with essential protection, education, healthcare, and relief items. We are active at Palanca, the main border crossing; in Chisinau, the Moldovan capital; and in rural villages where local communities are stretching their own limited resources to host refugees. In addition, with our partners, we are coordinating and managing the Tulcea Humanitarian Logistics Hub on the Romania-Ukraine border. IsraAID is ensuring that lifesaving humanitarian items, including food and medicine, make it directly into Ukraine and reach the most vulnerable people there.
Romania
Tulcea Humanitarian Logistics Hub
With our partners, IsraAID is coordinating and managing the Tulcea Humanitarian Logistics Hub to process and ship humanitarian aid to southern and eastern Ukraine. This region continues to face harsh bombardment with significant damage to civilian housing and infrastructure. We are working with a wide range of partners to procure essential items locally and globally, and collaborating with NGOs, hospitals, religious institutions, and civil society organizations in southern Ukraine itself to reach those most in need.
So far, we have shipped some $25 million worth of supplies. We sent power banks with the capacity to run medical equipment to a hospital in Mykolaiv, as electricity is unreliable due to heavy damage. Other hospitals, including a pediatric hospital in Odessa, have received supplies according to their needs, such as tourniquets. We also installed a stable, controlled cold-chain environment, and have begun shipping vital medicines that are in short supply, such as insulin.
Moldova
Protection
Refugees are still fleeing into Moldova, and IsraAID continues to provide a safe tent at the border. Newly arrived mothers can relax while their children play with local volunteers trained by our experts. We are also still providing essential items for new arrivals, including hygiene and first aid kits; stress relief packs for children; and baby kits.
IsraAID continues to operate our Child Friendly Spaces (CFSs) in the main shelter in Chisinau, offering children stability and support through arts and education. Additionally, as many refugees are now hosted in the community, we are also running CFSs in public spaces like libraries. Our trained facilitators also identify child protection concerns and refer cases to relevant welfare services, and we continue to support and strengthen the local authorities.
Supporting Host Communities
Many refugees in Moldova choose to stay close to the border as they anxiously await the chance to return home or receive news of loved ones still in Ukraine. Some 1,500 refugees are staying with local Moldovan families in Stefan Voda. These host families are themselves rural and economically vulnerable, so we are providing food and hygiene supplies to boost both refugees' and hosts' psychosocial wellbeing. We are also operating a weekly medical clinic for refugees and host community members.
'Helping the Helpers'
Practicing self-care and burnout prevention helps frontline workers harness their own personal strength and resilience amid difficult and demanding work so that they can continue to support refugees in the long term. This month, IsraAID provided training for the staff of CoTN/Greengate, an ecological alternative learning facility providing daily classes for Ukrainian children, and for volunteers from Keystone International, who are leading children's activities in our tent in Palanca.

As the fighting continues, IsraAID remains committed to supporting Ukrainians for years to come. Thank you for your ongoing support.