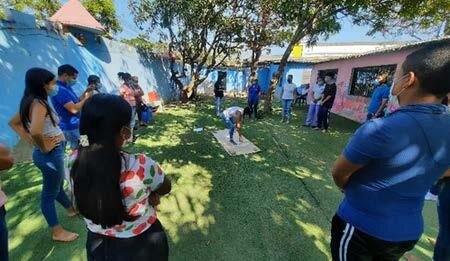 There have been a lot of exciting Livelihoods activities over the past few months. Below are short summaries of just a few of them.
Psychosocial Workshops
The first cycle of Psychosocial Workshops began on the beach, where 67 participants joined this new initiative to be trained by the IsraAID team, strengthening their individual selves as business owners and valued employees.
With the implementation of these workshops, young people will improve their skills in finance, leadership, communication, and management of emotions, helping them in future recruitment processes, job placements, and management of their business units.
Labor Workshops
The participants of our livelihoods training course continued to strengthen their work and interview skills. This year, this component has an additional digital literacy module that, in addition to improving skills useful in job interviews and technical tests, will provide training and skills to allow participants to be able to face the digital world that has grown in relevance as a result of COVID-19.
Protection Permit Training for Migrants
IsraAID Colombia participated in the massive delivery of Temporary Protection Permits, organized by Migration Colombia and ACNUR. In total, 54 people, of whom 51 were migrants, learned about the benefits of participating in our program, specifically as Venezuelan migrants on the employability track.
Rafael is a young Colombian, part of the host community in La Playa. After completing our Livelihoods program, including psychosocial and labor workshops, he became the first graduate of our program to be hired in 2022 as a Cleaning Operator. Rafael wishes to motivate his colleagues with the following message: "As long as we are with God, everything is possible. We continue forward, even if the road is hard. If I could, you can too".