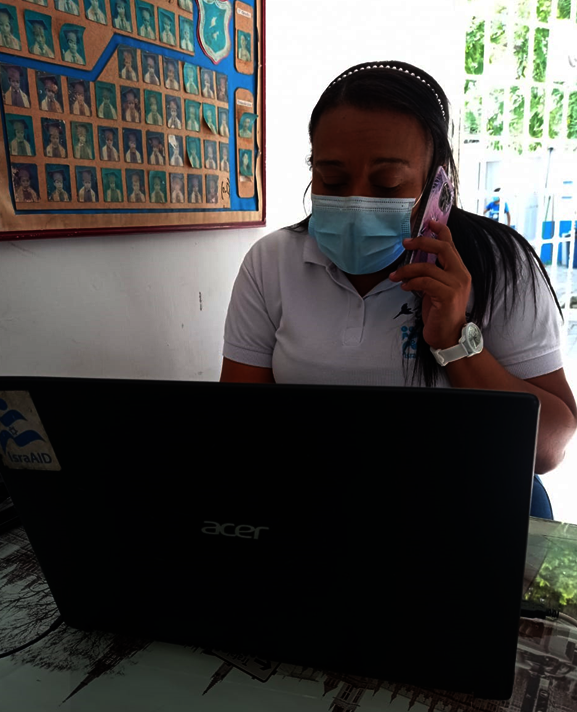 IsraAID has been operating in Barranquilla, Colombia since 2019. Our programs in Colombia provide a holistic response to the acute needs of the mixed migrant communities in the area, focusing specifically on the protection and psychosocial needs of the communities living in Soledad and Barranquilla.
In light of the COVID-19 pandemic, communities in Colombia have been coping with lockdowns and their consequences: rising rates of gender-based violence, increasing education gaps, on and off lockdowns, and of course, the stress and instability brought on by each of these. In addition, the Barranquilla area was hit by Hurricane Iota in November 2020, and the legal status of many Venezuelans in Colombia was changed drastically in a landmark decision in February, giving them special protective status.
In light of these new and shifting needs, IsraAID established COVID-19 call centers to provide remote information and support. The call center provided a variety of COVID-related services for over 2,000 beneficiaries in the last year. Community members are able to contact the call center through Whatsapp, or through direct phone calls with operators.
IsraAID provided training for the operators, who offered psychosocial support, information on preventing the transmission on COVID-19, up-to-date clarifications about the local guidelines and lockdowns, and referrals to partner organizations in the area who could provide direct assistance with food, shelter, protection, employment, and cash-based assistance. This support is critical for these mixed migrant communities, as they often do not have access to other sources of information and are in urgent need of support to cope with the current circumstances.
Over the last months, IsraAID has recognized a dearth in our operational capacity and began to look for simple solutions that could help the team of operators better track the various data managed by the call center. This includes:
The caller's demographic information – used only for monitoring purposes;
The specific services requested by the caller;
The date and time of the call;
Specific follow up needs per call, and when follow up needs to occur;
Various referral services available, including their mechanisms for connecting them with our callers.
IsraAID, in partnership with monday.com, an Israeli company offering their online platform and their programmer's hours in-kind to organizations working on COVID-19 support, is now building an integrated system that will map and offer this information at the click of a button! This process is ongoing and will provide extremely valuable support with tracking, monitoring, follow-up, and referral support for the call center.
Story of Impact
The Nava Aguaran Family arrived in Colombia from Venezuela a little over two years ago. The household is an extended family, with 2 adults and 7 children who have been struggling severely since the beginning of the COVID-19 pandemic. The adults have had a difficult time making ends meet, and the family has been forced to live day to day, doing their best.
A member of the family got in touch with our call center and spoke with one of our operators and shared that the family was at risk of eviction. IsraAID's operator was able to support the family's needs, connecting them with another local actor through the referral pathway, who was able to cover the family's rent for six months. This financial aid not only took care of the immediate need, but also allowed the family to look forward, and with a break from the stress of making rent, they were able to establish a micro business and start to work toward financial stability.