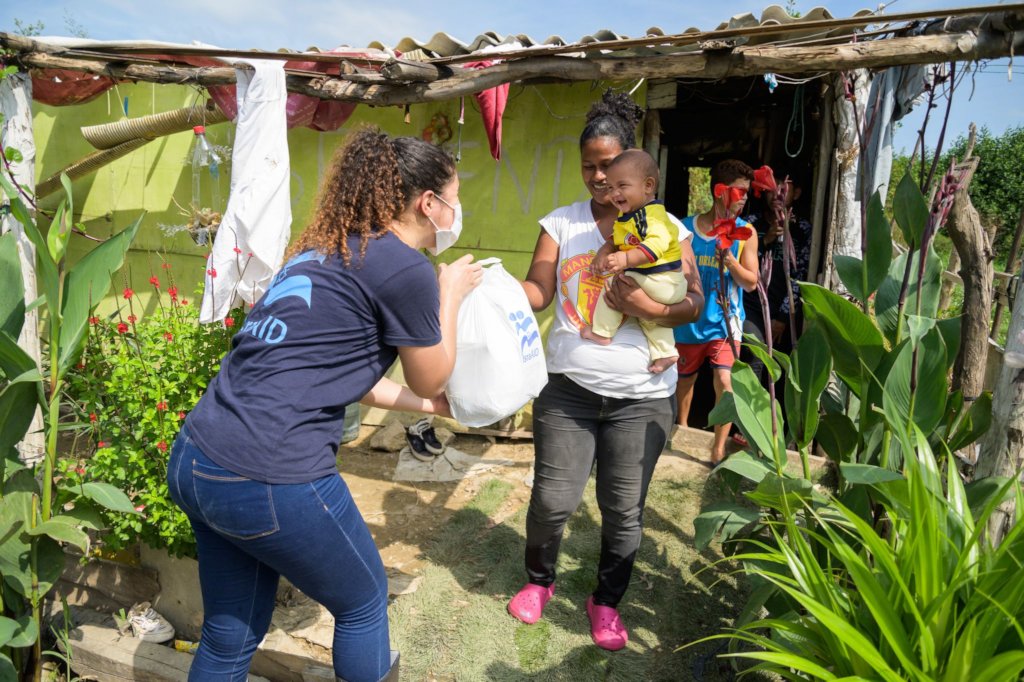 On November 16, 2020, Hurricane Iota swept across the Caribbean coast of Colombia. Heavy rainfall, landslides and flooding impacted an estimated 5.2 million people in the region.
In the Atlantico Department, where IsraAID Colombia was already active, more than 1,000 homes were destroyed. In nearby Cartagena, some 155,000 people were affected, with homes destroyed by overwhelming flooding that affected 70% of the area. Both of these areas are highly populated by mixed migrants and refugees from neighboring Venezuela. These individuals were extremely vulnerable preceding Hurricane Iota, due to limited access to medical, nutritional, educational, and livelihood opportunities in Colombia as well as in Venezuela.
In a country that has suffered over 36,000 deaths from COVID-19, the inability to socially distance in shelters were a major concern. Additional risks include the spread of other diseases, lack of hygiene and sanitation items, mental health, and protection of vulnerable groups, such as women and children. Since 2015, over 1.8 million Venezuelan refugees have left their homes for Colombia.
IsraAID Colombia was among the first NGOs on the ground responding to urgent needs, leveraging our ongoing activities and network of partners in the affected areas.
Barranquilla
In Barranquilla, the IsraAID team reached 700 beneficiaries in urgent need of immediate support due to extreme flooding, focusing on the mixed migrant community. The team distributed hundreds of household hygiene kits with basic items such as cleaning supplies, masks to prevent the spread of COVID-19, soap, and more. Distributions took place in La Playa community and in the Zenú indigenous community.
Cartagena
70% of the city of Cartagena was impacted by heavy rainfall, landslides and flooding, with some 150,000 people affected. Communities were forced to evacuate into makeshifts emergency shelters, which can further exacerbate the daily protection challenges impacting vulnerable groups, such as women and children.
IsraAID visited multiple shelters to assess the needs of the displaced people currently living in them. The team distributed hygiene kits and urgent non-food items, and administered psychological first aid to minimize potential trauma-based mental health issues. This includes highly vulnerable communities, such as those from indigenous groups and mixed migrants from Venezuela.
The team is using public libraries to provide child protection services and activities through their established 'Child Friendly Space' model. These provide safe spaces where currently out of school students from mixed migrants communities can receive protection, education, and nutrition services while preparing them for their entry into and official educational institution.
La Guajira
IsraAID launched a water desalination project in La Guajira's capital Riohacha, an area dominated by remote communities, primarily mixed migrants. Communities in La Guajira suffer from severe inaccess to safe water, which was further exacerbated by Hurricane Iota. When completed, this will provide 250 people with potable water.
Efforts are ongoing.
Thank you for your support to this new emergency, especially during the pandemic.