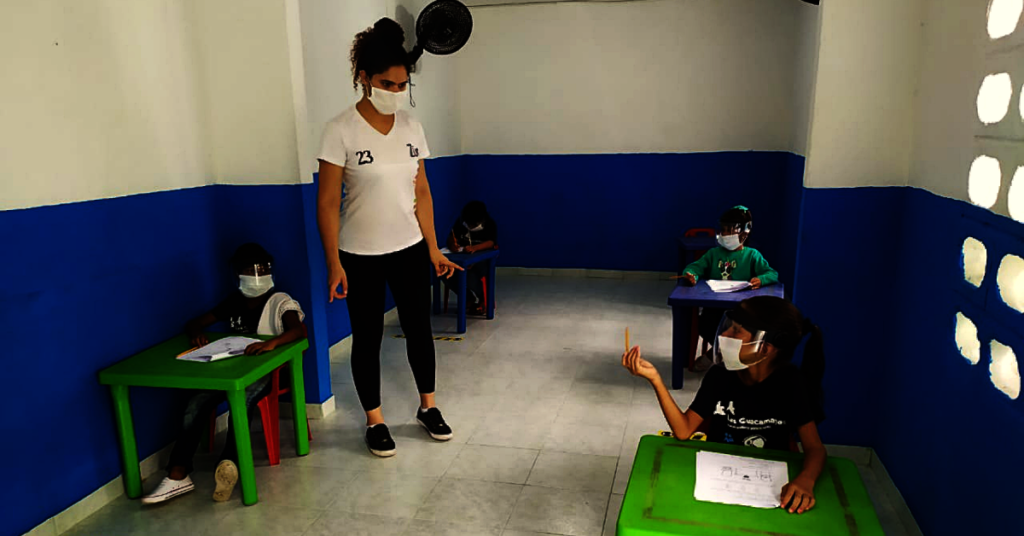 Due to political unrest and rampant inflation, millions of Venezuelans have fled their country over the past few years. Many Venezuelans left for bordering Colombia, thousands of people entering every day. IsraAID's Emergency Response Team arrived in Colombia in May 2019, assessing the needs and distributing relief items to newly-arrived Venezuelan refugees, as well as Colombian returnees.
To minimize the spread of COVID-19 in Colombia, formal education facilities are to remain closed until at least January 2021. For many of the hundreds of thousands of Venezuelan migrant and Colombia returnee children, this exacerbates an already long period out of school, increasing the academic gap they face.
IsraAID Colombia's Child Friendly Space "Los Guacamayos" in Soledad received formal permission from local authorities to reopen one of its spaces, enabling us to provide education support for children not integrated into the main school system. To allow the children to safely attend their classes, a new schedule has been created. Groups of five children will be able to attend 40-minute educational and psychosocial sessions twice a week. Between each session the staff will spend 20 minutes disinfecting the chairs, tables, and educational materials, including tablets, ensuring that the CFS remains a safe space for children to continue their education. Before entering the building, each child will have their temperature checked. They will also have frequent breaks to wash their hands, and a tutor will be present to instruct the children on safe handwashing practices.
The regular sessions at the CFS will be coupled with in-center and at-home remote math programming provided in partnership with Israeli start-up Mathika, as part of IsraAID's innovation piloting strategy. Mathika is an EdTech startup developing a web-based and mobile educational application to teach Mathematics. With Mathika, children from 5 to 13 years old can learn Math by themselves by using video clips, games, and tools. The main emphasis is the ability to learn math without a written language, without the teacher's supervision and putting the realms of the learning in the learners' hands. As a result, it is teaching children to take responsibility for their learning and for their life. Children see the world without limitations, and even if reality is not such, by giving kids the right tools, they can thrive and succeed.
It is also expected that IsraAID Colombia will be able to reopen the CFS "La Playa" in Barranquilla in October with the same protocol used in reopening the "Los Guacamayos" CFS.
Thank you for your continued support during the pandemic.