Project Report

| Sep 20, 2023
1,000 Women's Gardens - Progress Report Sept. 2023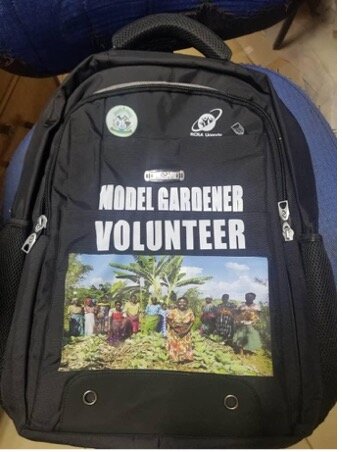 Back when we first conducted research (2019-20) on the benefits of organic vegetable gardening for women and their families, we imagined a program that would expand with a grassroots gardener-to-gardener technical assistance model. Now, more than three years later, the Model Gardeners Volunteer (MGV) program has launched and is progressing well with 18 local MGVs supporting 400 individual gardeners and over 30 community and school gardens. We will use this brief report to update you on the MGV program as we believe it is a key component for sustained successful gardening and improved livelihoods into the future.
The concept of the MGVs came out of our goal to reach 1,000 Women's Gardens with successive phases, but to not leave early phase gardeners without any support. That was impossible with a small core team of three. How could 1,000 Women's Gardens become truly sustainable where women can continue gardening season to season for years to come? One strategy has been to emphasize seed saving and durable improvements like fencing and raised beds, as well as heavy mulching and compost amendments for long-term soil fertility. But problems do arise, as we found out through a survey of gardeners and occasional assistance is needed. The MGVs are the solution to this problem as they are recruited both for their excellent gardening skills – enhanced by additional training, and their eagerness to serve their communities. They participated in Phases 1 – 5, span ages from 25 to 60, with children and grandchildren, were raised and are living in the same villages as the gardeners they serve.
Each MGV is assigned between 15 and 30 home gardeners and one or two community gardens, depending on how spread out they are, visiting each garden twice monthly to monitor progress and address any challenges. MGVs call in for assistance with 1,000 Women's Gardens team members if problems come up they can't handle. Twice per season the MGVs fill out a survey for each gardener and the data are entered into a database to guide program improvement.
At the first orientation meeting, MGVs were distributed gum boots, umbrellas, t-shirts, backpacks and notebooks, as well as copies of the survey in English and the local language. After three months orientation and 'probation', the MGVs gathered again this August (see photos) to share and reflect on their experiences, receive additional training on mulching and organic pest management, and sign formal one-year contracts. The MGVs reported that they are building community among themselves and rely on each other when they need assistance, that the socialization is an added reward.
We believe the MGV model is working well – better than expected because of the dedication and enthusiasm of the MGVs. Now 1,000 Women's Gardens doesn't have to worry about moving on to new villages and neglecting gardeners who may need their help. We have a low cost, high reward system that ensures long-term sustainability of organic vegetable gardens and their benefits for families. THANK YOU GLOBALGIVING FRIENDS FOR SUPPORTING THIS INITIATIVE!!
-------------------------------
Phase V of 1,000 Women's Gardens for Health and Nutrition was completed in August 2023 with 75 new household gardens, five community gardens and one primary school garden in Kitswamba sub-county. Next report we will describe more about the new school garden program where students and teachers manage the garden (in addition to a year-round part-time caretaker) and produce is divided among the students to take home. There was not much of a break until Phase VI mobilization began to take advantage of few rains in September after a long hot dry season. Nursery beds are already being prepared, many of them collective where women gardeners live close by to one another – a win-win for the program (time and cost effective) and the women (opportunity for socialization and cross-learning).
COMING UP – 1) recruitment of leader/coordinator for ASRH Gatherings for Young Mother Gardeners, 2) establishment of tree nursery with RCRA, 3) expansion of school garden program, 4) impact study with support of UC Berkeley alumnus, Rebecca Gerny, and 5) Robin and Rebecca to Kasese in October!